She Has Lived In Seven Foster Homes—Now She's Telling Her Story
An hour-long wait at North Campus' Financial Aid office eight years ago drove Kenisha Elizabeth Anthony to the breaking point. 
After waiting in a packed line to submit a tuition voucher for foster care youth, she was turned away after a financial aid advisor said the document was past due. 
She was forced to use financial aid to pay for classes, which left her with $800 for the semester; the funds were her only source of revenue at the time. 
"Passing the class wasn't the issue; it was money," Anthony, 28, said. "You can't thrive in school if you're hungry. You can't come to school if you don't got the money to get there. With $800, you are not getting far in the semester." 
As a first-generation college student who aged out of the foster care system, Anthony said she lacked mentors to prevent other mishaps from happening. As a result, she switched her major from criminal justice to social work to make an impact in the lives of other foster care youth. 
Eight years later, she is making that difference. 
Today, she reviews case files for the Florida Foster Care Review, and published her first memoir, Labeled: Ward of the State, on Jan. 15. It documents her 13 years in the foster care system, and provides resources for children affected by the system. 
"What makes a person so gracious and generous enough to become an advocate, instead of just a bookseller or social work policy maker?," said Michael Lenaghan, a sociology and political science professor at Eduardo J. Padrón and North Campus. "…whatever it's based in, it's something really good and precious about her."
Rocky Start
She was born on Oct. 7, 1991 in Miami. 
According to Anthony, her mother, Regina Walker, developed a drug addiction after her husband, John, died. 
Anthony, who was four at the time, was taken into custody by the Florida Department of Children and Families, and was reassigned to live with the paternal grandmother of her two siblings, who had a separate father. 
She vaguely recalls asking her mother when she planned on coming back home, visiting her at rehab and seeing her in handcuffs in a courthouse.  
"She never came home," Anthony said. 
It wasn't until Anthony looked through her case file as an adult that she found out Walker was deemed unfit to raise her. Family members had convinced her that Walker neglected her.  
Anthony moved into a three-bedroom home in Opa-locka with her aunt and two cousins. 
She never had her own room, instead bouncing back and forth between her siblings whenever they decided they wanted to share a room with her.  
"It developed me into this person of always trying to force myself into relationships, or trying to find my way in different families," Anthony said. 
Her aunt often told her that she'd end up like her mother, who Anthony claims was a prostitute. She believed it, and swallowed Tylenol pills from the medicine cabinet to copy the drug addicts and prostitutes she saw on Lifetime television shows. 
"I just really wanted to die," Anthony said.
By the time she turned 18, Anthony had lived in seven different foster homes. She attended four elementary schools, two middle schools and four high schools. 
The toxic living arrangements resulted in Anthony running away from every home she lived in. 
Reginald Evans, one of Anthony's best friends, let her stay at his house on the weekends so she could escape the verbal abuse. At the time, Anthony was living with a non-relative foster parent, who would kick her out of the house when she got in trouble at Miami Edison Senior High School.  
"She felt unloved," Evans said. 
Anthony eventually aged out of the system, and was forced to fend for herself. 
"The judge told me, 'You're 18 now. You need to figure this out,'" Anthony said. "It definitely spiraled into me figuring out like, 'you got to care for yourself' and 'how are you going to do that?'"
A Step Toward Success 
Anthony enrolled at North Campus in 2011 as part of the ROTC program with plans to join the armed forces, and later switched to criminal justice. 
To make extra cash, Anthony stole clothing from Walmart and Bloomingdales. She was arrested in 2012 on theft charges. It was her third time in jail. 
"I had a decision to make basically," Anthony said. "You want to be in and out of jail, or you want to go to college. Which road seems brighter?"
So Anthony immersed herself at the College. She became a student ambassador at iCED, a mentor for TRIO Student Support Services and joined Educate Tomorrow. 
Her day started at 5 a.m. and didn't end until 11 p.m., and included several lengthy bus rides. The weekend consisted of volunteer work at local gardens and beaches. 
But she continued to deal with the ramifications of being a foster child. 
One semester, Anthony's address changed three times while she sought a permanent residence.
"She still approached issues as if they were doable, or she was an optimist, and, you know, at the time I just thought, 'Well, she's just a go-getter, that's her,'" Lenaghan said. "In retrospect, I realized, what kind of a marvelous human person wouldn't be discouraged, distracted, giving excuses for how not to succeed?"
The hard work paid off. Anthony graduated from the College in 2014, and transferred to Florida State University, where she earned a bachelor's degree in social work. Two years later, she graduated with a master's degree in public administration from Florida International University. 
Putting Her Story Into Words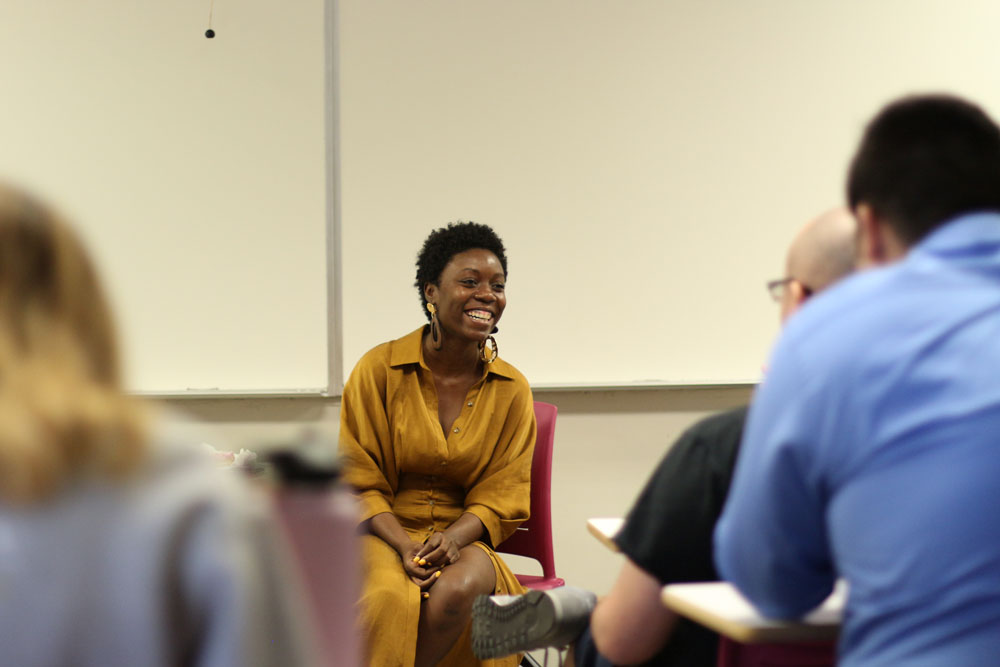 Last January, a foster child reached out to Anthony and asked her to recount her story. 
From there, the idea of writing a memoir came to life. 
"If I was to die, a book would be something tangible that I could leave behind," Anthony said. 
She sifted through old scholarship essays to build the novel's skeleton. The essays date back to as early as 2013. 
The writing process took about seven months. 
Anthony didn't have a strict writing schedule, simply following creative ideas whenever they came. That meant writing for either 30 minutes, or five hours straight. Sometimes she woke up in the middle of the night to jot down ideas and kept sticky notes on her at all times. 
Roadblocks formed when it was time for Anthony to write about her mother. She was forced to come to terms that she had foggy memories of Walker. After not writing for weeks, she sat down one day in her house to air out the details. 
On the cover of the book, Anthony decided to sketch a line through the word "labeled" as a way to dispel negative stereotypes about children in the foster care system. 
"People keep trying to make it seem like these kids are in this bubble experiencing all these things," Anthony said. "These are societal issues. These are things that's going on in the world."
Giving Back
Anthony began working as a permanent roundtable specialist at the Florida Foster Care Review at Miami-Dade County Children's Courthouse in November. 
She helps develop action plans for cases that state organizations, like the DCF, are working on. 
Being part of the system has helped Anthony relate to the foster care children she works with. 
"I live a regular life…I have a regular job," Anthony said. "But how was I this person that had the same traumatic experiences, and [still] being able to thrive? I think it was important for people to hear these stories about regular people that you're just walking with down the street."