Scorpion Continues Drake's Record Of Self-indulgence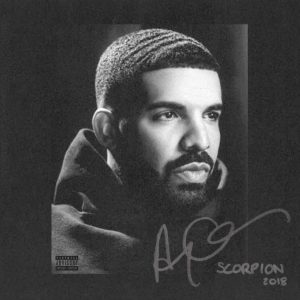 On June 29, 2018 Drake released his newest album Scorpion and left the world abuzz. Drake has been on the music scene since 2009. He is considered by many as one of the most prominent and influential figures in the industry. So, when fans finally got their hands on Scorpion, the project was met with immediate praise and adoration for the artist's ingenuity.
Despite all the appreciation for it, Scorpion simply falls short of amazing.
"If you can get past Drake's toxicity, you're free to luxuriate in Scorpion's sumptuous sound," says Jamieson Cox, contributor for pitchfork.com
But this apparent toxicity is prevalent throughout the entire work and it overshadows some of the introspective moments where Drake reminisces about the past or pays homage to loved ones. The toxicity that Cox speaks of is undoubtedly the incredible amount of vanity Drake has. Throughout many of the songs, he makes strange statements back to back that seem to contradict themselves at times; going from speaking highly of himself to lamenting his many emotional issues. These undermine the strong persona he attempts to portray in his music.
The first song on Side A of the album titled Survival sets up a tone of self-absorbed pride that carries throughout the rest of the piece with lyrics like "The crown is broken into pieces, but there's more in my possession/ There's a whole lot in my possession/ Who do you really love? Well, that's sure to be in question/ My Mount Rushmore is me with four different expressions." This vanity turns what could have been a beautiful project exploring his feelings on his past and present struggles into a muddled ego-boost and a declaration of his own self-proclaimed accomplishments.
Despite these disappointing qualities, some of what is discussed on tracks like Sandra's Rose and the last song on Side B, March 14 redeem the egotistical undertones of other songs. Sandra's Rose conveys how Drake made his claim to fame by attributing much of his success to his family and some form of divine intervention. Drake speaks on his childhood, and what growing up in his mother's shop was like and how he has a great deal of gratitude for being chosen to make it in such a competitive field. He uses this to explain how he has been shaped into the man he is today. He explains that his mother has supported him on his path to success. Drake says in the song, "Sandra knows I pulled us out of a living hell/ I'm the chosen one, flowers never pick themselves."
The album is concluded with March 14, which finally goes in-depth into a topic that stirred up much of the excitement surrounding the release. It is one of the more open and honest songs of Scorpion. Previous to June 29th, it was only rumored that Drake had a son he has been hiding from the public eye. In this final song, Drake confesses by saying "I had to come to terms with the fact that it's not a maybe/ That sh*t is in stone, sealed and signed/ She not my lover like Billie Jean but the kid is mine." This feels like Drake finally showing his fans the extent of his emotional capacity.
That being said concerning the content of the 25 song double album, the instrumentals and beats behind Drake's words are uncomplicated and borderline bland. With features and samples from music legends like Michael Jackson and Mariah Carey, the music of Scorpion was expected to blow listeners away, yet it was too simple to be impressive. The laid back nature of the music makes this lengthy project that much more slow.The lack of theatrics in the music give way for the lyrics to stand alone which is right in line with Drake's need to upstage others and prove his place on a pedestal.