School For Advanced Studies Students Win Prestigious QuestBridge Scholarship
School for Advanced Studies students Dianelis Lopez, Luis Velasco and Luis Camargo-Carlos  have been selected as recipients of the QuestBridge National College Match scholarship.
Each student will receive full tuition at a partner college. Founded in 1994, QuestBridge is a program that strives to connect low-income and first-generation students with prestigious universities. This year 918 high school seniors from across the country were awarded the scholarship.
Dianelis Lopez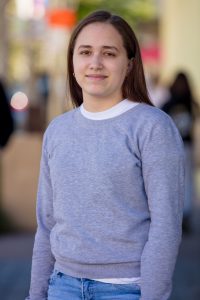 As soon as she saw her cousin at Duke University, Dianelis Lopez, 17, knew where she aspired to be.
Through the scholarship, she got one better than that—a full ride to Princeton University, an Ivy League institution located in Princeton, New Jersey. She plans to major in anthropology and neuroscience.
As a one-year-old immigrant from Cuba, Lopez and her younger sister grew up in an environment that didn't usually cater to future success. Her mother, though, didn't let that stop her and worked as a housekeeper to provide for her children.
"My mom always wanted more for me and my sister," Lopez said. "She came here for this; for me and her to study and pursue our dreams."
That drive enabled Lopez, a SAS student at Wolfson Campus, to push through her childhood difficulties, leading to accomplishments like a 5.2 weighted grade point average. She also formed the chemistry club at Miami Dade College.
Though not fully decided on Princeton—she's waiting to hear from other schools— Lopez realized that her academic future isn't tied to the hardships of her youth.
"I had 33 schools on my original list and I had to narrow it down. The Ivy Leagues were not a possibility," Lopez said. "[But] if such a prestigious school is willing to take a chance, it will probably increase my chances in applying to other prestigious schools."
Luis Velasco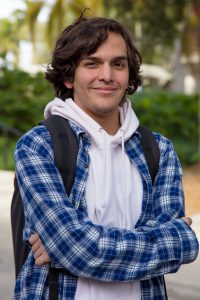 ​When Luis Velasco, a SAS student at Kendall Campus, thought about college, the University of Florida and Florida International University came to mind.
Until his QuestBridge match for the University of Chicago came in.
"I was under the impression that I wasn't going to get it because it's such a competitive scene," the 18-year-old said. "I was genuinely shocked."
Velasco's quest for QuestBridge began in his junior year, earlier than most. As part of the College Prep Scholars program, an extension of QuestBridge, he was able to get a headstart on the application process, starting QuestBridge's National College Match in June rather than August. Even with that, Velasco still doubted himself.
"Unfortunately, I don't put myself on a high pedestal," Lopez said. "[QuestBridge] was something I had never thought I would achieve through my high school years."
His record begs to differ. During his tenure at SAS, Velasco became treasurer of SAS's Future Business Leaders of America chapter, vice president of its National English Honors Society and  president of its Sports Club— all while maintaining a 5.2 weighted GPA.
"I still feel I haven't done enough," Lopez said.
​Velasco aspires to take that drive to UChicago, a private university in Chicago, Illinois, with plans to major in economics and public policy. While there, he hopes to expand his interest in writing with a minor in English, crediting it with his acceptance.
"I don't want to give it up, it's something I grew up to love," Velasco said. "I feel like it's an outlet to some emotional distraught I have inside me."
While there, he hopes to accept himself more while maintaining his high standards.
"I'm willing to put the effort to prove how UChicago is such a prestigious school," Velasco said. "I'm working hard to prove myself to all the people that put me down."

Luis Camargo-Carlos
Luis Camargo-Carlos, a SAS student at North Campus, wasn't surprised when he found out he was selected to be a Questbridge Scholar, but he was surprised that he was accepted at the  California Institute of Technology, a college located in Pasadena, California that focuses on science and engineering.  
"I didn't know I was going to get into Caltech," Camargo-Carlos said. "So, I was actually really surprised when I found out I won and I was really happy."
Camargo-Carlos, 17, applied to the program because he wanted to not worry about expenses, like room and board and tuition, and instead focus on his studies.
"It's a really big relief like not getting to worry about all that and being able to focus on studying and learning new things," Camargo-Carlos said. "It's really going to help me."
He was attracted to Caltech because of its small size, jazz band, where he plans to join as a drummer, undergraduate research opportunities and programs such as NASA's Jet Propulsion Laboratory, where students can apply to assist with research of the solar system. He plans to major in physics.
At SAS, Camargo-Carlos maintained a weighted GPA of 5.02 and was a member of the music club, math club and National Science Honor Society. He was also a staff writer at The Reporter where he wrote for the briefing and forum sections, penning columns on artificial intelligence, Bitcoins and stem cells.