Here Is Who Was Selected To Be MDC's Interim President
By Heidi Perez-Moreno and Corbin Bolies
Miami Dade College's Board of Trustees selected Rolando Montoya, who retired from the College three years ago as College Provost, on Aug. 29 to serve as interim president while they find a permanent replacement for Eduardo J. Padrón.
Montoya's appointment officially started on Aug. 31. This is the second time Montoya will serve MDC in that capacity. He assumed the role for a month in 2006 when Padrón briefly retired.   
"I'm ready to bring peace and harmony to this process," Montoya, 64, said while accepting the position. 
In February, Montoya served on the Board until he and three others were recalled by Governor Ron DeSantis. 
The motion was brought forth by Michael Bileca, one of the trustees who replaced the board members. The motion was passed unanimously. Trustee Marcell Felipe said that Montoya was one of three names floated as potential candidates prior to the meeting. 
"I have observed the anxiety of the personnel of this college, many of whom are good friends. I have been reading the articles in the newspaper. And the divisiveness that have been created in this community," said Montoya while addressing the Board. "…more importantly, the people with different opinions, people who would prefer this process versus people who prefer the other process were calling me. Then, I said maybe. Maybe it's my responsibility to bring some harmony, to bring some peace, to grant some time to the Board of Trustees so that they can do the job that you want to do." 
Montoya is now responsible for carrying out the search process, aiding in the selection of a new search firm and maintaining "harmony" at the College until a replacement is selected. 
"This is someone that has been Provost, knows the institution [and] has no interest in becoming a permanent member," Felipe said after the meeting. "I think that's key because if you don't, if he is not going to be a permanent member, then the pool of candidates that's out there can feel much more confident that they're going to get a fair shot. That's ultimately what we want, to be able to get the best candidate possible for the school."
Montoya's appointment capped a tense first hour of the meeting, where Trustees Felipe and Navarro clashed over the former's opposition to the original process. Felipe accused Navarro of not allowing Isabel del Pino Allen, a terminated North Campus sociology professor who is suing the College in a plagiarism case, to speak, but allowed attorney Mark Richard who, at the time, represented UFMDC in a lawsuit against the Board. 
Disagreements became a running theme in the meeting. After the first motion by Bileca to add a discussion of the interim president to the agenda passed, Navarro agreed to add it—only after the guest speakers finished. 
"So we just declined our votes?" Abraham asked, seemingly incredulous. "We all voted for this."
"No, we're going to talk about it—we're going to have a hearing and we're talking about it," Navarro said before moving to the first speaker, Miami-Dade County Mayor Carlos Gimenez.
There was also debate on whether to address Felipe's public remarks tying Provost Lenore Rodicio, the lone candidate for president, to the Confucius Institute, of which she serves as chair. The Confucius Institute is a Chinese-state funded program that incorporates Chinese culture into Western institutions. 
Navarro strongly urged Felipe to offer evidence suggesting malicious links between Rodicio and the Institute, stating it would be important to discuss any impropriety before moving her forward as a candidate. However, all other Board members save for Leon demurred, finding the topic irrelevant and not on the meeting's agenda.
Felipe then asked to speak.
"Finally, my censorship is lifted. I'm allowed to talk," Felipe said to groans, with Navarro saying it wasn't about him.
"You made it about me, Bernie, and quite frankly, I'm very disappointed by how you handled this meeting. I thought you would rise above it," he continued, pledging to "hit the reset button" on decorum. "I'm really looking forward to that and I plan to try and move this along."
Who Is Rolando Montoya?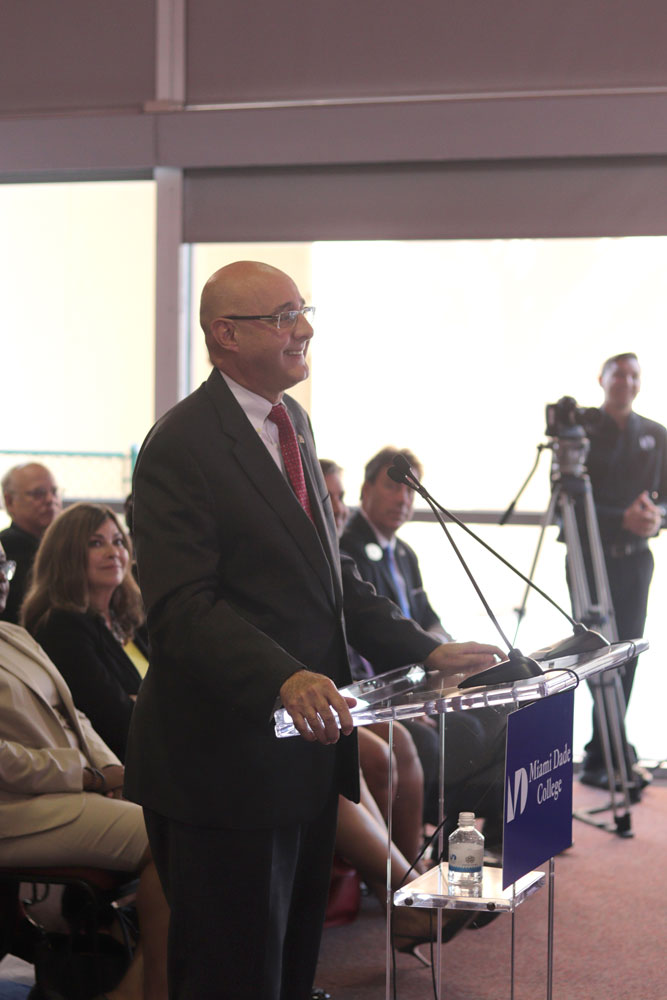 Montoya, who retired from the College in August of 2016 after working at the institution for 29 years, previously served as a professor, a chairperson, an academic dean, campus president at Wolfson Campus in addition to College Provost. Montoya's time at MDC included pit stops at Hialeah, Eduardo J. Padrón, Kendall, North and Wolfson campuses. 
His career at MDC started in 1987 as a full-time professor at North Campus where he taught economics, accounting, finance, business statistics, banking and business mathematics. Montoya stayed at North Campus for 11 years while also teaching at Hialeah and the then-InterAmerican campuses, which were outreach centers at the time.
Montoya's work as a professor garnered him the Endowed Teaching Chair award twice. The award is given to professors who have demonstrated excellence in the classroom. 
After his teaching career concluded, Montoya was promoted to chairperson of the Business Administration Department at Kendall Campus and was eventually selected as academic dean. He became president of the Wolfson Campus in 2003 and served in that capacity for six years. In 2009, Montoya served as College Provost until his retirement.
As Provost, Montoya oversaw business affairs, human resources, information technology, facilities management, institutional effectiveness, legal affairs, resource development and emergency preparedness.
Montoya, who was born in Camagüey, Cuba, holds a bachelor's degree in business administration from the Monterrey Institute of Technology and Higher Education in Mexico, a master's degree in finance and a doctorate in higher education administration both from Florida International University.  
Before MDC, Montoya worked at Price Waterhouse & Company as a junior auditor in Costa Rica for four years. In 1980, the governor of Costa Rica appointed him consul of Costa Rica in Miami.
The Next Step
To some, Montoya's candidacy comes as reassurance to donors that the search is back on track.
"We're going to bring this message back…that we have time here, at process. That it's going to be under the Sunshine Law that we are hoping to select the appropriate president," said MDC Foundation Vice Chair Alfredo Salas. "They were saying there was a lack of integrity. I share with them that things will get better and things are moving in the right direction."
Rodicio also believes his appointment serves as a steadying factor.
"The Board's decisions today have provided clarity on the next steps in this process, and for that I am grateful," Rodicio said in a text message to The Reporter. "I look forward to working with our Interim President, Dr. Montoya, someone whom I admire and respect."
But not everyone believes that hiring an interim president is a sign of the Board moving in the right direction. Some label the move as turning "a blind eye" toward a "tainted" process. SOS Miami Dade College, a grassroots campaign organized by the United Faculty of Miami Dade College, promised on Thursday to "double" their efforts to protest the search process. 
"It's entirely possible that this was an attempt to get people to look away," said UFMDC President Elizabeth Ramsay. "To get the students, faculty and community to stand down [and] to stop paying attention so that whatever plan they have in mind can be carried out without the kind of public outcry that we've seen so far." 
In a letter to the College on Sept. 10, the faculty union dropped a lawsuit they filed five weeks ago against the BOT over their decision to reboot the presidential search process. They said the decision was made in an attempt to reset their relationship with the Board. 
"As a group, we talked about how we would like to move forward with the opportunity of the Board," Ramsay said. "We're still extremely concerned. We are paying close attention to every step in the process, selection of a search firm—ensuring it has no ties to any of the trustees."
Along with Montoya's designation, the Board agreed to cut ties with its original headhunting firm, Diversified Search, who assisted them for around five months. The College paid the firm more than $167,000 over the course of four months for direct and indirect expenses. A new firm has not been hired, but will be decided in collaboration with Montoya and Human Resources Vice Provost Iliana Castillo-Frick. 
Once a new firm is selected, Montoya and Castillo-Frick will work with the firm to discuss the structure of the search, including whether there will be another presidential search committee. Several members from the previous search have stated they will not participate again.  
"I think it's going to be difficult finding a committee," said Jose K. Fuentes, a former vice chair of the Board. "There's going to have to be some type of option."
One option is to have the Board serve as the search committee.
"In my opinion, I think it has to be the Board of Trustees at this point," said chairman Bernie Navarro after the meeting. "We're going to see how that plays out and what the search firms say the best practice is."
Board members expect the search to take six to 10 months, though that timeline doesn't offer hope to some in the community.
"Right now, Miami Dade College looks like an academic circus," Richard said. "It looks more like a circus than a university."
Some information for this story was taken from an article The Reporter did on Rolando Montoya after his retirement in 2016. To read that story, click here.