Rodicio Makes Second Pitch To Be MDC's President: 'I'm Ready Today To Help Us Rebuild From The Storm.'
For the second time in 15 months, Lenore Rodicio made her pitch to be Miami Dade College's next president.
The 18-year MDC veteran, who has risen from adjunct professor to second in command at the College, concentrated on her role in steering the school during the coronavirus pandemic and why she stayed after the first presidential search was rebooted last July. 
"I have hope in this institution. I have hope in each and everyone of you here, present today. Those watching on live steam and those connected to us throughout the entire campus community," Rodicio said to a small crowd at the Chapman Center at Wolfson Campus. "I have hope in this community. I have the connections. I have the experience to lead this institution into its future. We've walked very far together,  I'm willing to walk a little farther with you. I'm ready today to help us rebuild from the storm and I've already started the work." 
Rodicio, the College's executive vice president and provost, was one of two candidates to speak during what was billed as a community forum on Thursday. The other was Morgan Phillips, vice chancellor for academic excellence at Pima Community College.
"I'm a chemist by training but I think and innovate like a CEO," said Rodicio, who earned a doctorate degree in chemistry from Louisiana State University in 1999.
Rodicio's academic training was on full display during her presentation. It was precise and methodical and communicated a laundry list of steps the school has accomplished since March 12 when MDC shuttered its doors because of COVID-19.
It included converting classes from in-person to online in two weeks, distributing laptops to students who needed them, investing in faculty training and securing funding, including more than $49 million from the Department of Education through the CARES Act and millions of others from private donors.
That funding was vital because MDC's enrollment was down by 14 percent this past fall, with each percentage point amounting to $1.4 million in lost funding. The College has used much of the funding they secured to offer incentives for spring enrollment that in some cases represented free schooling for students. 
"I know this institution. I know our students," Rodicio said. "I know where they need to build in order to strengthen our foundations. I know where our key strategic priorities lie."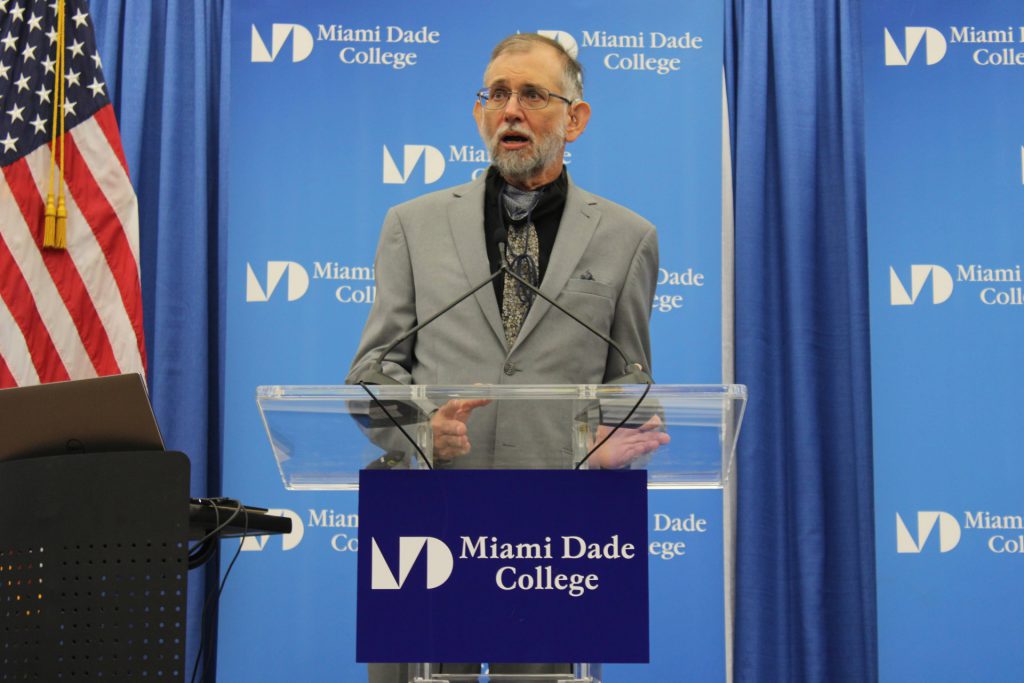 Phillips' presentation focused on several key points, including aligning technology with industry, structuring the future of education, responding to changing funding systems, addressing equity to improve future results, and mobilizing MDC.
The first question Phillips answered was from Ana Corrales, an economics professor at Wolfson Campus. She pointed out concerns about his ability to scale up and serve a diverse community.
Pima Community College, which has six campuses and about 40,000 students, is much smaller than MDC. The North Campus alone has more students than PCC.
However, like MDC, whose student body is more than 70 percent Hispanic, PCC  touts a 55 percent minority population made up mostly of Hispanics and Native Americans. 
"I have experience working with all these different populations," Phillips said. "Working in a multi-campus institution—like Pima that I'm at now or Valencia College that I've worked out in the past or even as an adjunct faculty member at East Florida State decades ago—has particular challenges but I am very familiar with those by serving as an administrator in those institutions."
Phillips, who has more than two decades of experience as a higher education administrator including stints in schools in Arizona, Florida and North Carolina, re-emphasised the importance of building relationships with potential donors to assure their needs align with the College's goals. 
At PCC, he used his network to secure a $15 million grant from state legislators to expand the school's aviation center.
Phillips is committed to a student-first philosophy. That means committing to pathway schedules and hiring professors who are connected, well-resourced and passionate about students.
At MDC, Phillips believes he can accomplish that by empowering other leaders at the school.
"Sometimes having a different perspective and being able to look at things from an outside lens is an advantage," Phillips said in his closing statement. "I think that I might be able to bring that to you here in Miami Dade [College]."
Finalist presentations will continue Friday before the Board of Trustees selects a new College President on Nov. 17. 
Gregory Fowler, president of Southern New Hampshire University's Global Campus, will present at 11 a.m. Madeline Pumariega, the executive vice president and provost at Tallahassee Community College, will speak at 1:30 p.m.
They will be held at Wolfson Campus, 300 N.E. 2nd Ave, in the Chapman Conference Center (Room 3210). You can watch virtually at www.mdc.edu/livestream