Run MDC Hits Snag After Winter Break
The Miami Dade College men's basketball team hit a rough patch after winter break, losing five of their first seven conference games. 
They were 13-4 on Jan. 8 before losing their conference opener to ASA College 78-76. Two of the losses have been to rival Broward College leaving the Sharks with a 15-9 mark and 2-5 in Southern Conference play.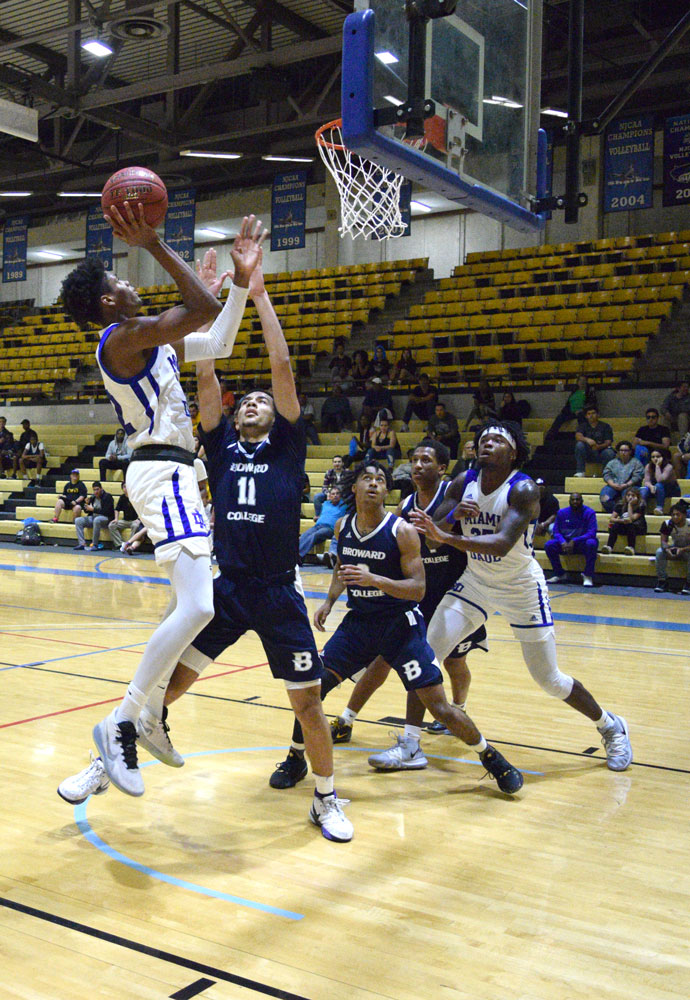 "After the Christmas break, we haven't been playing as a team," said freshman Victor Hart. "Watching film we realized we haven't been playing as hard as we used to."
The Sharks attribute the poor performance to a lack of communication that has affected their high-octane offense. Since the break, the team is averaging a paltry 80.4 points per game and they have scored less than 80 points on four occasions. They have also continued to struggle shooting from long distance. The Sharks are shooting 30.4% from three-point range.
Despite the recent poor shooting, the team still features six players averaging double-digits in scoring. Forwards Victor Hart and Gus Okafor are averaging 17.1 and 13.4 points per game respectively, wings Elton Walker and Randy Rickards are scoring 13 and 10.5 points per contest and point guards Dev Ostrowski and KJ Fitzgerald are averaging 11.2 and 11.4 points. 
The team is averaging 90.8 points while grabbing 40.3 rebounds per game on 42.8 % shooting. They hope to ratchet up the defensive intensity to get back on track. The Sharks understand that turnovers lead to easy fastbreak opportunities.     
"We have a motto called TSA (trap, stand, and attack)," Walker said. "We need to all be locked in and communicate for the defense to work." 
Walker, one of seven sophomores on the team,  has emerged as one of the Sharks' vocal leaders. He has become an extension of head coach Kevin Ledoux on the court. 
"I let my teammates know when they do something bad, but I also try and keep their confidence up," he said.
With the meat of the team's Southern Conference schedule on deck, the Sharks realize the urgency of the situation, and that they must improve quickly if they want to qualify for the state tournament. 
They hope to return to the uptempo offense that helped them win seven of their first eight games and score more than 100 points in three of those, including a 146-point performance at home versus Red Devils Academy on Nov. 5.  
"We've been playing lackadaisical," Fitzgerald said. "We have to come in ready to play with a new mindset." 
The Sharks' next game is a conference match up at the Theodore R. Gibson Health Center, 11011 S.W. 104th St., versus ASA College on Feb. 12 at 7:30 pm.