Review: Mumford & Sons Comes Full Circle in Delta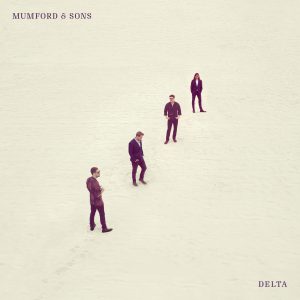 Even as one of the most successful bands of the past decade, it's hard for people to understand Mumford & Sons.
The most prominent group to arise out of the New Americana wave of 2012, the group has managed to slither its way through a variety of music styles (the one-two punch in Sigh No More and Babel, the electronic reset in 2015's Wilder Mind and their swing into South Africa in their EP Johannesburg). However, with their fourth album Delta, they've managed to achieve their prime—the good and bad combined.
Delta is an album about love, first and foremost. The first track, 42, leads with the speculative— "what if I need you / in my darkest hour?" That segues into multiple odes to the emotion, with songs like Beloved and Slip Away speaking to a lover while others like Guiding Light and Picture You proclaiming the necessity of that love.
It's also what's felt throughout the album, which truly feels like the band's definitive. The production is higher than any of the group's previous efforts—courtesy of Paul Epworth, the Grammy-winning producer responsible for Adele's 21 and 25—with the lyrics (consistently the best part of any Mumford album) matching the maturity of the sound. Delta is an album of care, and its contents reflect that.
That's not to claim total perfection. Some songs feel overproduced, with 42 in particular feels much larger than the band's live performances of the track. In songs like If I Say and Forever, two other songs Mumford played live before their official incarnations, studio sessions seemed to have done disservices to their prior versions, leaving them as past versions of their better selves (even if the lyrics are still superb).
But then lies the final, and title, track, Delta. The six-minute song, clocking in as Mumford's longest, incorporates distinct elements from past tracks into its length, making it the culmination of the band's journey toward their fourth record. In an explosion not dissimilar to Sigh No More's Dust Bowl Dance, the song guides the listener through the journeys of their debut, through their Grammy wins before venturing into the electric yet soulful vibe of their third album and extended play. It closes itself off in a fade, leaving the listener eager for more.
More isn't what's needed with Delta the album, which showcases an improvement in the band and their understanding of what their opportunities are. What Wilder Mind lacked in coherence is made up for tenfold in its follow-up—almost to a fault, with some songs directly (and somewhat forcibly) referencing the one that follows them ("I need that guiding light" in 42 leading into Guiding Light; "I can see the wild has come for you" in Beloved leading into The Wild).
But that reckoning shows that Mumford & Sons has finally begun to understand what it is as a band and what sound they want to produce. In Delta, they've finally become their own—now it's time for people to understand that.