The Reporter Looks Back At 2017 And Ranks Its Top Five News Stories
In 2017, The Reporter published more than 60 news articles ranging from obituaries, to student/professor profiles and crime stories. They included a high-ranking administrator accused of sexual harassment and the College reducing its administrative staff by three campus presidents. Here are our selections for the top five stories of the year: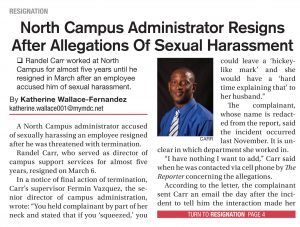 1) North Campus Administrator Resigns After Allegations of Sexual Harassment
By Katherine Wallace-Fernandez; Aug. 23.
A North Campus administrator accused of sexually harassing an employee resigned after he was threatened with termination.
Randel Carr, who served as director of campus support services for almost five years, resigned on March 6.
In a notice of final action of termination, Carr's supervisor Fermin Vazquez, the senior director of campus administration, wrote: "You held complainant by part of her neck and stated that if you 'squeezed,' you could leave a 'hickey-like mark' and she would have a 'hard time explaining that' to her husband."
The complainant, whose name is redacted from the report, said the incident occurred last November. It is unclear in which department she worked in.
Go to this link for complete story: www.mdcthereporter.com/north-campus-administrator-resigns-allegations-sexual-harassment/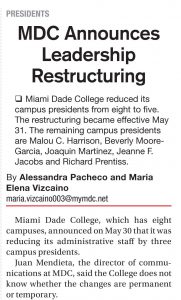 2) MDC Announces Leadership Restructuring
By Maria Vizcaino; June 9.
Miami Dade College, which has eight campuses, announced on May 30 that it was reducing its administrative staff by three campus presidents.
Juan Mendieta, the director of communications at MDC, said the College does not know whether the changes are permanent or temporary.
"We can't really comment on the rationale for this, other than these were contracts not renewed," Mendieta said.  
The presidents whose contracts were not renewed were: Richard A. Soria Jr (Wolfson Campus), Roger A. Ramsammy (West Campus), Joanne Bashford (InterAmerican Campus) and Mark Everett (Medical Campus).
Go to this link for complete story: www.mdcthereporter.com/mdc-announces-leadership-restructuring/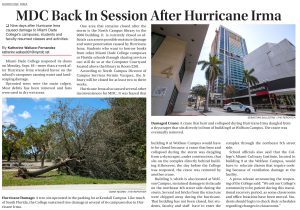 3) MDC Back In Session After Hurricane Irma
By Katherine Wallace-Fernandez; Sept. 22.
Miami Dade College reopened its doors on Monday, Sept. 18—more than a week after Hurricane Irma wreaked havoc on the school's campuses causing water and landscaping damage.
Uprooted trees were the main culprit. Most debris has been removed and fans were used to dry wet areas.
One area that remains closed after the storm is the North Campus library in the 2000 building. It  is currently closed so officials can assess possible moisture damage and water penetration caused by Hurricane Irma. Students who want to borrow books from other Miami Dade College campuses or Florida schools through sharing services can still do so at the Computer Courtyard located above the library in Room 2201. According to North Campus Director of Campus Services Fermin Vazquez, the library will be closed for at least two to three weeks.
Go to this link for complete story: www.mdcthereporter.com/mdc-back-session-hurricane-irma/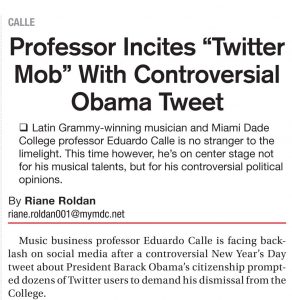 4) Music Professor Incites "Twitter Mob" With Controversial Obama Tweet
By Riane Roldan; Jan. 18
Music business professor Eduardo Calle is facing backlash on social media after a controversial New Year's Day tweet about President Barack Obama's citizenship prompted dozens of Twitter users to demand his dismissal from the College.
Calle's tweet was in response to an article posted by Scott Dworkin, co-founder and senior advisor of the Democratic Coalition Against Trump. The link was an article from New York Magazine making the case for President-elect Donald Trump's impeachment, to which Calle responded: "Yeah, right. Let's work on impeaching the Kenyan first."
Go to this link for complete story: www.mdcthereporter.com/music-professor-incites-twitter-mob-controversial-obama-tweet/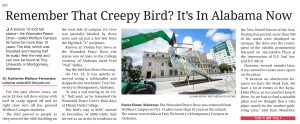 5) Remember That Creepy Bird? It's In Alabama Now
By Katherine Wallace-Fernandez; Oct. 27.
For the past eleven years, an eerie 13-foot tall dove statue with half its scalp ripped off and its right claw torn off has greeted Wolfson Campus students.
The bird peered at people as they entered the 1000 building on the west side of campus. It's view was partially blocked by three trees and sat just a few feet from the big black "X" sculpture.
Known as Violata Pax Dove or the Wounded Peace Dove, the statue was on loan to the College courtesy of Alabama artist Fred "Nall" Hollis.
But the bird has flown the coop.
On Oct. 13, it was quietly removed using a telehandler and shipped to its new home: Troy University in Montgomery, Alabama.
Go to this link for complete story: www.mdcthereporter.com/remember-creepy-bird-alabama-now/
—Camilla Sposito