Reporter Alumnus Lands Job As Video Producer At Miami Herald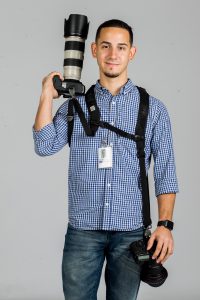 Matias Ocner, who served as a staff writer for The Reporter, has landed a job as a video producer for the Miami Herald and El Nuevo Herald.
Ocner, 28, started in August. His duties include editing videos and photos, aggregating videos and studio work.
"I'm super happy. I always wanted to work at the Miami Herald," Ocner said. "I had a lot of different options, different places, but this was my dream."
He earned his associate in arts degree from Kendall Campus in 2012 and a bachelor's degree  in journalism with a concentration in photography from Florida International University in 2016.
Before landing his job at the Miami Herald, Ocner served as a photo intern for the Miami Herald and El Nuevo Herald in 2016.
He has also worked as a multimedia freelancer for companies such as News21, Miami Herald, Scripps Howard Foundation Wire and the South Florida News Service.