Recruiting Athletes Takes A Virtual Turn As Coronavirus Continues To Loom
Kevin Ledoux, the men's basketball coach at Miami Dade College, never thought he would do all his recruiting from the comfort of his living room.
These days—instead of catching a plane to visit recruits—the man that has led Run MDC for the past four seasons settles onto his tan leather reclining couch, armed with his Microsoft Surface Pro 7 laptop and iPhone 4.
He dissects game film and highlight reels, chats with coaches to get player references and vets that information through virtual interviews with prospects.
"We can't go out and see the recruits, and the recruits can't come to see our beautiful campus," Ledoux said. "We end up watching an absolute ton of film." 
Such is the world of recruiting college athletes during the coronavirus pandemic—a dilemma that has forced coaches nationwide to swap their frequent flyer miles for virtual logins. 
Ledoux—whose roster last season was dotted with players from Connecticut, Delaware, Maryland, New York and Tennessee—hasn't allowed the limitations to stop him.
With the help of assistant coaches, Brandon Cosby and Chris Vincent, they have stitched together what they believe is a top-notch recruiting class.
It includes: local prospect Dashaun Joseph, a forward from Dr. Michael Krop Senior High School; Jordan Brown, a guard transferring from The Skill Factory in Atlanta; wing player Jyre McCloud from Leesburg High School in Central Florida; shooting guard Jakob Medina, a transfer from Southeast Missouri State University; Ciaran Sandy, a forward transferring from College of the Holy Cross in Massachusetts and Khalil Shaheed, a point guard from Surge Christian Academy in Clearwater. 
Despite Ledoux's successful acquisition of talent, virtual recruiting has proved to be difficult.  Coaches are unable to fully gauge players' measurables: height, weight, arm length and intangibles such as personality and leadership traits, factors that play prominent roles in team building.  
"Nothing can replace an in-person assessment, but now with social distancing, it's become the only way," said Lady Sharks head women's basketball coach Susan Summons.
Ironically, the COVID-19 pandemic contributed to the Lady Sharks signing forward/center Kennedy Harrell from Whitney Young High School in Chicago. Harrell, who sustained a torn ACL that sidelined her for most of her senior year, faced an uncertain future this recruiting cycle. 
Four-year schools that had expressed interest in her—Long Island University in New York, Saint Xavier University in Chicago and The University of Texas at San Antonio—were hesitant to sign her because they couldn't evaluate her injury.
But Summons remained steadfast in her recruitment of Harrell, who she met at the Chicago Junior College Jamboree in 2019. She checked in on her regularly and they frequently exchanged funny stories through Facetime.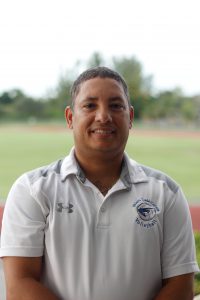 "Being recruited during a world pandemic is something I never thought I would have to go through," Harrell said. "After months of going back and forth, I got a call from Coach [Summons] where she stated her strong interest in me and she told me not to make a decision being emotionally charged. I thought about [what] she said and after about a week I called back, making my decision to be a part of the Shark family." 
Summons, who has coached at MDC for 34 years and has amassed 614 wins during her tenure, used her contacts to secure a strong recruiting class with an international flavor, despite the COVID-19 restrictions.
Her efforts netted her point guard Camila Barreno from Ecuador, wing Amanda de la Sene Cruz from Brazil, center/forward Zacchaeus Oluwatunmise from Nigeria, and forward Ella Olsson from Sweden.
Volleyball coach Origenes "Kiko" Benoit, who has won two national championships and 423 games in his 15 years with the Lady Sharks, frequently uses his international contacts to stay competitive.
The makeup of his teams usually resembles a United Nations summit. This past year, his roster featured players from Brazil, the Dominican Republic, France, Slovakia and Sweden.    
The 2020-21 class was shaping up to be just as diverse. Benoit received commitments from Colombian setter Nathalia Acosta, outside hitter Elena Bianchi from Italy and outside hitter Xinye Hu from China, but their status on the team is being threatened due to issues securing visas.
Benoit said Hu will not be able to join the team. Bianchi was scheduled to get her visa from the United States Embassy, but it closed two days before her appointment. 
"There's always frustration, but it's out of my hands," Benoit said. "Most likely, I won't have a complete roster by the beginning of the season." 
Head softball coach Gina De Agüero was one of the least affected by recruiting issues related to COVID-19 because most of her team is returning for the 2020-21 season.  According to the MDC athletics roster, the Lady Sharks had 16 freshmen on last year's squad.
The team signed infielder Melissa Leon from Westminster Christian School, infielder/catcher Bianca Palacios from Lely High School in Naples and pitcher/outfielder Brianna Romaguera from Coral Reef High School to the 2020-21 recruiting class.  
De Agüero hopes to fill the last few spots by recruiting at tournaments this summer—if they happen.
Men's head baseball coach Adrian Morales did not respond to several calls and emails for this story.