Professor Once Nominated For A Pulitzer Prize Retiring After More Than Three Decades
Ricardo Pau-Llosa stands out among his colleagues. 
The art aficionado with a passion for writing can easily be recognized when roaming Kendall Campus, armed with his signature beige cargo-style photographers vest.   
During his more than three decades at Kendall Campus, Pau-Llosa has left an indelible impact.   
He co-advised Kendall Campus' award-winning literary magazine Miambiance for 15 years, curated art exhibitions and wrote a poetry book that was nominated for a Pulitzer Prize. 
Pau-Llosa, 65, will retire at the end of the month. He taught literature, creative writing and English courses at the College for nearly 34 years.
"I can say with the utmost confidence, that [Miami Dade College] is losing one of its best," said Michael Hill, one of Pau-Llosa's creative writing students last year.
Pau-Llosa was born in Havana, Cuba in 1954. He moved to Chicago with his family when he was six years old. They moved to Tampa before settling in Miami in 1968. 
Although he is an avid reader, he immersed himself in writing poetry while studying at Belen Jesuit Preparatory School in Miami.
"The more I read, the more I became fascinated with [poetry]," Pau-Llosa said. "I'm glad I found it early on in life. I can't imagine my life without it, it's impossible."
After graduating high school in 1971, Pau-Llosa earned an associate's degree in English from MDC in 1972. He got a bachelor's degree in English from Florida International University in 1974 and his master's degree from Florida Atlantic University in 1976. He also began a doctoral degree at the University of Florida in English, but never finished due to family issues. 
Pau-Llosa started working at the College as a full-time English professor in 1985. Colleagues describe the off-beat professor as a lover of sarcastic and witty comments.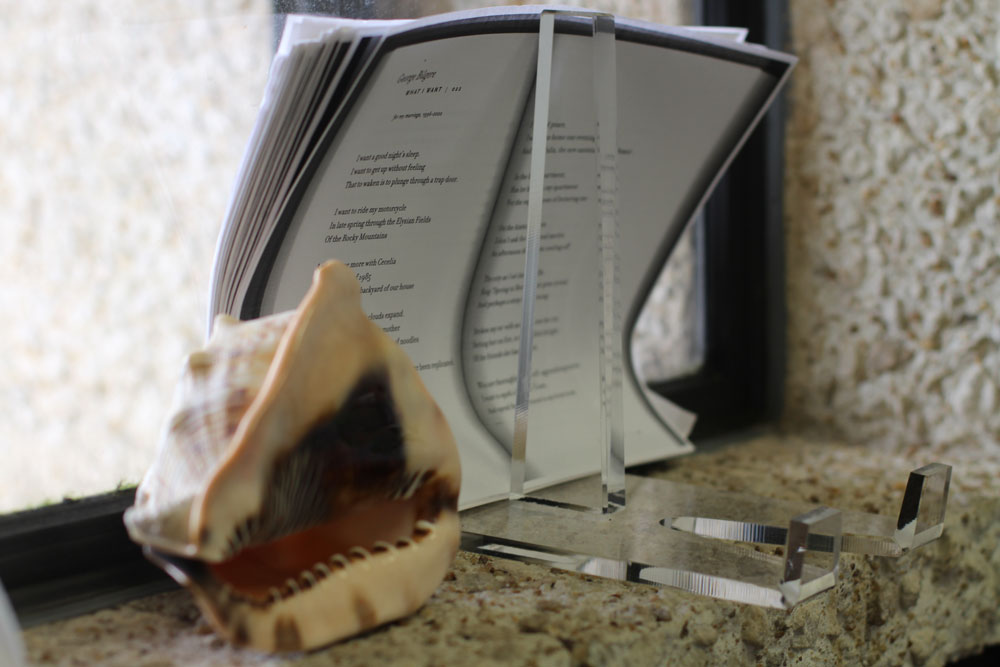 "He is amiable, a bit quirky at times and he definitely has a sarcastic sense of humor," said Sharokina De Mirza, assistant to the chairperson of the Kendall Campus English and Communications Department. "His knowledge of art is expansive."
Pau-Llosa is also tapped into the literary and art world. He has published eight poetry books. His third book, entitled Cuba, was nominated for a Pulitzer Prize in 1993. Last year, he published The Turning through the Carnegie Mellon University Press.
He began advising Miambiance in 2001 and remained as co-adviser until 2016 and oversaw the art and poetry of the magazine. 
"Pau- Llosa used to complain about the art that was chosen, and the way the staff used to slap poetry on top of art, even without permission," said retired MDC professor Marta Magellan, who convinced him to serve as the magazine's co-advisor in 2001. "I knew that he was a well-respected art critic, not to mention a poet, and I thought we'd be a good match."
They certainly were. The magazine won a Pacemaker under their guidance in 2015.
Maria Hospital, an English professor at Kendall Campus, said she will miss Pau-Llosa's presence.  
"I will remember professor Pau-Llosa as a dedicated professor, who motivated his student writers to always excel," Hospital said. "I will remember him coming down the hallway wearing his vest, always stopping to ask, 'Anything new?'"
His students recall Pau-Llosa as a steward of young minds.  
"Professor Pau-Llosa is more than a teacher and poet," Hill said. "He is a mentor and a guide for those who don't realize their full potential. He views the world with a sight that artists vie for daily and I will always be grateful for the guidance he provides."
He's also well-immersed in the art scene. Pau-Llosa has curated several art exhibitions such as the Lima Biennials in Peru and Outside Cuba/Fuera de Cuba at Rutgers University in New Jersey. He's also written several art books and essays, some of which have been featured in American Poetry Review in the United States, Prism International in Canada and Art International in France. 
Pau-Llosa plans to focus on his poetry and his work as a curator during retirement. 
"Teaching has been a great deal of fun," Pau-Llosa said. "But, I am ready to continue onto the next chapter of my life."