Professor Inspires Students With His Writing
Writing is second nature to award-winning novelist Preston L. Allen.
Allen, an English composition and creative writing professor at North Campus, has written seven books during his 36-year writing career. They have been reviewed in the Chicago Tribune, Miami New Times and The New York Times.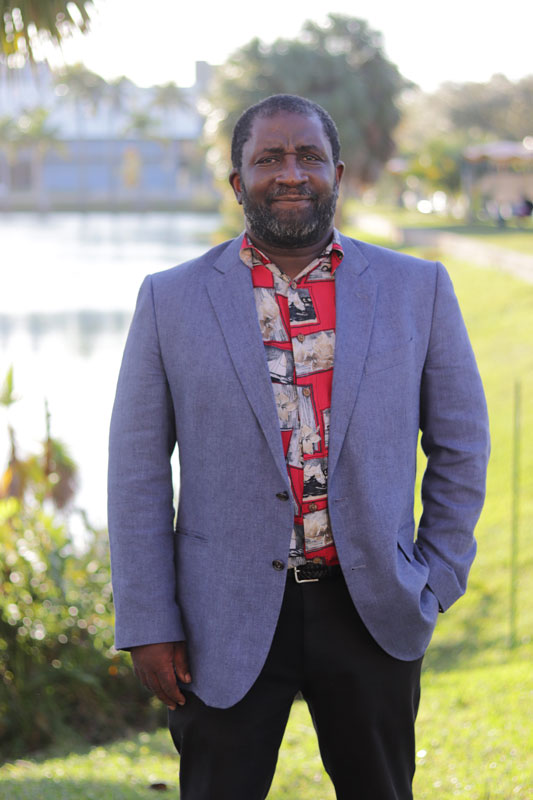 "We consider him a resident celebrity here in the English department at North Campus" said Edward Glenn, an English literature professor at Miami Dade College and Allen's colleague for more than 30 years. "He has reviews in a number of publications, and has some following in African-American literature circles. This is a man that teaches and finds the time to write. It almost makes me feel ashamed that I don't write enough."
Allen's books have garnered their fair share of critical acclaim.
Every Boy Should Have A Man was a finalist for the  Hurston/Wright Legacy Award in 2014. The award honors excellence by African-American authors in the area of fiction, non-fiction, and poetry.
Allen has also received the Sonia H. Stone Award and he was awarded the State Of Florida Individual Artist Fellowship. He was also a finalist for the Royal Palm Literary Award.  
His work often touches on socially-relevant topics such as racism, sexism and religion.  
Allen, who was born in Roatan, Honduras, was first introduced to writing in the fourth grade when he wrote the text for his friends' dialogue bubbles in comic books they created.
"I was a pretty poor artist, and my friend made a point that [I was] the worst artist out of the five of us," Allen said. "One guy said, 'But you know, what you're putting into the word bubbles is outstanding, you are a better writer than you are an artist'. So that's when my focus went to writing."
Ever since that day, Allen hasn't stopped. While he was a student at Miami Norland Senior High School, he began showcasing his work to anyone who would listen. He recited his work to his friends during lunchtime and his siblings at home.
Throughout his 29-year career as a professor, Allen has helped aspiring writers develop their prose in the courses he instructs.
Allen takes the word mentor like a badge of honor, driven by the gratification he receives when students perform their own work, turn in great papers and publish their literature.
"I don't know which one I love more—teaching or writing," Allen said. "I get so giddy when I hear my students performing their own work. It's like 'Wow, I had a hand in this.' It's their talents and their genius, but because of me, in some small way, they now realize that it's in them."
One of Allen's former creative writing students, Vincent Alonso, credits him with planting the seed that made him realize he could be a writer.  
"We get into the first day of class, and he [Allen] just tells us 'Write six pages about whatever the hell you want], and by the end of class we turned in our pages." Alonso said. "Then, we came back on [a] Thursday, he started passing out papers by calling people's names, and then I realized he got to one girl, and told her 'You're going to be short story writer.' He gave me back my paper, and told me 'You're going to be a novelist,' and as I involved myself more in the class, I understood why he felt this way."
Alonso is shopping his novel, Movement of Power, that Allen helped edit.   
Creating and editing has always been a big part of Allen's identity. Even after a stroke in 2011 briefly left his right arm and leg immobile, he quickly returned to his teaching position a few months later and continued writing.
"It was a challenging time that really made us closer," Preston's son, Quinn Allen, said. "He's always been a fighter."
Allen's novels are available for purchase through Allen's publishing agency, Akashic Books, Barnes & Noble and Amazon.