Private Prison Companies Put Profits Before People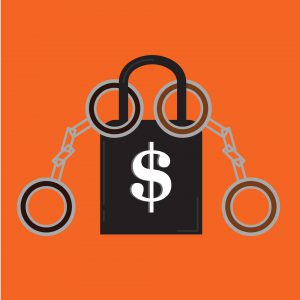 On Aug. 7, Dream Defenders, a civil rights organization based in Miami-Dade County, held a protest against GEO Group Inc., a privatized corrections corporation, at the Immigrations and Customs Enforcement center in Boca Raton, Florida.  
The protest manifested itself as a response to a cease and desist letter that GEO sent to Dream Defenders, which alleged that they used false information to incite violence against the company. On Aug. 3, GEO group threatened to sue the organization.
GEO Group is only one of the many private prison companies operating in the United States  whose source of income stems from the capturing and detention of vulnerable and marginalized people. Private prison companies exploit prisoners as full-time employees who make zero wages and even when said prisoners have fulfilled their debt to society, and are freed from physical incarceration, they are still kept within political chains.
The private prison model relies on an overflowing prison population. Prison labor is a gold mine for private companies. Since there are no unions, vacations or employment wages, prisoners are essentially a cornucopia of endless free labor.
Now, the private prison model is investing itself in immigrant detention centers as migrants work in negligent conditions for a dollar a day.  
"The over-policing and incarceration of Black people in the United States is well documented. Black, Latino and poor white people fill the court systems (that private prisons) feed off of," the Dream Defenders say on their website.
African Americans and Hispanics represent about 32 percent of the United States population, but make up 56 percent of the prison population. While the United States holds only about 5 percent of the world's population, it holds about 22 percent of the world's prison population, which victimizes Asian and Native Americans as well.
The concept of the prison industrial complex was birthed out of and stems from the era of Jim Crow laws, after the abolition of slavery. Its preferred narrative is that the justice system doesn't see color or creed. However, too frequently innocent men and women, people of color, get locked up due to absurd sentences because of faulty stand-your-ground laws, non-violent crimes or even by being wrongly accused of crimes.
This private industrial system stems from white supremacists' conceptions that in no way can a black man display any level of intelligence, let alone be equal to a white man and has grown in perverse perceptions since.