Point Guard Off To Fast Start As Sharks Begin Season Strong
The Miami Dade College men's basketball team (6-1) is off to a fast start.
Some of the Sharks' success can be attributed to the steady play of point guard Kaleb "KJ" Fitzgerald. The 6-foot sophomore played at Jacksonville University last year, and is one of the three Division I transfers joining the Sharks this year.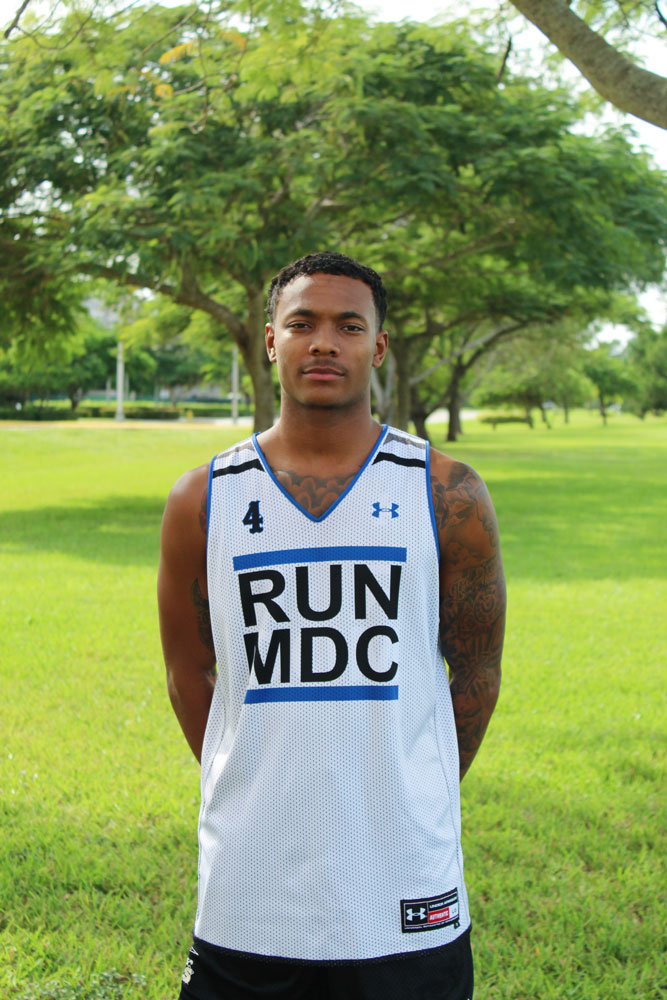 Fitzgerald has been a good fit for the Sharks' fast paced offense. Through five games, he has scored in double figures in every game, and is averaging 12 points, 4.4 assists and 2.4 steals.
"KJ is a point guard that can do everything," said Richard Charles, a shooting guard for the Sharks. "He knows when the right time to pass and knows when to get a bucket and that will just keep the defense guessing all game long."
Born and raised in West Palm Beach, Fitzgerald has always been a sports fanatic. 
"I played baseball in fifth grade and then when I was eleven, I played basketball," Fitzgerald said. "I admired players like Allen Iverson and Chris Paul growing up." 
Fitzgerald credits a lot of his development to Tavarus Harris, the men's head basketball coach at Cardinal Newman High School in West Palm Beach.  
"I met KJ at my basketball camp Harris Athletics," Harris said. "Our bond was strong, and I always thought of our relationship like a little/big brother type." 
Fitzgerald quickly made a name for himself at Cardinal Newman. He led the Crusaders to the Florida High School Athletic Association Class 4A Championship game in 2015 against Tallahassee's Amos P. Godby High School. 
Although Cardinal Newman lost the championship game, 53-46 in overtime, it solidified Fitzgerald's reputation. By the time he graduated from Cardinal Newman in 2017, he had scored more than 1,000 points at the school. Fitzgerald was a three-time All-County selection for the Sun Sentinel, earning First and Second All-Team Class 5A All-State Honors in 2016 and 2017. As a senior, the guard averaged 24 points and 8 rebounds per game. 
"My time there was really good,"Fitzgerald said. "In my freshman year, I even played with current NBA player John Collins from the Atlanta Hawks."
After Cardinal Newman, Fitzgerald played for Sunrise Christian Academy, a college preparatory school in Wichita, Kansas. 
"It was something I discovered on my own," Fitzgerald said. "It was something different because it was far from home. I met great people, but ultimately it was a great decision." 
In 2018, Fitzgerald transferred to Jacksonville University. He said  felt lost in the shuffle and played sparingly, averaging 2.4 points and 1.2 assists per game for the Dolphins. 
"It was difficult because I was far from home again," Fitzgerald said. "Division I was also tough. But overall, it taught me a lot and I learned about time management, patience, and work ethic. The challenge helped me get better as a person and a player."  
Now he is looking to use the knowledge he's gained to put the Sharks back in the playoffs after a four year respite.  
"Our goal is to win conference and go to States," Fitzgerald said.  
The Sharks next game is versus Chipola College in Ocala, Florida at the Central Florida Thanksgiving Classic on Nov. 29 at 6 p.m.