Pimentel Expected To Provide Veteran Leadership For Lady Sharks This Season
With a roster that features 12 new players from six different countries, the Miami Dade College volleyball team needs some veteran stability.
Enter defensive specialist Paola Pimentel. The 19-year-old sophomore averaged 18.1 digs per match last season while helping the team finish third at the National Junior College Athletic Association National Tournament.
"She is a leader and that's what we need," said Lady Sharks' Head Coach Origenes "Kiko" Benoit. "She was good when she came here. She's much better now."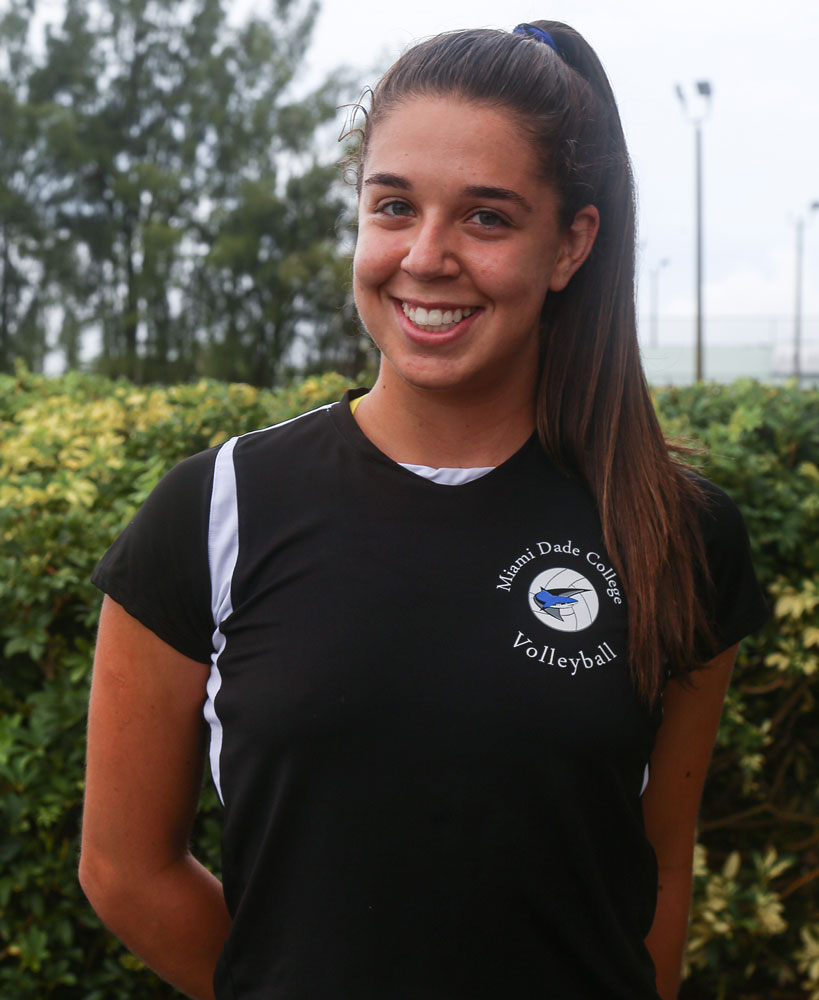 Pimentel was born and raised in Rio de Janeiro, Brazil. She fell in love with the sport while watching her father, Wilson, play court and beach volleyball. When she was seven, Pimentel took classes to learn the sport's basic concepts. 
"I was just watching him the whole time and I used to go with him and I liked it," Pimentel said. "I started the classes but I could never imagine that I could go [this] far." 
When she was 11, she joined Clube de Regatas do Flamengo—a Brazilian sports club known mostly for its soccer team—playing in their youth system for seven years. Pimentel earned the team's Best Libero award in 2017. 
Shortly after joining Flamengo, she started playing for Rio Beach Volley, an amateur beach volleyball club in Rio de Janeiro, on the weekends. The team won an under-19 National Championship in 2017 and Pimentel was called up to the under-17 Brazilian national squad that same year.
In addition to her duties with Flamengo, Rio Beach and the national squad, Pimentel also played high school volleyball for CEL Intercultural School, a private school in Rio de Janeiro. At CEL Intercultural, she represented Brazil at the 2017 Beach Volleyball World Schools Championship in French Polynesia, winning the championship in the under-16 age group. 
After finishing high school in 2018, Pimentel decided to focus on court volleyball because it offered her the best chance at receiving an athletic scholarship in the United States.
In August of 2019, Pimentel moved to Miami to play for the Lady Sharks. She adapted well to the city thanks to its resemblance to Rio de Janeiro—they are both big coastal cities. 
Teammates expect Pimemtel to provide solid defense this year as the squad aims for the National Tournament in West Plains, Missouri. 
"I know that if I have a problem, she will be there for me and will support me in everything. She's a very happy person and always wants to go out and learn new things," said freshman outside hitter Janelly Ceopa. "I feel that she's a leader. That gives us a lot of confidence when playing; I know that if Paola is there, the team will work well."
The Lady Sharks start the regular season on the road Jan. 22 versus Hillsborough Community College.