North Campus Criminal Justice Professor To Retire After 31 Years
Clyde Pfleegor listened intently as a sea of students peppered the 65-year-old with endless compliments during a criminal justice class, taught by sergeant Steven Tarrago, at North Campus. 
Many of the students, who have also taken classes with Pfleegor, said Miami Dade College will not be the same without him. 
The veteran criminal justice professor is set to retire on Dec. 21. He has worked at the College for more than three decades. 
"Whatever instructor the school hires—they could be great, but there's never going to be another Mr. Pfleegor" said one of his former students, Anthony Garcia, who is currently in the police academy.
The former police officer, known for being selfless and having a sharp memory on anything related to police law and criminal justice, also has a penchant for telling captivating stories during lectures. 
"When I came back as a teacher, he saw me and he told me about incidents that had happened in my classroom that he remembered," said Tarrago, who was once Pfleegor's student. "He does not forget, and that's because he cares."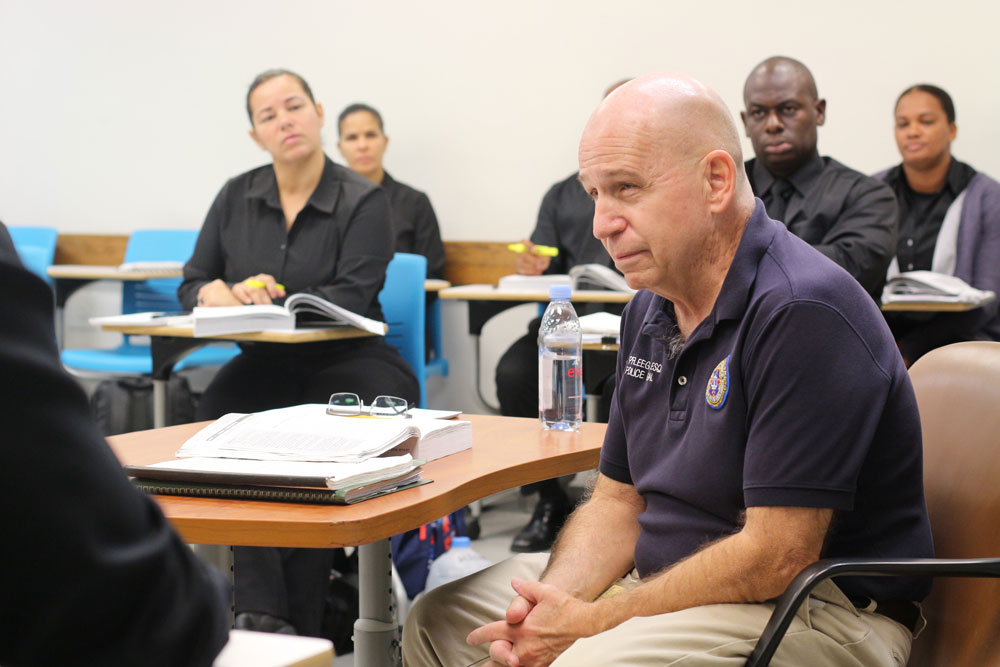 Pfleegor was born in Danville, Pennsylvania on September 20, 1954. He grew up on a farm in a rural part of town. When he was 21, he moved to Miami, to escape the cold and pursue a bachelor's degree in public affairs at the University of Miami. 
"The city and the cultural change was something to get used to, but once I did, I never wanted to go back," Pfleegor said.
He graduated from UM in 1976. His teaching career began that same year at Miami Edison Senior High School, where he taught history and economics for two years.
"I enjoy teaching because I like being involved with the students," Pfleegor said. "Teaching can sometimes create an irregular schedule with long hours, but I enjoy being inside in the classroom."
Once the brutal recession in the 1980s erupted, Pfleegor lost his job and returned to UM to earn a master's degree in education. He found temporary work as a history and economics teacher at Gulliver Academy and Miami Douglas McArthur South Senior High School. 
"I looked for jobs teaching in the public sector," Pfleegor said. "There weren't any jobs, so I tried private as well. There still weren't any jobs for teachers."
As a result, Pfleegor switched careers. He began interning at the public defender's office in 1984 and earned a juris doctor degree in 1985 at UM. After the economy stabilized, he tried his hand at teaching again.  
"It was even on my law school application that I intended to go back to teaching," Pfeegor said. "In 1982, there were no teaching jobs in the public school sector so I used the opportunity to get my degree. By the time the economy recovered in 1985, there were plenty of jobs."
In April of 1988, Pfleegor landed an assistant professor job at MDC's basic law enforcement training academy and eventually became a professor in 2000. He's instructed more than 8,000 police officers that have gone on to work at more than 30 different agencies that patrol Miami-Dade County, according to Pfleegor. 
But despite teaching aspiring police officers for nearly two years, Pfleegor felt he lacked real-world experience as a police officer. So he enrolled at North Campus' School of Justice to become a police officer. He graduated with honors in 1990. 
"Most people become lawyers after being police officers, but for me it was the opposite," Pfleegor said. 
In addition to his teaching gig, Pfleegor joined the Key Biscayne Police Department as a full-time police officer in 1992, and retired honorably in 2007 after 14 years of service. 
"Police officer interactions with members of the community have a profound impact on this community," Pfleegor said. "The advantage of having practical experience as a police officer to my students is the opportunity to portray the law in real-life police encounters and scenarios. Many officers come back to tell me that my instruction was street-applicable."  
Vincent Como, Department Chair for the School of Justice, said Pfleegor is an integral part of the College. He has served on the scholarship and discipline committees and helped students improve their writing in the Quality Enhancement Program. 
Pfleegor has also been a pillar in the community. Como recalls Pfleegor's kind actions during Hurricane Irma, when he opened the doors of his home to a widow and her dog after their house lost power. 
"Professor Pfleegor consistently contributed in many areas and was actively involved in all levels and facets of Miami Dade College and its community," Como said. "His list of contributions continues to serve the department, school, college, campus and community with dedication. He will be missed." 
Pfleegor's work is in the roots he helped to sprout. 
A recent text from former student Angel Lluvet, who took Pfleegor's basic law enforcement class more than six years ago, serves as testimony.  
"I'm writing to say thank you because you showed me an alternative, a different ambition to shoot for," the text read. "You inspired me to pursue something unimaginable to [the] average trainee, and today [April 17] I found out I passed the Florida Bar Exam. Without you teaching our legal class and having the in-depth discussion you had with me personally, I would have never even viewed it as a possibility!"
Pfleegor's colleagues say that type of dedication will be hard to replace. 
"How do you replace a person who has been teaching, impacting and empowering students since 1988?," Tarrago asked. "You don't. You can only hope that the person who comes behind him will grow into that position, like he grew into the professor he is today."