North Campus Cafeteria Reopens After Delayed Renovation Project
The wait is over.  
North Campus opened a new, state-of-the-art cafeteria on Aug. 26—the first day of the fall term. The cafeteria was shut down for 15 months while the project was completed.   
The 10,284-square foot facility is located on the first floor of building four. It includes a food preparation area, serving station, 184-seat indoor dining area and a 104-seat outdoor seating area in the breezway of the 4000 building and the surrounding patio area. 
"The new cafeteria will [provide] a comfortable, collaborative dining environment with brand new menu items and a fresh new experience for all," said North Campus Director of Administration Fermin Vazquez, who oversaw the project.
They will be open during regular school hours—8 a.m. to 7 p.m., Monday through Thursday, and 8 a.m. to 4:30 p.m. on Friday. The cafeteria will include a myriad of food options. It will be divided into six food stations provided by North Campus' food vendor, Canteen. 
The cafeteria will offer a: Café station, a licensed Starbucks store that will offer a coffee, tea and pastry menu; Build Your Own Pizza station, where patrons can design their own personal pizza; JustBurger station, which offers a burger menu and traditional sides; The Main Dish station, a hot meal station that will change daily depending on the theme; MonduSun station, a crepe, sandwich and soup station and Outtakes, a grab-n-go station with ready-made options like prepacked subs and fruits. 
Prices will remain the same as they were before the remodel, according to Canteen District Operations Manager Gina Duran.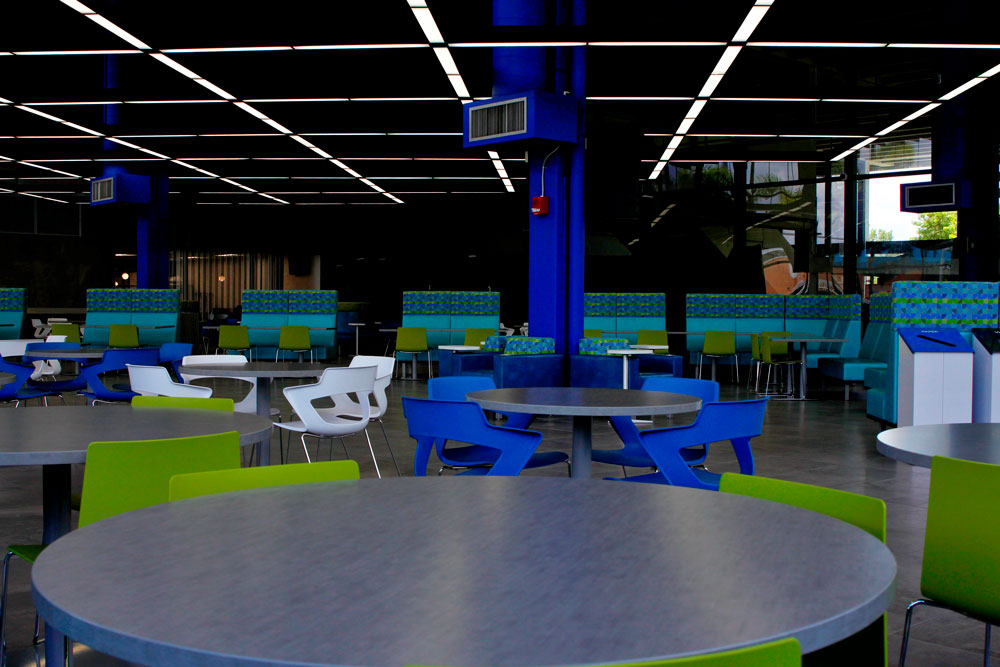 North Campus is expected to introduce HealthFit, a dietary guideline with caloric and macronutrient recommendations to promote healthy eating, in collaboration with the Aquatic and Fitness Center in October. The cafeteria will also include a vegan menu. 
Renovation costs were approximately $1.8 million—including construction, furniture, fixtures and equipment. Vazquez said construction began in May of 2018 in hopes of creating an interactive dining experience with updated technology, diverse food options as well as indoor and outdoor seating areas.
"As a student, you don't want to be in a dormant situation. You want life around you," Vazquez said. "You want to engage with others and have technology available." 
The building's year-long construction process was not all smooth-sailing. After the renovation process was started last summer, it was halted due to "unforeseen conditions discovered in the back of the house," according to Vazquez. 
As a result, the College installed new electrical circuits, equipped the back of the house with state-of-the-art machinery, repaired the plumbing system and installed new lights throughout the facility. The underground utility work and additional electrical work cost around $156,000. 
North Campus will invite students to submit name ideas for the cafeteria through an online survey until Sept. 30 in order to select eight to 10 finalists. The survey can be found at: www.mdc.edu/north/cafeteria/
A final survey will be sent to students through their MDC emails to select the most popular one. The final name is expected to be selected by late October. 
The official name will hang above the cafeteria's utensils area, and oversee the entirety of the indoor dining area. 
"We want to make [students] feel like this is their cafeteria," Vazquez said. 
In addition to the cafeteria, North Campus is expected to reopen its Computer Courtyard in Room 2102 during the first week of the fall term.