New World Student Who Lost Vision In Left Eye Wins $25,000 Scholarship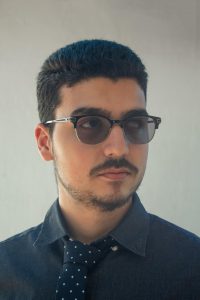 For as long as he can remember, Nelson Brito's life has revolved around art and the freedom it affords him.
Through his passion, the New World School of the Arts sophomore was awarded Taco Bell's $25,000 Live Más scholarship last summer.
"Before I received the scholarship, I didn't know how I was going to pay for my bachelor's degree," Brito said. "Thankfully, now I can continue to work with what I love."
It was through Taco Bell's scholarship that his dream was given new life, simultaneously helping  him define his passion and develop a way where it can prosper.
"I like to work with other people, help clients and keep working in my personal projects," Brito said. "Being a graphic designer is a stable job that does not restrict me on doing my own stuff."
The scholarship required Brito to submit a two-minute-long video that tells the story of the applicant's life's passion.
In the video, Brito speaks fervently about his love for art.

"As a kid, I loved to paint," he says, as some of his childhood artwork appears on the screen. "It was a unique way to express my words and thoughts into an image."
While Brito's art mainly revolves around graphic design and digital painting, he also works on painting, drawing, video art, photography and stop-motion animation in his spare time.
Brito's journey hasn't been easy. When he was a child, he endured multiple surgeries due to a cataract in his eye. By age four, surgical complications would leave his left eye blind. This has been a struggle, he said, affecting his ability to do graphic design.
"Before being a graphic designer, it's known that you don't simply start drawing digital on the computer, you have to learn to draw with paint and pen on paper," he said. "When you draw live objects, it's harder for a person with only one working eye. You perceive the world differently."
The surgeries also resulted in Brito's eye being sensitive to light, making it difficult for him to look at a computer screen.  Although the problem has gotten better, he still has to take breaks to keep from straining his eye.
Brito emigrated to Miami from Cuba three years ago, when he was 16 to reunite with members of his family and to search for better opportunities to pursue art.
"I think they saw what I have been through before and how I became an artist, and why I am still working," Brito said, when asked why he thought that he won the scholarship. "I think it was because of my struggles in the past, and then what I am pursuing in the future. I want to become a creator."
The announcement was shocking to Brito. He had only applied for the $10,000 variant of the scholarship because he didn't think that he had a chance to receiving a larger amount.
"He decided that becoming blind in one eye wouldn't be a barrier for him and he wouldn't give up," said Brito's brother, Santiago. "He doesn't give up in anything he does. He just loves painting and expressing every idea that comes to his mind through art."