New Student Center Legend Passes Away After 27 Years At MDC
Daryl Perry's colleagues huddled around his corner office at Wolfson Campus' New Student Center to celebrate the life of their long-time friend. 
They talked about Perry's life and his time at Miami Dade College over hot tea, a beverage he drank every morning.   
"Daryl was, basically and simply put, a legend at MDC and our community," said Jose Sanchez, supervisor at the Virtual College. 
Perry worked at the New Student Center in various capacities for more than 27 years until he passed away on Nov. 10 from Lou Gehrig's Disease, also known as ALS. 
He was 66.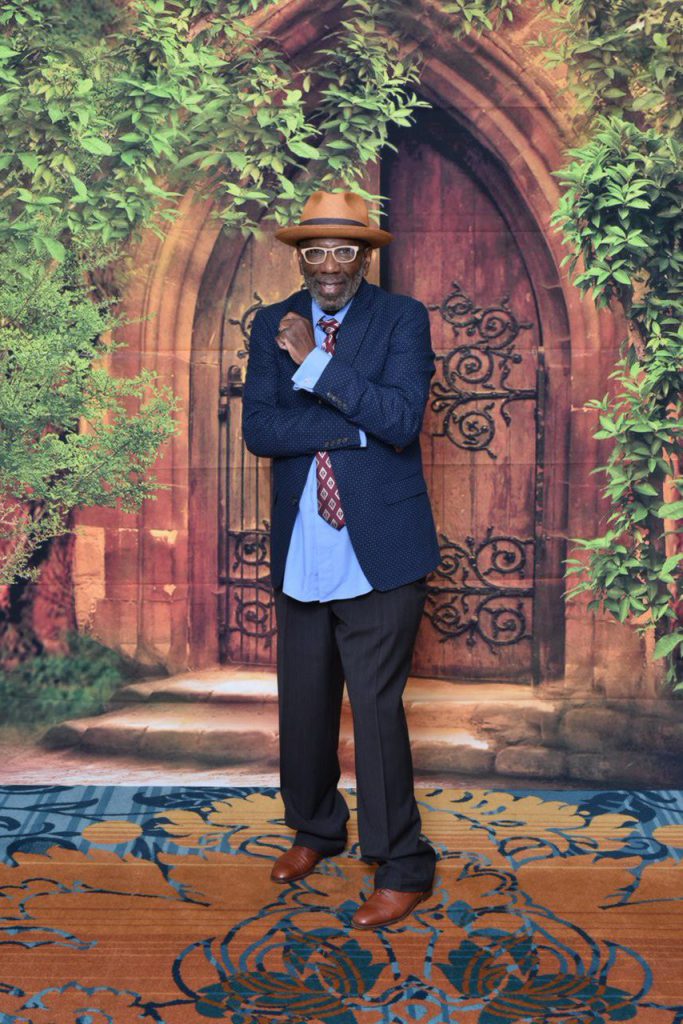 "For him, it was a blessing," said Perry's son, Isaiah Perry, who recalled his father tackling symptoms for years until he was officially diagnosed four months ago. "If we would've gotten diagnosed five years ago, he would've known that he had five years left to live. He wanted to live happily." 
Perry was born on August 23, 1953 in Passaic, New Jersey. He was the eldest of two siblings—sister Caryl Lucas and brother James Lucas. As a child, he earned the nickname "Monster Perry" for his loud, boisterous laughter.  
He got a job at his mom's party supply shop, Duffy's Party Shop, when he was 14 against his families' wishes. Perry eventually began working at an ice cream parlor, Burgess Palace, while pursuing a bachelor's degree in history from Rutgers University, which he graduated from in 1977. 
That's when Perry took a shot in the dark. Months after graduating, he and his childhood friend Bruce "Stevie" Lindsay drove to Miami in a two-seater convertible. The drive lasted nearly 28 hours. 
In 1982, Perry began working at the College part-time in the financial aid and student recruitment departments at Wolfson Campus. He later left to work as the associate director of admissions at St. Thomas University, where he graduated with a master's degree in management in 1997. 
He returned to MDC on a full-time basis that same year, and has since worked in various roles including project director, assistant dean of students and most recently as career specialist. Perry also taught business courses at Kendall Campus from 2004 to 2009.  
Sanchez recalls the special care Perry took with his students.  
"I would just be out there hoping to talk to him," Sanchez said. "He was taking such a long time with one student to solve that issue, not just school-related, it also could be personal. He knew I was out there. He didn't come out once to acknowledge me because his focus was on that student."
Perry's personality mirrored the essence of his style—bold and vibrant. He was known at Wolfson Campus for his booming, positive, outgoing personality and his fashionable clothing that included high-end fedoras, blue suits and embellished ties. 
"You kind of knew when Daryl was here," said Sergio Peña, a pre-college advisor. "He made it a point to know who everyone was." 
Perry shopped for clothes at Nordstrom, sometimes spending hours looking for stylish pieces and debating which outfits would go well together. Perry often dressed his sons Isaiah and Jordan, in bright neon or orange shoes and expensive clothing when they were younger. 
At his funeral, they dressed Perry in a navy blazer, light-blue and white checkered shirt and paisley tie.   
"He had a different style," Peña said. "He took pride in that." 
Baseball was another one of his passions. He played the sport in high school and devoted much of his life to the game—either through coaching, attending games or casual conversation.  
Lovingly referred to as "Coach Perry," he began coaching little league baseball in 2006 at West Pembroke Pines Optimist Park, where he worked with Isaiah and Jordan. Up until they were in high school, he took them to the field where they practiced for hours. They said his leadership style was firm and blunt, but prepared them for the real world. 
"At first, I gave him all the credit because he's the one that put me in the game when I was younger," said 20-year-old Isaiah, who plays on the Florida State University baseball team as an outfielder. "I realized I found a passion for baseball within myself as well." 
Perry was also a Marlin's fan, and made it a tradition to invite colleagues to watch the team's spring training games.   
"He said it was a family event," Sanchez said. "To him, baseball is one of those sports, that it was a very relaxed atmosphere. People were there just to enjoy a family gathering."
Other times, Sanchez would tune into sports stations on AM radio and hear Perry arguing about what the Marlins could be doing better. 
"He was not the quiet type," Sanchez said during his speech at Perry's wake. "He told you what he thought—let that be at work or sports." 
Perry was also a devout member of the New Way Fellowship Baptist Church in Miami Gardens. In 1992, he began serving on the church's Board of Directors. Through the church's singles ministry, he met his current wife, Yvonne Perry. 
When Perry got too sick, he used his remaining time to make peace with family and friends. But he never stopped working. His colleagues galvanized around him. More than 20 of his colleagues donated their vacation days to him so he could attend doctor's appointment because of his illness. 
"There was a waiting list of people that wanted to help Daryl," Sanchez said. 
However, the 66-year-old continued to make it to work, even when he needed assistance from his family to give him rides because he was no longer able to use his legs. 
"I wish I could say I was the minority in how he cared," Sanchez said. "I was not in the minority. There's a lot of other people that would tell you best or better than what I'm telling you. He loved and cared about humanity in general."