Navarro Decides Not To Continue As Chairman Of Miami Dade College's Board of Trustees
Bernie Navarro, who has been at the forefront of Miami Dade College's search for a new president, decided he will not continue as chair of the Board of Trustees Tuesday morning after citing work constraints. 
Navarro, the founder and president of Benworth Capital, a private real estate investment company, said the stress brought on by the coronavirus pandemic has made it difficult to navigate his duties on the board and his companies expansion this year that included kickstarting three new ventures.
"I want to thank the board for trusting me and helping me and supporting me," said Navarro, who will continue to serve as a trustee. "I'm always going to be indebted to all of you."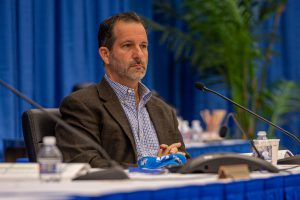 Michael Bileca, who has served on the board since last April, was unanimously selected as chair. Carlos Migoya, president of Jackson Health System, agreed to stay on as vice chair. 
Navarro has served on the BOT for six years—the last two years and four months as chair after replacing Armando J. Bucelo in 2018. He also chaired the presidential search committee for nearly four months before that search was rebooted last July. The quest to replace Eduardo J. Padrón has been ongoing for sixteen months, and has sparked heated exchanges.
"You've led this institution for quite a long time at a great personal cost and sacrifice," said trustee Marcell Felipe, who at times has been at odds with Navarro while serving on the board. "Even through the tough times when there were disagreements on the board, you are always there."  
Bileca is an executive at Dental Care Alliance, a national dental care corporation. From 2010 to 2018, he represented District 115—which stretches from Doral to Palmetto Bay—on the Florida House of Representatives, where he chaired the education committee.  
He earned his bachelor's degree in management from Tulane University in 1992 and a master's degree in business administration from Northwestern University in 2002. 
"Times like these call for people to step up," Bileca said. "I'm not nervous at all, but I'm proud to see everyone rising up to the challenge."