Mother And Daughter Take Classes Together At Homestead Campus
Shawna Powell and Zayna Bryan aren't your typical best friends.
They work, attend classes and grocery shop together. They're also mother and daughter. 
"Listen, my mom looks good. People think she's my sister or cousin, and I say, 'This is my momma,'" Bryan said. "We are joined at the hip. We are seriously best friends."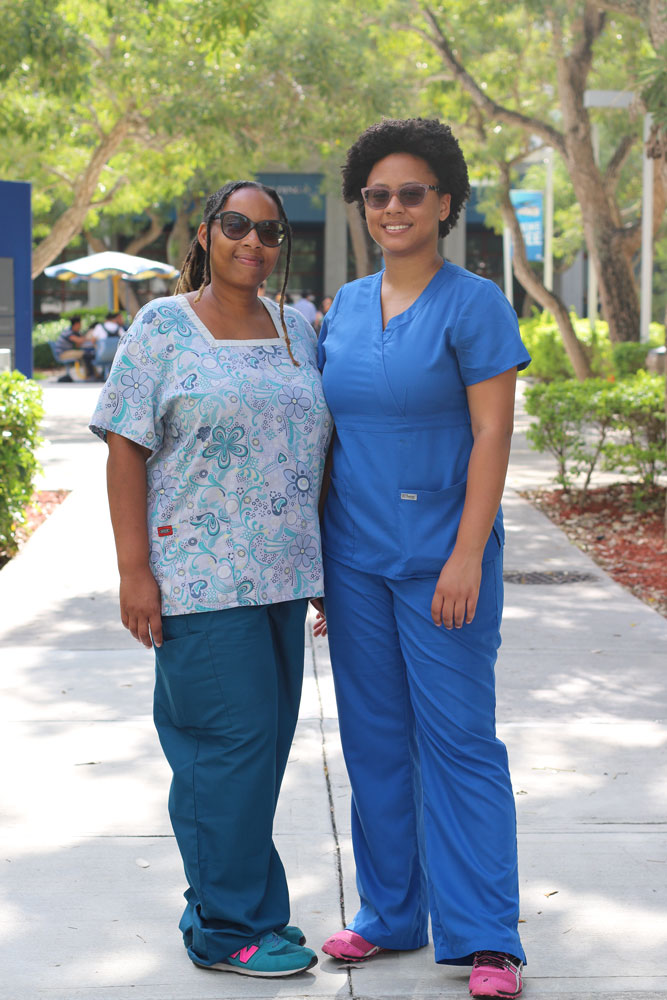 Bryan, 25, and Powell are taking classes together this semester at Homestead Campus—American history and sociology. They are licensed practical nurses and work full-time in hospice but strive to be registered nurses. LPN certifications typically take less time to obtain while RN certifications take longer and enable a nurse to diagnose and treat patients much like a physician would. 
Powell has been working as a nurse since 1998 and Bryan since 2013. The duo started attending classes together at Miami Dade College in 2015, when Powell decided to give college a second try. They have earned a combined 20 credits in that time because of their jobs. 
The pair has logged more than 78,000 hours throughout the course of their nursing careers and have occasionally covered each other's shifts at work in order to attend class.  
"I love the support they give each other," said Jairo Ledesma, who teaches the duo's American history class. "They truly represent what MDC is all about and that anybody can do it, no matter the age group. We aren't your typical college and this is really a reflection of who we are as an institution."
This isn't the first time Powell has enrolled at the College. She initially pursued an associate's degree in 1994 but dropped out to take care of Bryan, who was born that same year. Powell, born in Brooklyn to Jamaican parents, became pregnant with Bryan at 17 during high school, eight years after moving to Miami. 
She worked two full-time jobs—at a hospital and a group home—to support Bryan. 
"I was a young teenage single mom and had to raise her on my own. I tried to go to college but it was too hard," Powell said. "I had to do everything on my own. I wanted Zayna to have everything that she deserved."
Bryan was born in Miami on Aug. 25, 1994. She filled the role of co-parent to her two younger brothers and sister while Powell worked as a hospice nurse. Bryan often came home from Robert Morgan Educational Center to clean the house, cook dinner, make sure her siblings finished their homework and then completed her assignments. 
She always felt an attraction toward the nursing field. While attending high school, she obtained her nursing assistant license during her junior year and six months after graduating high school in June of 2012, Bryan graduated from the nursing program at Robert Morgan. She passed her licensed practical nurse exam at 18. 
"It was difficult because, even for adults now, it's hard to get the [certified nursing assistant] certification," Bryan said. "To get a job and stay in school with that workload, it would've been extremely difficult. I wanted to focus on my studies."
After completing their associate in arts degrees, they plan to earn associate in science degrees in registered nursing and bachelor degrees at the College. Powell hopes to earn a master's degree, and Bryan plans to work as a pediatric nurse at a children's hospital.
"There's always a stigma that you have to graduate at a certain time," Bryan said. "It doesn't matter your age, you can definitely go to college and definitely finish. I think everyone should have a motivating force in their lives. It gives you that drive and you get things done. My mom helps me with my studies and we motivate each other. We are like, 'let's get this work done.'"