Miami Murals Showcase The Scary Reality Of Climate Change
Before It's Too Late, a nonprofit organization whose mission is to leverage arts, technology and science to awaken action on climate change launched the Miami Murals: Climate Awakening series—a collaborative citywide murals campaign to raise awareness and activism on local climate issues. ​
The series seeks to educate and inspire the community to take better care of our environment by shedding light to specific climate stories through themed augmented reality murals and sparking awareness through free mobile apps that feature daunting voiceovers, video montages, facts and music. 
What Future Do You Choose For Miami?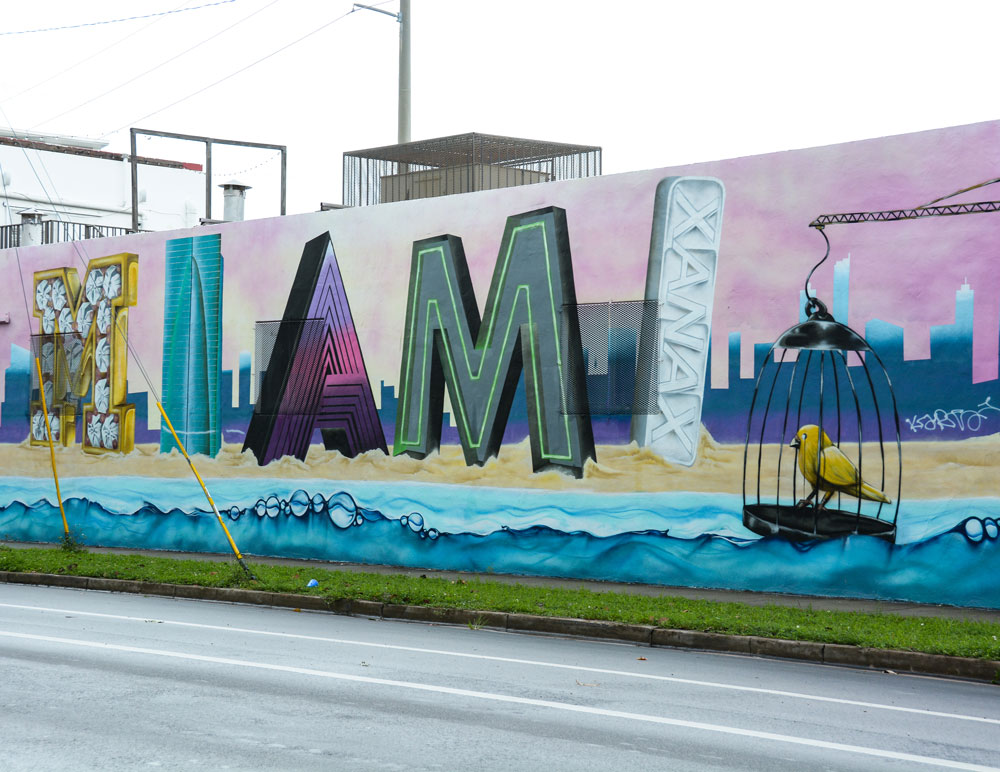 It launched in February 2018 and is located at 1800 N. Miami Ave. in Wynwood. 
Linda Cheung, Founder of Before It's Too Late and now Creative Director of Miami Murals, teamed up with a group of nine volunteers that include muralists, 3D artists, animators, and a programmer to make Miami Murals a reality.
"I had a vision to create an augmented reality mural series in Miami to highlight environmental issues. I did some research to learn about murals and [augmented reality] and pitched my idea to people in the Miami community," Cheung said. "I then paid $2,000 out of pocket for paint supplies and a scissor lift. I was fortunate to have awesome volunteers helping me to make the first mural and prove a pilot concept for my idea."
The mural shows Miami's vibrant colors, materialism and party culture as a facade balanced over a looming sea level line. 
Through an AR experience on the mobile app Miami Murals AR, available for Android and Iphone users, viewers can stand in front of the mural and point their camera at the mural. They then are able to travel into two alternate futures of Miami, where they are confronted with the question of how they will shape the city's future.
"The first mural was the first time I executed something like this, and it was an experimental process for figuring out the workflow on an AR mural," Cheung said. 
Watch the AR experience here.
Anthropocene Extinction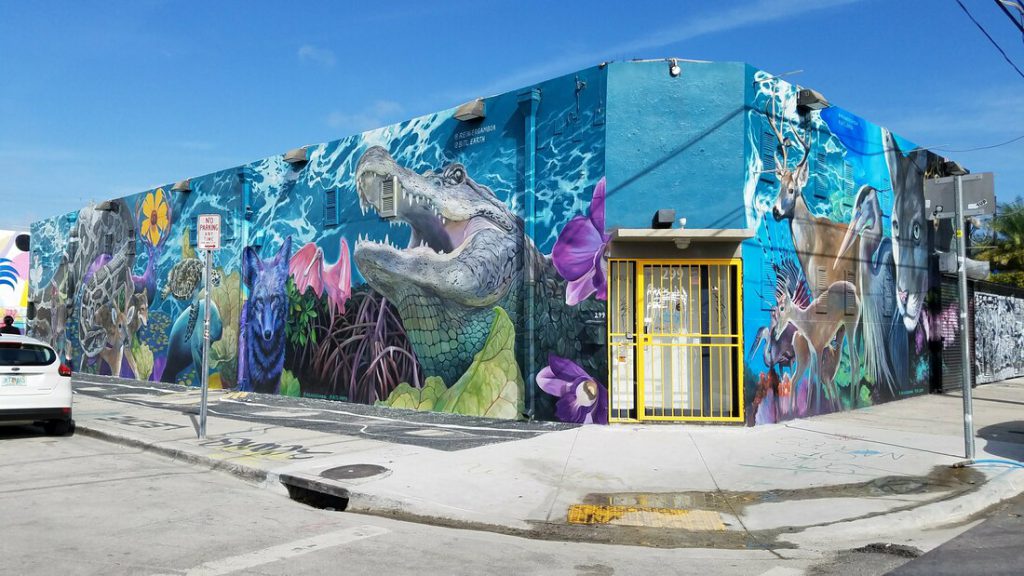 It launched in December 2018, and is located at 299 N.W. 25 St. in Wynwood.
This mural no longer exists because real estate in this area is in hot demand and it was painted over. 
The mural raised awareness for the mass extinction that is happening because of human activity, including deforestation, pollution, hunting and overfishing. 
It featured 25 native, invasive and endangered species found in Florida's wildlife, including the Florida panther, Key deer and American alligator. 
As a background, the ocean illustrated sea level rise as our main threat in Florida. 
"The intention in composition was to create a good flow from animal to animal so that each one would lead into the other and yet have enough space for each one to stand out," said Muralist Reinier Gamboa. "The purpose was to honor these animals but also educate people in which the AR element was a crucial component of the project." 
On the mobile app Anthropocene Extinction AR, viewers would stand in front of the mural to scan each animal on it to be presented with a video montage and voiceover introducing them to facts about the species. 
Liberty Gardens Park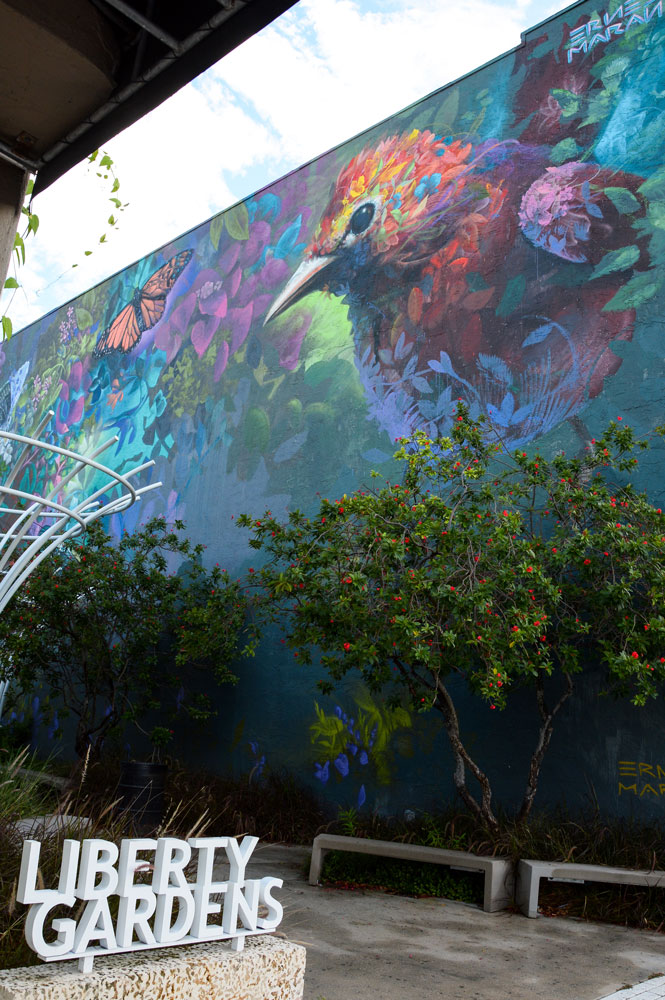 It launched in December 2019 and is located at 735-701 N.E. 125 St. in North Miami. 
This mural highlights the appreciation of Florida's native trees, plants and pollinators. With themes of restoring tree and plant habitats that nurture and allow birds, butterflies, bees, and other wildlife to thrive. 
On the Liberty Gardens AR app, visitors can bring the mural and location around them to life. It features 3D butterflies and bees flying around you that you can tap on to identify their species name and facts about them. 
Each butterfly in the app has a matching game that allows you to explore the area to bring the butterfly to its host plant.
Watch the AR experience here.
"Our goal is to continue to spread environmental consciousness," Cheung said. "There is a lot of work to do and protect in Florida and a lot of people that live here don't realize how important it is."