This Is How Miami Dade College Students Graduated During A Pandemic
More than 2,000 Miami Dade College graduates received their diplomas on Saturday at five outdoor ceremonies at North and Kendall Campus. 
But unlike previous ceremonies that were held inside packed auditoriums, this year's commencement had a much different feel. 
Graduates sat 10-feet away from each other and were required to wear face masks. They went through temperature screenings before entering campus, hand sanitation stations were available throughout the venue and common areas were disinfected between ceremonies. 
Despite the added safety measures, students did not allow the pandemic or the rain to dampen their spirits. 
"It's great to see that we didn't let ourselves be defeated by the pandemic," said Maruja Calatayud Witherington, a nursing graduate from Medical Campus. "We have the necessary measures in place. Life goes on so we must continue living. We're responsible but not depressed."
Miami Dade College was one of the few higher education institutions in South Florida to hold an in-person graduation. Other schools — such as Florida International University, the University of Miami and Broward College — held virtual ceremonies.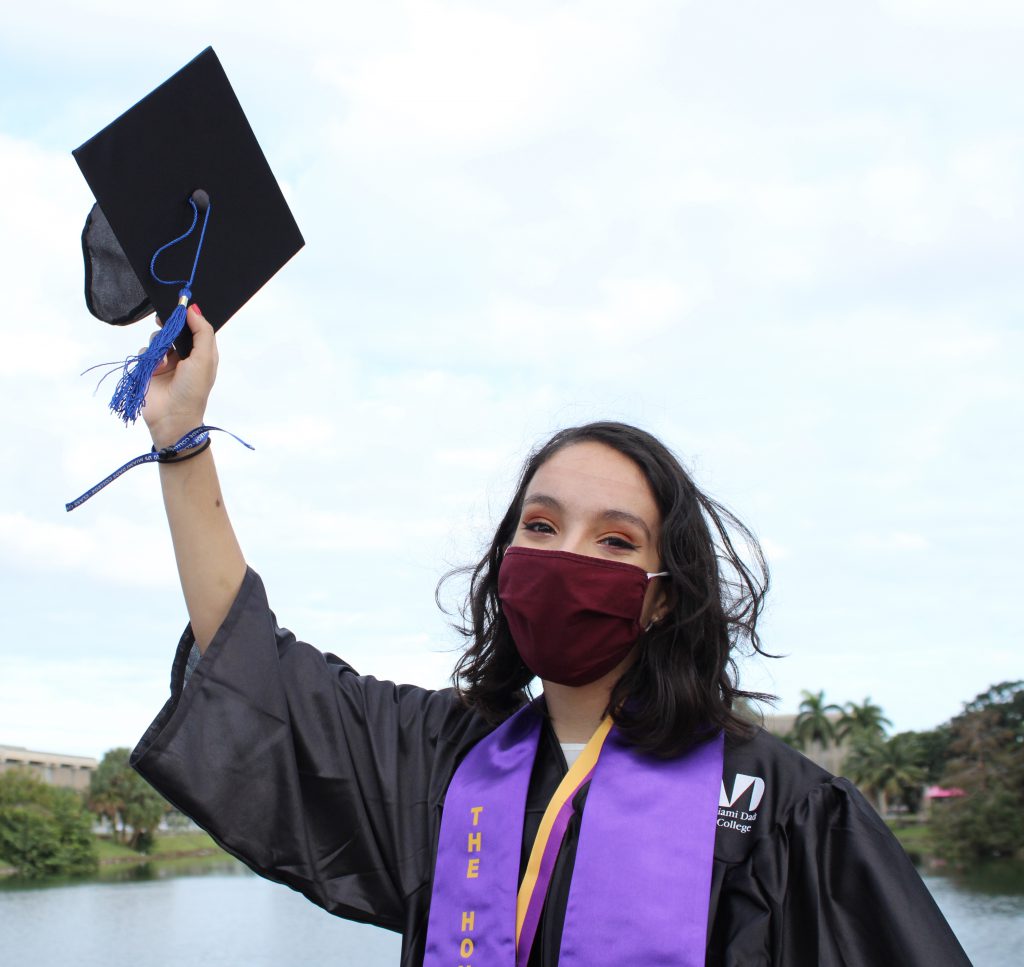 In all, more than 15,000 scholars earned a certificate, an associate degree, or a bachelor's degree from MDC's eight campuses during the 2019-20 school year.
Students from North, Wolfson, Medical, Hialeah and Padrón Campus walked across Lake Plaza in front of the Science Complex at North Campus. Those from Kendall, Homestead and West Campus celebrated at a makeshift outdoor arena next to the baseball field at Kendall Campus.
To ensure social distancing, only select faculty and administrators, the Board of Trustees and graduates attended the ceremonies. Family and friends of the students had to watch via a livestream.
"This is the closing of two years of hard work and study," said Heloisa Gardner, a Brazilian native, who earned an associate's degree in paralegal studies from Wolfson Campus. "I'm so proud of myself. English isn't my first language so having done this — in a pandemic — is amazing."
Graduates walked across the stage without shaking the president's hand. Instead, they received their scroll, had their picture taken and exited the stage. 
In past years, graduates have witnessed dance performances from the Show Stopper Dance Studio in Hialeah, vocal performances from New World School of the Arts students and they waved glow sticks alongside each other at packed arenas. 
"I think they did the best with the concerning circumstances," said Paul Douillon, who served as Homestead Campus Student Government Association president last year. "They adapted [when] almost every other institution down here has canceled their ceremony or just went virtual — and many students here didn't want to be virtual. I'm very glad they did this and I'm very proud of what they put together." 
The ceremonies also featured speeches from former SGA presidents, campus presidents and Interim College President Rolando Montoya. 
Guest speakers included: 
Archbishop

Thomas Wenski

at North Campus. 

Executive Director of CareerSource South Florida

Rick Beasley

at Homestead and West Campus. 

Florida College System Chancellor

Kathy Hebda

at Wolfson and Medical Campus. 

Former president of Costa Rica

Laura Chinchilla

at Kendall Campus. 

11th U.S. Circuit Court of Appeals Judge

Barbara Lagoa

for Padrón and Hialeah Campus. 
Kenmel Guzman, who served as last year's Wolfson Campus SGA president, applauded the resilience and success MDC students demonstrated during the pandemic. 
"This is our finish line," Guzman said during his speech. "After endless hours of studying, exams, projects — and yes, video conferencing — our ability to be flexible and adjust to the unique hurdles of our new normal have allowed us to get to this long-awaited day."
Staff Writer Alice Moreno contributed to this story.