Meet The Student Voice On MDC's Presidential Search Committee
Samantha Hernandez wants to leave a mark on Miami Dade College's presidential search. 
The 20-year-old, who serves as president of the Student Government Association at Kendall Campus, is doing just that, as the lone student representative on the College's search committee. 
Hernandez is one of 17 search committee members. They will recommend and review candidate applications during the March 26 meeting, and interview 8-10 semifinalists on April 23-24.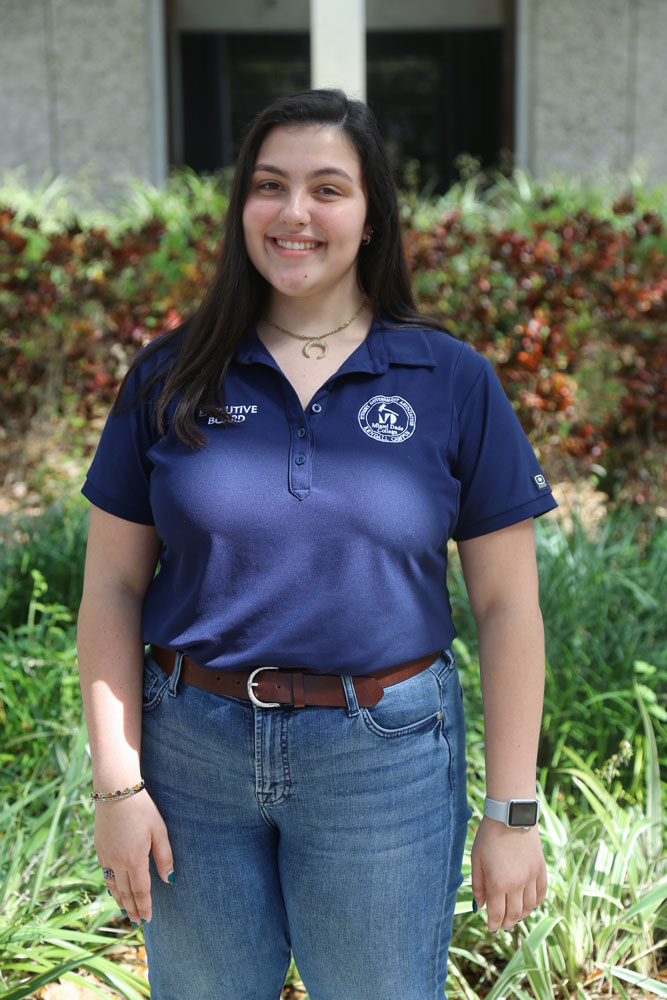 She was tabbed to be part of the committee in late November.  
"Samantha is a smart, hard-working and ambitious individual who reflects the student body and has a solid understanding of the challenges and opportunities facing her fellow students as they strive to achieve their academic goals," said Nicole Washington, chair of the committee and one of the College's trustees.
It's not the first time Hernandez has lent her voice to public service. When she was 13, Hernandez ran for president of the eighth grade student body at St. Thomas the Apostle Catholic School, but lost. 
Taking an active role in student government was a dramatic shift from her life as a soccer player. A child of Cuban immigrants, Hernandez played at the South Dade YMCA Family Center on weekends, but quit at age 6 to focus on academics.   
Two years after losing her middle school election, Hernandez joined the Student Government Association as a Student Council Member during her junior year at Our Lady of Lourdes Academy in Miami. She was elected senior class president a year later. 
Hernandez served as an orientation ambassador, coordinating open house tours for visitors, organizing school alumni events and developing marketing projects for the school. She was also part of five honors societies—the National Honor Society, National English Honor Society, Spanish Honor Society, Rho Kappa Social Studies Honor Society and Honor Society of Sports Medicine. 
"I really, really enjoyed [being a part of SGA in high school]," Hernandez said. "I kind of found a passion of mine in leading big groups of people, especially when it comes to education. That's definitely something I'm passionate about, and why I made the decision to join SGA Kendall."
At Kendall Campus, Hernandez, an international relations major at The Honors College, has continued honing her leadership skills. She became an SGA senator in the fall semester of 2018, where she organized campus events. 
Her workload expanded when she began chairing the Food Pantry Committee. She was charged with coordinating donation initiatives to keep the pantry stocked. 
Hernandez also founded the Service Committee through SGA. She coordinated service learning projects at Kendall Campus, and volunteered in the local community twice a month. 
"I'm super understanding and compassionate, and I take into account that MDC has both non-traditional and traditional students," Hernandez said. "I really want everyone to feel included and like the school that they go to because MDC has changed my life. I would like the same for everyone that comes here."
Her peers see Hernandez, who expects to graduate in May, as an honest and outspoken leader. 
"She empowers her members, leads with integrity, and always listens to the students she represents," said Natalie Lopez, vice-president of SGA at Kendall Campus. "She is the right fit to represent the students on the committee because she knows and understands the demographic she represents and makes sure to advocate on their behalf."
Now she is focused on finding the right candidate for MDC, one that will value the College's student body.   
"I think that [the next president of MDC] needs to have experience in student development and understand what it takes for students to succeed in higher education," Hernandez said. "They also need to understand how diverse MDC is, and the role it plays at a state and national level."
Although the original search was scrapped in late July, Hernandez is confident a president will be hired by the Board of Trustees' anticipated timeline in May.  
"I think that in the way [the search] was handled before there were some things that could have been handled more efficiently, but right now the members in the committee definitely have a handle on what to do," Hernandez said. "Especially with AGB Search, I think that everything is going perfectly and everything is very transparent, and that's very important."