Meet The Eccentric Sociology Professor Who Likes To Rock Out
Alejandro Angee furiously bangs on a six-piece drum set with two wooden sticks, performing  with friends in a tight corner of his living room. 
Angee is focused on the pulsating beat of a Spanish rock song echoing from the room. He is surrounded by vintage film posters plastered on the wall and beer bottles scattered across the cramped space.    
"I have a love for music because of what it can transmit," Angee said. "It's interesting to me how individuals and groups use music to show what's in their soul. I think of music as a language, as an expression of human experience that reaches the billions of individuals that inhabit this Earth."
The 42-year-old is taking a break from his day job as a sociology professor at Wolfson Campus. Nearly three decades after he taught himself to play the guitar, Angee play drums for Mexican rock artist Dama Vicke and performs with several local rock bands.  
His latest show was on Oct. 20 at Las Rosas, a dive bar in Wynwood. He performed songs from Dama Vicke's first album, Point of Inflection. 
"Forming a band of brothers and performing, playing, composing and arranging out of passion," Angee said. "For me, that's remarkable." 
Learning To Rock Out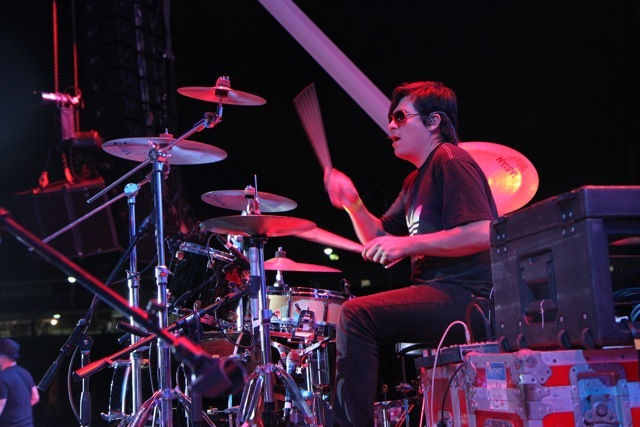 He was born in 1979 in a low-income neighborhood in Medellín, Colombia, but moved to Bogotá at age five. Angee and his siblings developed a passion for music through their father, Grmaud, who was a shoe-maker and listened to Argentinian tango and bolero music. He taught them to play the guitar and sing. 
"I had a punk attitude and approach to music," Angee said. "I just grabbed a drum and started playing. Just by nature of doing things over and over, you get the gist of it."
Angee, who was undocumented, moved to the United States when he was 12. He enrolled as a freshman at Miami Killian Senior High School and taught himself to play the drums a year later. His music career began at 17 when he approached five students in the school's hallway and pitched an idea to play music at his house. 
"For me and for my friends, music grew out of necessity and desire," Angee said. "Being immigrants we understood how systems oppressed and manipulated people. We thought it was important to represent that in our music."
They formed a Spanish rock band called Estacion Local. The group recorded four studio albums, the latest one entitled Fauna in 2015. They've been the opening act for Spanish rock bands such as Aterciopelados, Los Fabulosos Cadillacs, and Amigos Invisibles.
The band, made up of immigrants, served as a vehicle to vent about capitalism and political corruption in the early 2000's. 
"We understood how systems oppressed and manipulated people," Angee said. "So we thought it was important to talk about that."
But the band struggled as several members failed to show up to practice.
In 2006, the band underwent a transformation. They changed their name to Minimal, broke away from their political roots and changed structurally. Jorge Moreno, the lead singer, and bass player Sonia Perez left the band. Gabriel Ayala switched from guitar to lead singer and bass player Emilio Cartier and guitar player Roberto Taninaka came on as new additions. 
Although Angee is still a member of the band, they only play together occasionally.   
Getting An Education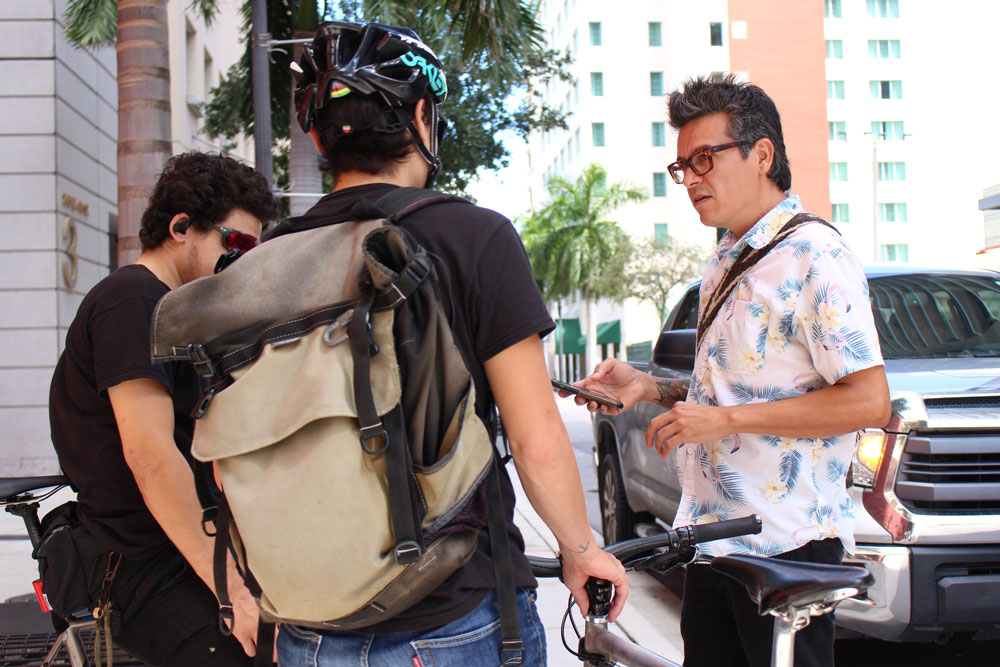 Angee graduated with an associate's degree in psychology from Miami Dade College in 2001, the same year he became a U.S. citizen. He eventually earned a bachelor's degree in psychology as well as master's and doctorate degrees in comparative sociology from Florida International University. 
In 2010, Angee started as an adjunct sociology and anthropology professor at the College. He eventually earned full-time status two years later.  
"I like the college life. It helps me stay young," Angee said. "It helps me stay connected with the university environment, which is young in essence, energetic in different ways and idealistic."
Angee is also a two-time recipient of the National Association For The Practice of Anthropology Student Achievement Award, and a three-time fellow of the Global Citizenship Seminar in Salzburg. Colleagues describe him as approachable, welcoming and friendly. 
"He is a very open-minded, kind and generous individual," said Virginia Fuillerat, director of The Honors College at Wolfson Campus. "He is someone who is always looking for ways to learn and grow."
Angee characterizes himself as eccentric and free-spirited in the classroom. He often uses his course to discuss topics such as socioeconomic classes and plays documentaries like Born Into Brothels and 13. 
"When you take his class, you become part of a community," said Bruny Alonso Orama, who is currently taking his introduction to sociology course. "He has a very compassionate heart [and] goes out of his way to believe in his students and support them. He is just a phenomenal professor."
His office, a cramped space in the social science department, is adorned with abstract art and colorful stickers on his cabinet and walls as well as Disney vinyl and robot figurines. 
Rediscovering The Music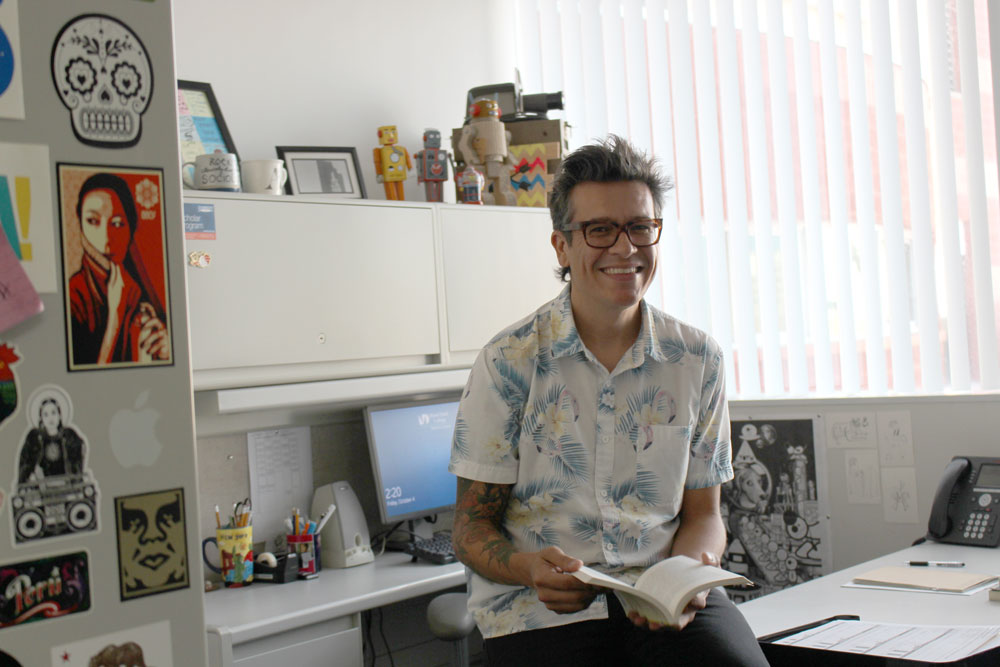 Angee, who lives in Liberty City, doesn't own a car. He uses his bicycle for leisure and transport, participating in Critical Mass, a cycling event held every last Friday of the month. 
In 2016, he suffered bone and ligament injuries when a car crashed into him when he was riding his motorcycle. He underwent eight months of physical therapy. The rehabilitation process, coupled with the breakup of his long-term girlfriend, forced him to step away from music. 
Angee was eventually awarded a year-long fellowship in Japan as part of the Fulbright Scholar Program. He taught sociology and anthropology at Tohoku University in Sendai. 
"Something happened in Japan. I wasn't playing, I didn't even have my drumset," Angee said. "I bought a drum practice pad and drumsticks and started listening to jazz, training my hands. Japan motivated me to start going in other directions."
When he returned to Miami in 2018, Dama Vicke offered Angee a place in her band. 
"It's been a really interesting transition. Now I have grey hair and sometimes I do feel a little old," Angee said. "At the end of the day it's transformational, and exposing myself to play with a variety of new musicians has helped me grow tremendously."