Medical Campus Unveils Center For Learning, Innovation And Simulation
Sirens blare at Medical Campus. 
Behind a glass door is a white, automated ambulance; its red and blue lights and movements are controlled by student paramedics and medical professors. 
The ambulance, one of 15 medical simulation rooms, is located on the third floor of the campus' new Center for Learning, Innovation and Simulation—a five-story, 132,000-square foot healthcare facility designed to train medical students with realistic, hands-on scenarios. 
It features a simulation hospital housed on the third floor, 15 patient rooms, a home health apartment, ten examination rooms, four student break rooms and a physical therapy facility. West of the building is a new six-story parking garage that fits up to 1,554 vehicles. 
"The center provides a critical setting in which students can gain experience and make mistakes," said nursing professor Marie Etienne. "It allows students to learn how to use critical thinking to solve problems where they don't feel threatened by real consequences."
The $56 million facility comes equipped with $2.3 million worth of state-of-the-art medical technology—mannequins capable of giving birth, shedding tears, responding to medicine and speaking 50 languages. In addition, the building has a conference center and lecture hall for speakers, classroom space and events. 
It was unveiled on July 16, but officially opened its doors this fall. 
"Our professors now have an invaluable variety of resources that will help us log many more hours of practice on mannequins," said Kele Ferriera, a student of the physician assistant program. "That will give us an advantage [when] we need to start our clinical practice."  
The facility will serve as a practice space for aspiring medical practitioners.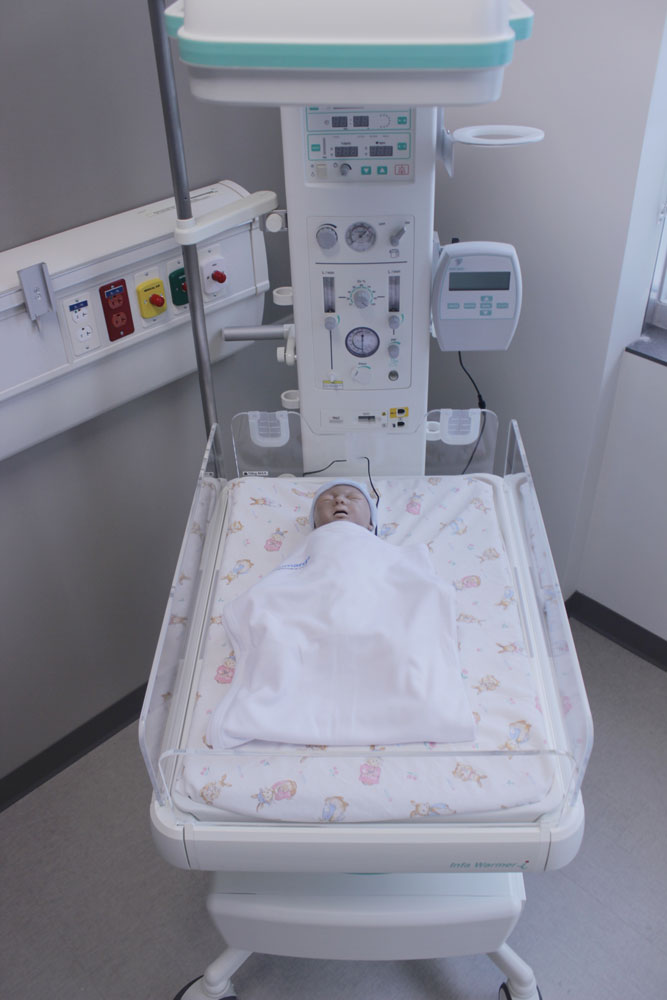 Victoria, an $80,000 silicone mannequin, is capable of giving birth. Her distressed moans and cries help simulate real-world birthing scenarios as part of the curriculum. 
After birth, students care for the infant in a nursery near Victoria's bed. The baby cries, responds to treatment and requires routine medical attention from staff. Its functions are controlled by students in an adjacent room behind a frosted glass window. 
Many of the rooms are equipped with live recording cameras for classes to analyze how a procedure unfolded and to correct mistakes. 
"The new center helps [Miami Dade College] catapult into the most current technology and be competitive with other educational institutions," said nursing professor Barbara Soto. "It will provide state-of-the-art technology simulation capacity for multidisciplinary use."
Planning for the new building began in 2010. Stewart and Design Enterprise Firm manager Kahler Slater traveled to several medical centers across the country to compare simulation hospital models. 
Students, faculty and neighboring health district partners were included in the Center for Innovation, Learning and Simulation's advisory committee to access what was needed. 
"Miami Dade College is intentional in that we rely on our advisor committee," Stewart said. "We engage with them. They are more than just a checkbox." 
Obrascón Huarte Lain, S.A. began construction in early 2017. The building is the start of an ongoing project to redesign Medical Campus, building-by-building. Renovation plans will commence in the fall for the campus' learning resources, computer courtyard and café. 
"The building is 100% for the students," Stewart said.
The new building will also be used to provide customized training for various South Florida hospitals to keep their medical staff updated on current practices.    
Medical Campus provided tours of the building on the first day of the fall term to faculty and students. 
"I'm really excited because Miami Dade College is truly invested in our students and has continued to give us the funding necessary to stay on top of the new world and the changes in the nation," Etienne said. "We're excited for the fall, as we are sure students will have a great learning experience."