How Student-Athletes At MDC Are Staying In Shape During The Coronavirus Pandemic
Student-athletes rely on disciplined offseason workouts to stay game ready. 
Normal habits and routines have been thrown out the window as a result of the COVID-19 pandemic. 
Recurring stay-at-home orders, curfews, lockdowns, and park and gym closures have forced intercollegiate athletes to turn toward individual workouts to stay in shape, but that has proven difficult without the proper equipment.
With most sporting facilities closed, student-athletes at Miami Dade College have found creative ways to maintain tip-top shape.
Sharks' second baseman Erick Orbeta, who scored 20 runs and posted a team-leading .395 batting average last season, has remained vigilant to keep his fitness level high.
He travels to the Planet Fitness on 157th and Sunset Drive twice a day to lift weights wearing a face mask. Orbeta also has access to batting cages where he fine-tunes his swing.
"This should be an advantage to us athletes because of the long wait time," Orbeta said. "If we went about it the right way and trained through the break there's no need to worry."
The gym isn't the only place with safety precautions. 
Several of the parks volleyball players have practiced at are enforcing strict regulations. Players have been allowed to tap the ball to each other but no real games have been allowed to ensure social distancing. 
To compensate, players have done workouts sessions via the conference site Zoom. They meet virtually every day at 1 p.m. to perform exercises from T25 and INSANITY, two DVD workout programs.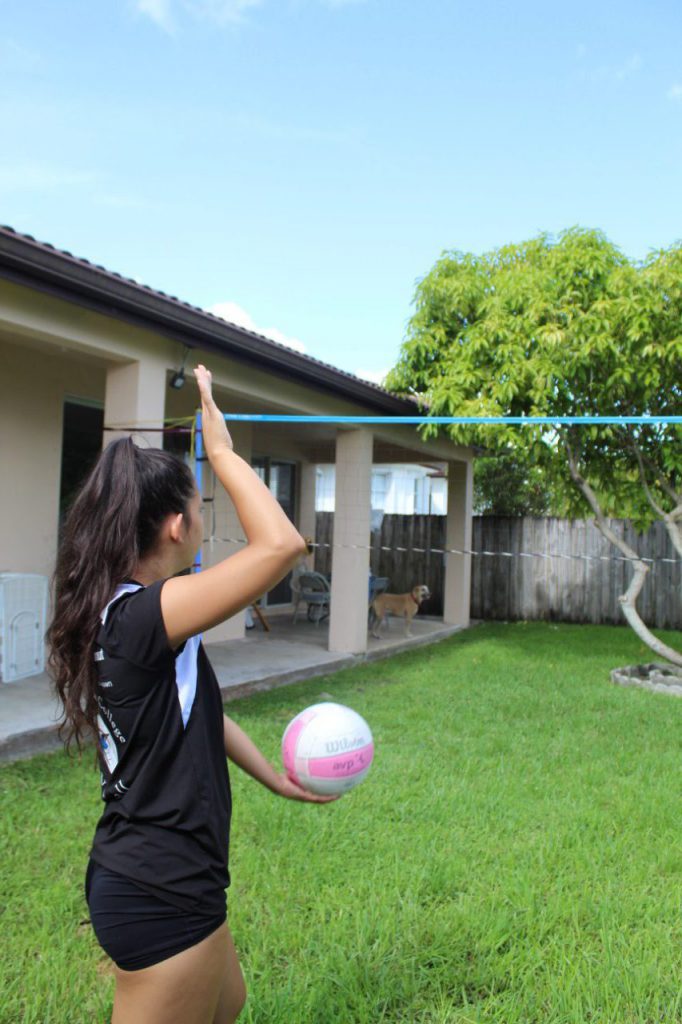 Lady Sharks' defensive specialist Daniela Tobar has practiced regularly using a volleyball net in her backyard. She has also worked on the mental part of the game by reading The Leadership Playbook to become a better teammate. 
Alise Markova, a forward on the women's basketball team, is taking advantage of the low number of coronavirus cases in her hometown Riga in Latvia. She has access to a local court and gym where she lifts weights daily and works on her defense and three-point shooting.
Sophomore forward Victor Hart has access to an outdoor court and point guard Dev Ostrowski has been running five miles on the treadmill every day and lifting weights. But despite the rigorous workouts, the pandemic has affected the athletes mentally.
"My game has been off. I just can't stay focused," Ostrowski said. "I've been working on my layups but all around I'm just trying to keep my head in the game."
The pandemic has served as a learning experience for the players. They are eager to get back to the sports they love.
"We miss seeing each other every day and [we] are hoping [to] get another season together," said Lady Sharks' infielder Nicole Gonzalez. "I want to really appreciate every aspect of the game because it being taken away so fast made me realize how much more it is to me than just a game."
Athletic teams at MDC are allowed to return to practice this fall semester. Volleyball can start on Aug. 15, baseball and softball on Sept. 5, and men's and women's basketball on Sept. 15.