MDC Awarded Federal Grant For Sexual Assault Training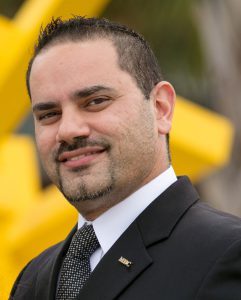 Miami Dade College received a grant totaling nearly $300,000 grant from the United States Department of Justice to combat on-campus sexual assault and increase prevention efforts.
The College is in the process of hiring a grant director for the program. They hope to fill the post by late February.  
Yakir Fernandez, the director of emergency management at MDC said obtaining such a grant has been a focus for the College.  
"This was a priority for a couple years back,"  Fernandez said.
The grant was awarded last August by the Justice Department's Office of Violence Against Women (OVW), part of an $18 million investment across 57 colleges and universities. Through it, funds are provided to develop comprehensive prevention programs. The program will be led by a community team comprised of school officials, campus representatives and student voices.
Its goal is to create a safer environment for students, educating the community on prevention methods and how to properly respond to sexual assaults, according to Fernandez.
"There's different things, but the real focus is from the beginning of prevention," Fernandez said. "We could also circle back to folks who have been impacted in the past. We can push them in the right direction."
The mandate from the Justice Department lists the following: developing a comprehensive prevention program, implementing discipline training for public safety and students and accessibility to 24-hour confidential victims advocacy line.
It  will be implemented through three phases during  a three-year period. The first phase is the "strategic planning," with the College working with the project manager from the Justice Department and the grant manager to devise programs to increase prevention awareness.
During this phase, the College would also form the community team. This group, will be comprised of a minimum of seven members, would travel to different conferences and meetings to obtain new ideas to implement.
The second phase would consist of implementation, pending approval by the Justice Department.
Some of the ideas currently being considered by the College include prevention training through mandatory orientation and online modules for students. The latter has already undergone a soft-rollout throughout MDC, with a much wider version planned for future use in training. The College is also exploring possible penalties for students who do not engage in the training, like placing holds on students' accounts.  
The grant will also provide assistance to students who have been sexually assaulted, on-or off-campus. The grant will provide support and advocacy component to the community, according to Fernandez.
"Regardless of where it happens, the students will be impacted," Fernandez said.
The College also plans to train faculty on how to respond to acts of sexual assault on campus, educating them on the proper procedures to take if they encounter survivors.
The third phase consists of adjusting policies that do not fully work and implementing new programs to fill the gaps.