MDC Alumna Wins Seat On Miami-Dade County School Board In District 9
Kendall Campus alumna Luisa Santos won a spot on the Miami-Dade County School Board in District 9 Tuesday night. 
The 30-year-old defeated Dennis Moss, who spent 27 years as a county commissioner but is terming out. 
Santos collected 52 percent of the vote compared to Moss' 48 percent during the general election after defeating three other candidates in the primary election in August.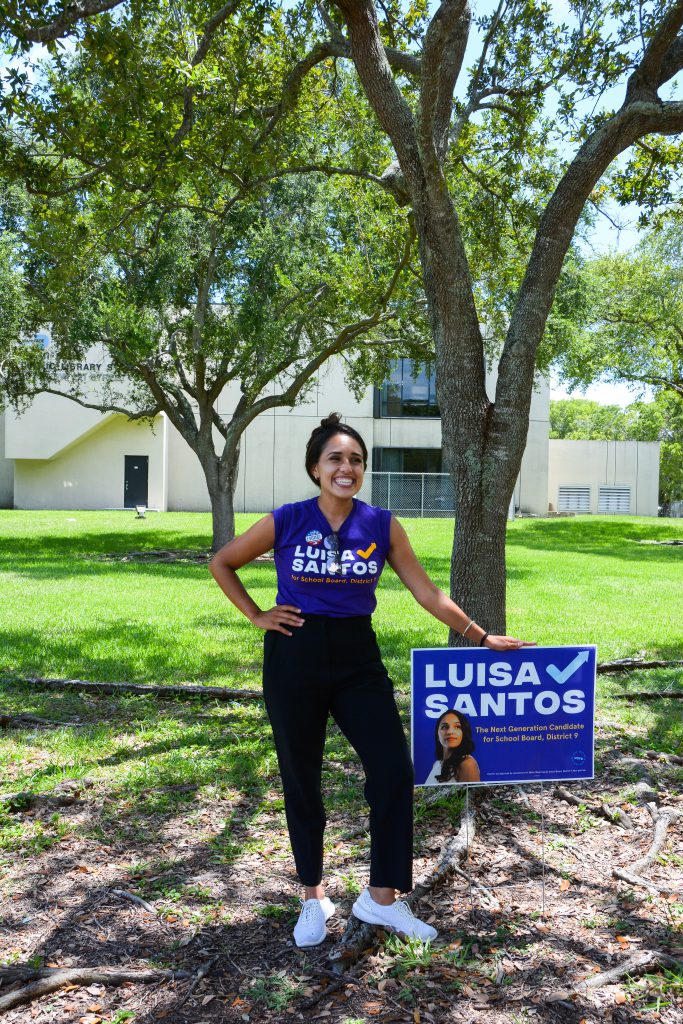 Her campaign platform was based around mental health services for students, better wages for educators and creating better support systems in the classrooms.
"I feel very happy and excited to get to work," Santos said. "[I plan] to make sure that there is equity and access in this digital learning age, ensuring that we begin to work on mental health support for students. [We're having] a listening session throughout the entire district to make sure that we capture all those voices that we didn't get to hear from in the campaign."
Santos entered the race last November as a political novice but had shown glimmers of interest in the political arena. In 2016, she appeared in a campaign ad for Hillary Clinton's presidential run, and in 2018, she worked the phone banks during Andrew Gillum's gubernatorial run. 
Winning the District 9 seat was a personal mission for Santos, who grew up in the area attending Perrine Elementary School, Southwood Middle School and Coral Reef High School. 
"There are challenges that faced District 9 specifically that I know from lived experience," Santos said. "[It] feels so gratifying to be able to not only realize the potential of a great District 9 public education and what it can do for our students as it has done for me, but to also do a bit of work on the gaps that I see and saw as a student."
Santos emigrated to Miami from Colombia as an undocumented immigrant when she was 8. She attended the Honors College at Kendall Campus where she earned an associate's degree in international relations in 2012. 
As a student at the College, she kept highly-engaged by attending the Washington and Salzburg seminars. Santos was elected as a student government president and interned in the office of former College President Eduardo J. Padrón the summer before transferring to Georgetown University.
She earned a bachelor's degree in political economics with a minor in education from Georgetown in 2014. That same year she founded Lulu's Nitrogen Ice Cream in Edgewater. 
"Miami Dade College poured into me and gave me opportunities, even while I was still an undocumented student, that really set me up for success," Santos said. "I'm really grateful to my public school education and to Miami Dade College for opening doors of opportunity, giving me knowledge, tools and training to be able to take on serving on the fourth largest school district."