'He-Man' Running For State Senate Seat
Christian Schlaerth walks into the classroom at North Campus with a stone-cold face as Rage Against the Machine blasts through his earphones. The moment the clock hits 6:40 p.m., he takes them off, fixes his American flag blazer and begins his lecture on Karl Marx's social conflict theory. Underneath the blazer, a purple T-shirt reads "VOTE FOR HE-MAN."
"In sociology, they talk about a lot of the problems, but how many of the sociologists who talk about all these problems actually go out and do something about it? Very few," Schlaerth said. "I'm one of those that if I'm telling my students they have to go out and make change, I should be out there doing it with them."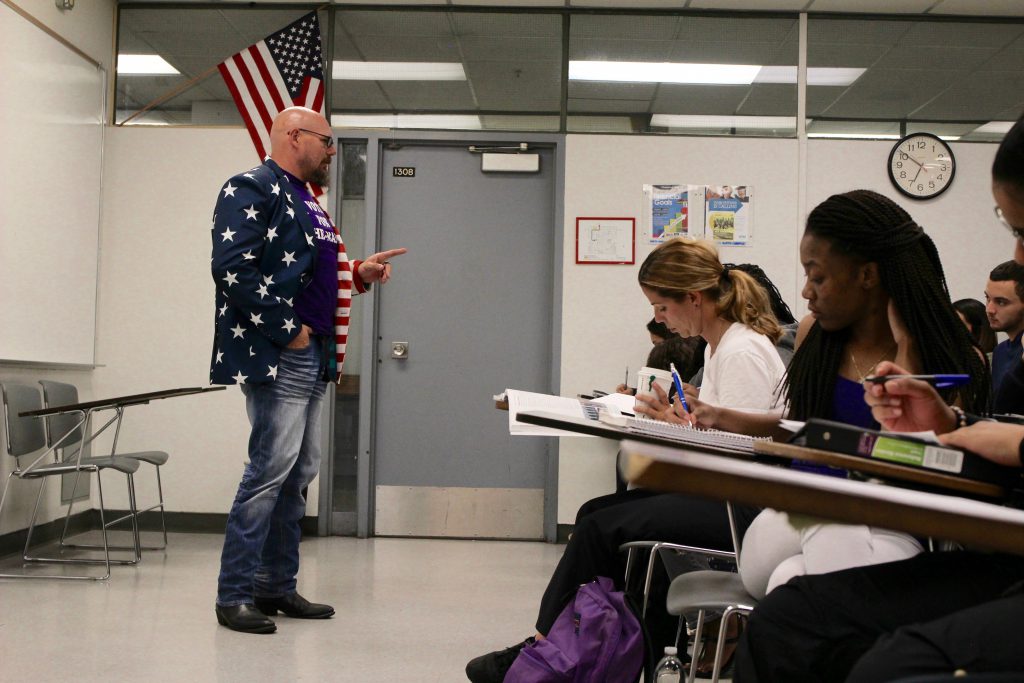 Schlaerth, an adjunct professor at Miami Dade College, Barry University and the University of Miami, is known as 'He-Man.' He is running as an independent candidate to represent District 40 of the Florida Senate. The special election is scheduled for Sept. 26.
Republican Sen. Frank Artiles, who won the seat with more than 50 percent of the votes in November, resigned in late April after using racial slurs and vulgarities toward colleagues over drinks earlier in the month.
The district has more than 284,000 voters and encompasses part of Cutler Bay, Coral Gables, South Miami and Palmetto Bay. Currently, three Democrats and three Republicans are contesting Schlaerth for the seat.
"I want to reach across party lines," Schlaerth said. "That's why I'm an independent. I'm willing to compromise."
His plans include knocking on residents' doors, connecting with labor unions and collecting 27-dollar donations—alluding to Democratic Presidential Candidate Bernie Sanders' campaign.
"I think if you look at my platform, they're very much in line with Bernie Sanders. I like to say that I'm Bernie Sanders with muscles," Schlaerth said.  
A resident of his district, his stances include protecting the environment, legalizing recreational cannabis, expanding medicaid and investing in "human capital" to prepare students for the workforce through support services like tutoring for colleges and universities.
"I have students who've never used a computer before. I have students who don't know how to write proper sentences," Schlaerth said. "It's because we're too busy paying presidents and vice presidents and provosts way too much money."
Born in Buffalo and raised in Rochester, New York, Schlaerth graduated Magna Cum Laude from LeMoyne College in Syracuse, with a dual degree in history and sociology. While completing his bachelor's degree, he hosted a radio show for the school's station, served as the captain of the rugby team, earned a double black stripe in taekwondo and worked 30 hours per week at the school's cafeteria.
"After that, I tended bar, worked as a bouncer, bell-person and eventually became head chef at the Syracuse Best Western Airport Inn," Schlaerth said. "I was what they call in the literature, under-employed."
In 2005, he moved to South Florida to attend graduate school at the University of Miami with a full scholarship. He earned his master's in 2007 and doctorate in 2014, both in sociology.
"I stayed for the weather and the people," Schlaerth said.  
He began teaching introduction to sociology at Homestead Campus in the summer of 2007. The next year he began teaching at Barry University as well as the University of Miami.
Schlaerth claims it's difficult to be an adjunct professor at three schools. Although he teaches seven classes per semester, he has no benefits as a part-timer, except for what he calls a "small" retirement fund he has as an MDC employee.
"I was teaching social problems the night of the [presidential] election, and I remember reading of the election results for the state as they were reporting, and I had students in the class crying because they were afraid," Schlaerth said. "They were asking me 'What are we going to do?' And I said, 'Despair is a useless emotion right now. You gotta get angry, and you gotta get involved.' So this is me putting my money where my mouth is."
His current campaign manager and fellow rugby aficionado, Neil Jones, suggested Schlaerth should run for Senate when the seat opened in April. Jones has worked in several local government campaigns and two parliamentary campaigns in the United Kingdom.
Schlaerth is the only candidate for District 40 who attempted to get on the ballot through petitioning. In a week, he collected more than 2,500 signatures by tabling at events in the area, but to submit his candidacy he needed around 2,900 signatures.
"He-Man is the most authentic candidate I have ever ever worked with. He's totally real. He's totally honest and he's consistent with his views. He doesn't pander," Jones said. "This week someone told me I should get him to wear a suit, and I'm like 'no, that's not how he is.'"
Schlaerth wears his girlfriend's golden ring in his left ear, a bottle-opener ring on his left hand and has some tattoos.
"I like to have this tough guy look. A lot of people are like 'He must have a motorcycle or a truck.' [And] I don't. I drive a Toyota Yaris," Schlaerth said.
His nickname, which is on the ballot as well, came from his rugby teammates. He was baptized as 'He-Man' in reference to the muscular comic book character from the '80s. According to Schlaerth, he was the strongest man in the team, so the nickname stuck.
"When I first met Christian, I knew him as 'He-Man'. I was introduced to him as 'He-Man.' I didn't know his name was Christian until after like six weeks," Jones said. Both Jones and Schlaerth filed an affidavit to explain the nickname are not to mislead voters.
After struggling with self-image throughout high school, Schlaerth joined LeMoyne College's rugby team and began training. Ever since he's played rugby and participated in weightlifting competitions.
In 2010, he led his team, the Miami Rugby Football Club, to first place by lifting a total of 1,585 pounds in bench press, squats, and deadlifts for the Miami Rugby weightlifting competition.
Schlaerth trains five days per week for about 90 minutes at the North Campus Aquatic and Fitness Center and follows a high-intensity interval training routine, typical of bodybuilding athletes.
"I do it because I like how I feel afterward. I like seeing the improvements and the gains," he said.
When he's not at the gym, teaching or campaigning, he is at the German American Social Club of Greater Miami in South Miami, where he serves on the board of directors and coaches a couple of teenage rugby teams.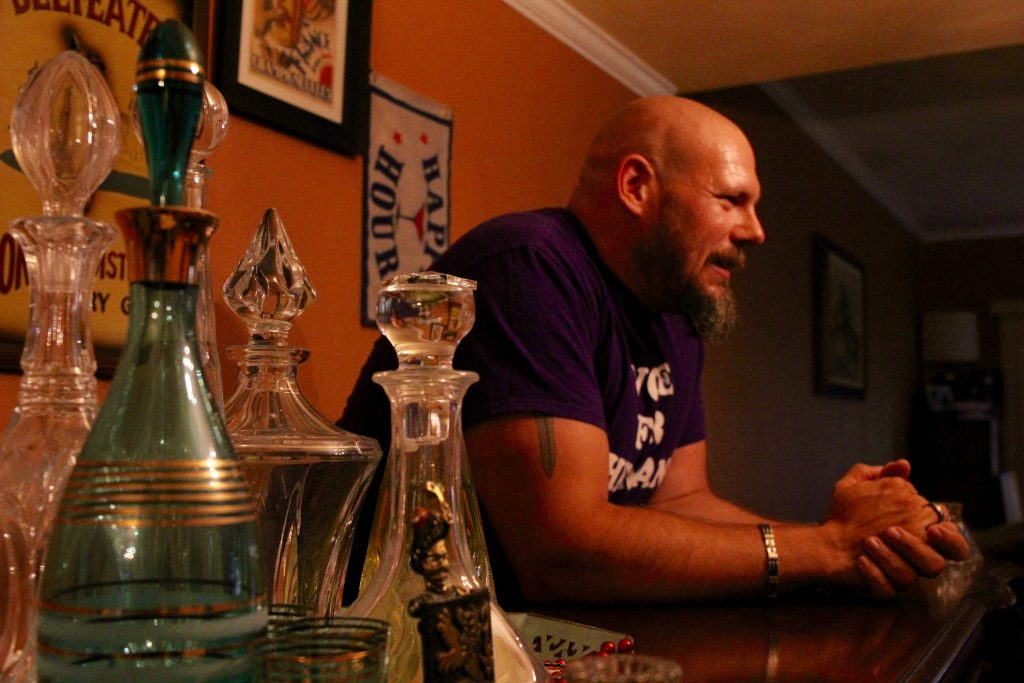 A bartending enthusiast, Schlaerth volunteers at the club's annual Oktoberfest and partakes in the Stein Holding contest—a competition consisting of holding a one-liter beer mug with a static arm and then drinking it.
At home, he works in his 'cat cage' because his cancer-surviving dog Clio is the only one not allowed inside.
In the 'cat cage,' his two cats relax as Schlaerth catches up with grading and emails; books and beer abound, with posters of classic characters like Captain America and He-Man hanging on the wall.
He also has an odd collection of spoons which he began gathering after his late deceased aunt gave him one from the Olympics in Seoul, South Korea when he was a teenager. Among the antiques and souvenirs, his assortment includes more than 1,000 spoons, the most special being a Rolex spoon.
As a senator, he would continue his endeavors in academia for the fall and defer his classes for the spring when the State Legislature convenes.
"It's nice that he has opened up his thoughts and ideas," said Jackie Muni, the chair of the Social Sciences Department at North Campus. "I looked him up and saw he has no party affiliation, which would sound like something that he would do."
If he doesn't win the election, he plans to run again in 2018. His long-term goal is to start the Social Democratic Labor Party, which would reflect the platform he's currently running on.
"You know that is my constitutional right, so I'm not going to tell anybody who I'm going to vote for," said his girlfriend Elaine Walters, who is registered as a Republican. "But yes, I'll probably vote for him."