Making A Difference Through Photography
A boy dashed across a botanical garden to look at photos taken of him and his family, moments after they were photographed.
The child, a four-year-old cancer patient at Baptist Hospital, sported a joyful smile as he got a first-hand look at the gallery—several pictures of him and his family cheerfully posing on a wooden bench outside Baptist Hospital.
The boy, whose name was not used in this article at his family's request, was part of a decade-long tradition led by professor Antonio Chirinos bringing aspiring photographers from the Kendall Campus Photo club to snap pictures of cancer patients at the hospital.
The project offers free portraits to cancer patients and their families during National Childhood Cancer Awareness Month in September. This year's project took place on Sept. 28 at a scenic garden located at the hospital.
"For any reason these patients don't survive, it leaves the family a memory of their loved one," said Chirinos, who serves as adviser to the Kendall Campus Photo Club. "If the patients do survive, it represents a time where their life was tough, but they could say they overcame something."
Participants in this year's project ranged in age from four to seven years old and were diagnosed with various forms of cancer including Leukemia, Neuroblastoma, and Yolk sac tumor.
Six photography students took photos of the patients using studio lights, cameras and lenses provided by the College and the hospital. In the process, they built a diverse portfolio that includes individual portraits, candids and group shots of the patients.
"It will help [students] meet and collaborate with new people and explore new places, along with building a career and lifestyle out of the art," said Christina Ramos, president of the Photo Club.
The project also creates an impact on the lives of the photographers themselves and teaches them about being empathetic while shooting a sensitive topic.
"It's different when you hear about it then when you actually see it," said Valeria Romero, a 20-year-old photographer.
Students worked alongside Laurie Sargent, a senior child life specialist at Baptist Hospital. She connects the students with cancer patients at the hospital.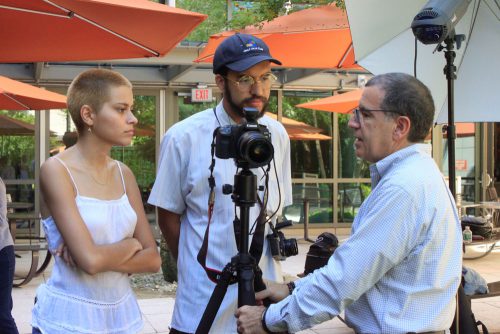 There were still obstacles in photographing the patients.
Chirinos guided students through each step of the process—arranged photos and mentored them through challenges. Not only did he advise them on appropriate techniques for shooting in a group setting, but about maintaining professionalism.
The project teaches students to respect patient's boundaries while also connecting with them. After the photos are taken, students edit the photos before sending a final copy to each patient.
"I hope the community sees that photography isn't just about taking pictures," Chirinos said. "…photography is about capturing life."