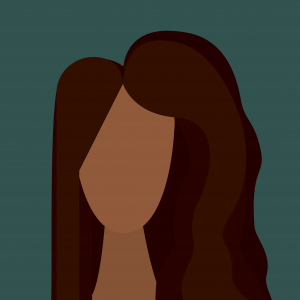 I hear the same comment all the time from people with curly hair, "If I had curls like yours, I wouldn't have to straighten my hair so much."
It gets annoying fast and I tell everyone the same thing each time: You can have your curls look bouncy and shiny, but you have to stop forcing it to be something it isn't. You're placing your hair between two scorching hot plates and bathing it in chemicals to force it to be straight. Not only are you doing incredible damage to your hair, but you're wasting your time and money too.
As a curly-haired lady, I've noticed that the beauty industry has decided curly hair isn't good enough. People spend hundreds of dollars on straighteners and treatments. Wherever I look, products used to straighten hair fill the beauty aisle, while products specifically made for curly hair, like Deva Curl or Shea Moisture, get a small portion of the shelf. Magazines are full of models showing off their shiny, sleek and straight hair, and finding tutorials on how to style curly hair seems practically impossible.
However, times are changing. Women everywhere are deciding to show off their beautiful textured hair, including celebrities like Youtuber Liza Koshy and actress Lupita Nyong'o.
Natural hair can seem terrifying. Trust me, I know. I remember waking up at 5 a.m. to make sure my hair looked perfect before school started. I'd grab my pink Chi Air hair straightener, raise the temperature to 410° and fry my locks all for the sake of looking like everyone else. If I didn't have time to do my hair, I forced it into a tight ponytail or bun. My scalp was throbbing by the time I got back home.
I was sick of losing sleep and wasting time because I was insecure when I switched to natural hair. However, I soon realized I wasn't straightening my hair for me. I was only doing it to impress my peers.
Emily Fernandez, a nursing major at Kendall Campus, didn't see her curls until five years ago.
She was 15 years old when she decided it was time to stop hiding her hair. She grew tired of having to repeatedly do treatments and worrying about what she could or couldn't do because of said treatments.
"It drove me crazy that I didn't know what my actual hair looked like," Fernandez said.
Now, at 20 years old, she shows off her curls confidently.
"Everybody recognizes me by my hair, so it's kind of become my identity," she said.
Another curly-haired student Sophia Tuya, 20, a computer arts animations major at Kendall Campus, explained how no one in her family knew how to work with her curls.
"My mom would always pull the hell out of my hair," Tuya said. "It would hurt like crazy and it gets really tangled or frizzy."
In middle school, she wished she had naturally straight hair, but now she feels like "it's really a part of" her.
"It's something that people look at it and they're like 'that's Sophia,'" Tuya said. "It represents my personality. It's big and it's fun and I like to think that I'm kind of like that."