Love Is In The Air At Miami Dade College
For Valentine's Day, The Reporter reached out to several Miami Dade College couples to see what the holiday truly means to them. Plans ranged from watching movies or performances to going out for dinner. In addition, we asked them to share intimate details about their first date and their wedding. The couples' marriages range from seven years to 37 years but they all had one thing in common—they couldn't stop gushing over each other.
—Camilla Sposito
Stephanie Fernandez and Yakir Fernandez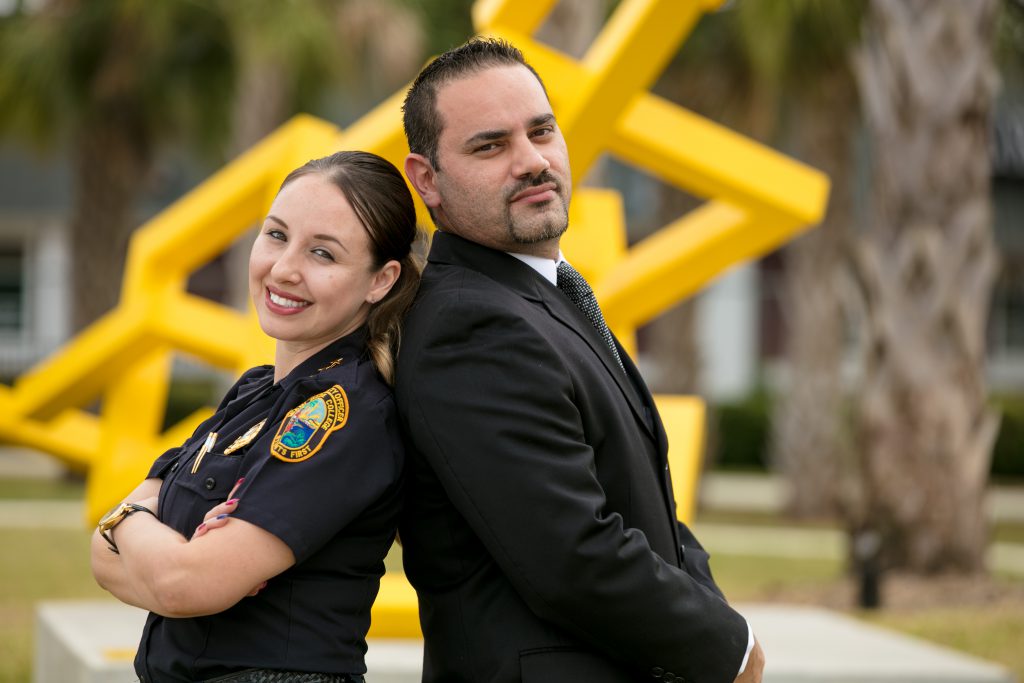 As Valentine's Day approaches, couples like Stephanie and Yakir Fernandez look forward to an evening of watching the musical Wicked and grabbing dinner.
Stephanie, the chief of public safety at Hialeah Campus, and Yakir, the director of emergency management at the College, have been married for seven years. The pair met in Rhode Island and married on Aug. 14, 2010 on a cruise ship.
"I met him in Providence, Rhode Island at the same university we used to work at but in different states," Stephanie said. "I was introduced to him from my captain when he traveled to Rhode Island for a meeting. I was actually working on my day off that day too."
During their first date, they went on a horse and carriage ride, wandered through downtown Boston's historic district and ate at a steakhouse.
"We spent the day [in Boston]. I showed him around the city then we went to downtown Boston and walked around and toured also the historic areas," Stephanie said. "We ate dinner at Morton's Steakhouse. After that we left back to go to Rhode Island and, on the way back, we got lost in Chinatown Boston."
After years of working together and being married, the two seem to bring the best out in each other.

"My favorite quality of hers is her unrelenting drive to succeed," Yakir said.
—Ciro Salcedo
Colleen Ahern-Hettich and Michael Hettich
Colleen Ahern-Hettich and Michael Hettich say they don't have any formal plans for Valentine's Day, but have their sights set on watching a movie or going out for dinner.
The pair got married in Red Rocks, Colorado on Aug. 2, 1980. Michael is an English professor and Colleen is the director for the Earth Ethics Institute. They both work at Wolfson Campus.
They met in Denver, Colorado on June 25, 1979, when Michael interviewed Colleen to become part of Big Brothers, Big Sisters, an organization that provides children facing adversity with mentorship.   
After the meeting, the two decided to go backpacking up the mountains the following day.
Michael said that Colleen impressed him with her fishing skills and her interest in nature. Colleen remembers it a little differently. She recalls sliding down a snow covered mountain after losing control of her sled as she furiously barreled toward some rocks. Suddenly, Michael jumped in front of her to cushion her fall.  
For Colleen, her husband's best qualities—besides being a lifesaver, of course—are being a great father, poet, teacher and a self-realized man.
"He always knew that he wanted to be a poet," Colleen said. "He always knew he wanted to teach and he always knew he wanted to be a father. He's just a very giving person who's able to balance those three things really well."
Michael struggled in choosing her best quality.
"When she loves something, she will be completely dedicated to that.  She's very sensitive, very creative. One of the things that makes us different is that she's good at a lot of different things and I'm only good at a few things," Michael said. "She can do what she's doing now, she can do writing, she can also do carpentry, she's very good in building things and she's much more hands on than I am."
—Camilla Sposito
Stephanie Garcia and Alberto Ramos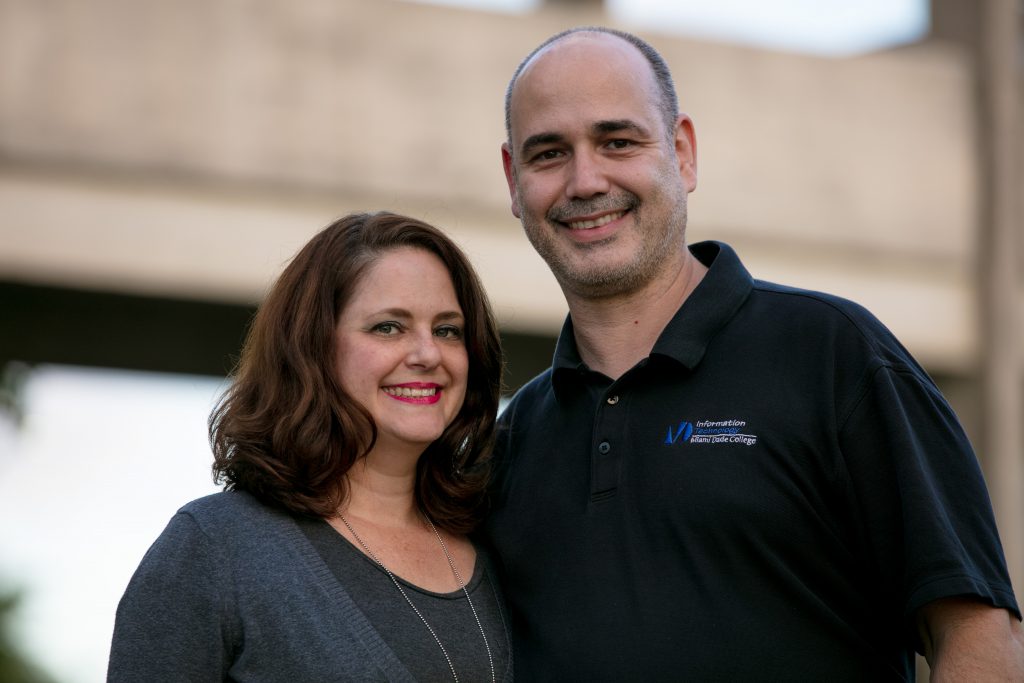 Stephanie Garcia and Alberto Ramos have a tradition. Every Valentine's Day, Ramos gifts Garcia flowers and a heartfelt card.
They got married on Sept. 9, 2006 in North Miami Beach but have been a couple for more than 15 years.
Garcia is an associate instructor for Learning Resources at North Campus and Ramos is an internet technician network specialist at Kendall Campus.
After meeting each other through a mutual acquaintance, Ramos took Garcia on their first date at Wasabi Japanese Restaurant in Pembroke Pines. When asked about their first date, they both agreed that it was "love at first sight."
For Ramos, he admires Garcia's leadership skills, especially when it comes to being a mother.
"There's too many great qualities of hers to choose from. I cannot pick just one," Ramos said. "I admire how she takes charge of certain situations and how she handles being a mother with grace."
Garcia and Ramos have two kids, Nicholas, 10, and Natalia, 4, and enjoy spending time together as a family.
"One of my favorite qualities about my husband is that he is funny," Garcia said. "He is a great father, has been my best friend and I still feel the same way that I felt when I met him 15 years ago."
—Julie O'Hare
Esther Rios and Alejandro Rios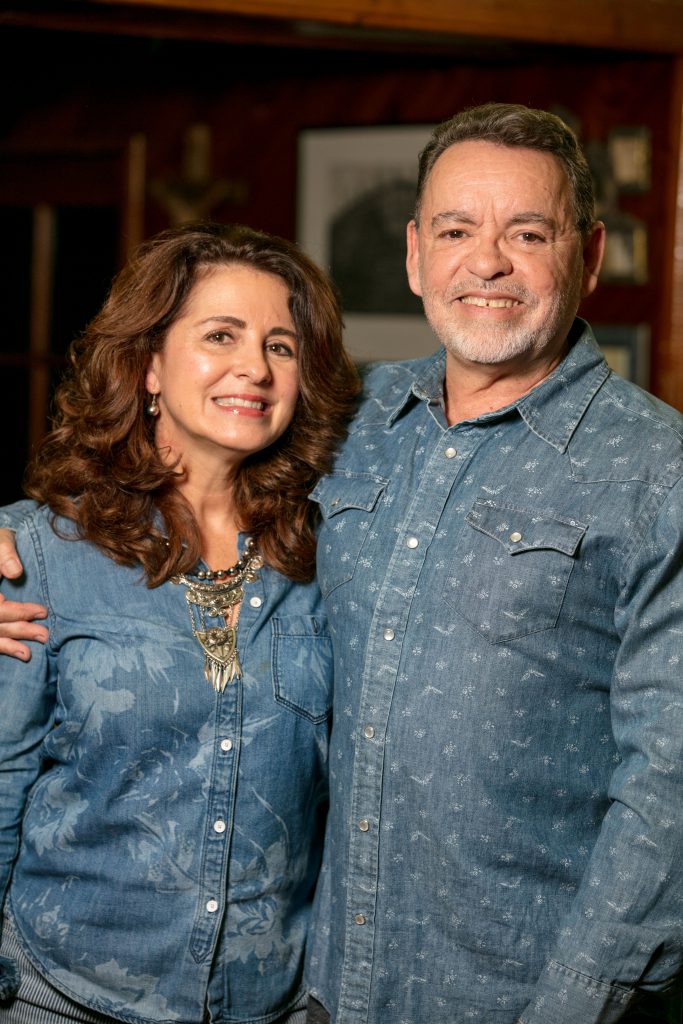 Alejandro and Esther Rios will be traveling to New York to watch Robert Plant and the Sensational Space Shifters perform at the Beacon Theatre for Valentine's Day.
"Our secret is that every day is Valentine's [Day]— roses, chocolates and dinners happen all year round," Esther said.
Currently, Alejandro is the hispanic media specialist for Miami Dade College's media relations department. In October, he released his first book La Mirada Indiscreta,  a compilation of Riós' weekly columns published in El Nuevo Herald from 2007 to 2017. Esther has served as the network coordinator at West Campus since 2008.
The couple have been married for 31 years—having just celebrated their anniversary on Jan. 31. The couple met in Havana, Cuba in 1983 while working at the Cuban Ministry of Culture.
"[It was] love at first sight." Alejandro said. "The most beautiful girl in the world."
After coming to Miami in 1992 as political exiles from Cuba, Alejandro and Esther started working at Wolfson Campus the same year.
The couple still feels the same as they did on the park bench in the neighborhood of El Vedado on their first date.
"My husband is the best lover, friend and father that any women can have," Esther said.
—Justin Marcano