Looking For A Coronavirus Distraction? Watch This MDC Alum's YouTube Cooking Show
Social distancing hasn't stopped Gregory Castillo from having fun.
The loquacious 28-year-old has spent the past three Saturday mornings chopping vegetables, sauteing rice and marinating pasta—all while recording himself on an iPhone 11 Pro. 
Castillo, a former Kendall Campus student, has been busy filming Quarantine Kitchen, his Youtube cooking show, from the comfort of his home in Dallas. 
 "The whole purpose of this is for me to have a creative outlet, to have fun because it's a really difficult world that we're living in right now—it's really scary and confusing," Castillo said. "For me, personally, I don't do well under pressure, but this show gives me the ability to distract myself with editing and really silly jokes." 
The series showcases Castillo crafting quarantine-inspired recipes. So far, he has cooked chicken fried rice, bunker black bean dip, waffles and pasta carbonara.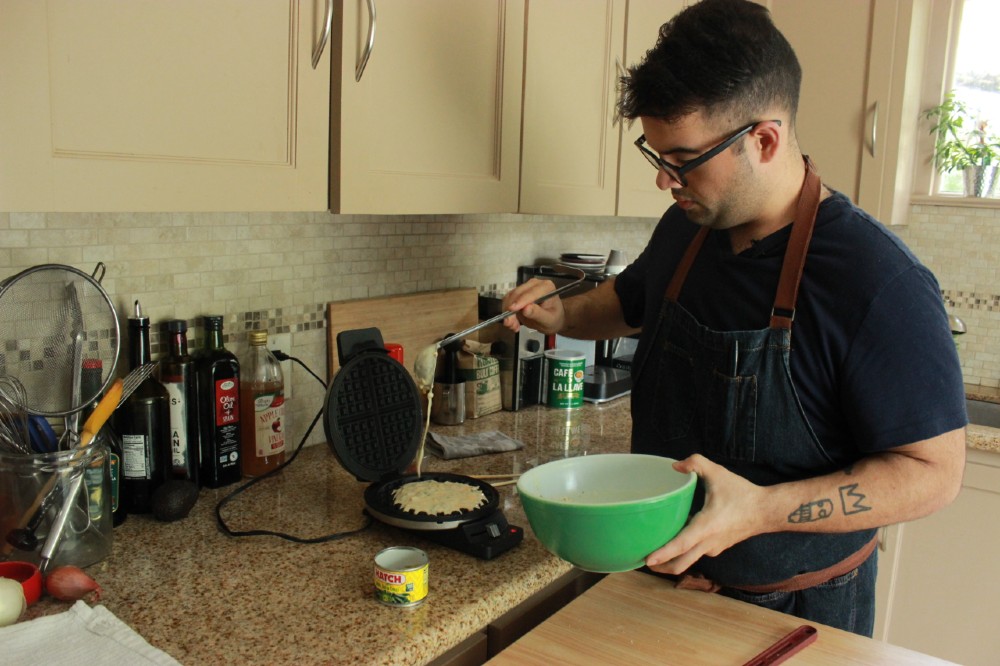 Castillo's wife, Jessica Thompson, films every episode, which last around six minutes. Snippets feature their two chocolate cocker spaniels, Bastion and Ella, as recurring guests. 
They pick dishes based on what's available in their kitchen, and decide what recipe to try the day before shooting an episode. 
The show has faced some obstacles. Their first episode—where Castillo made bunker black bean dip—had some lighting and sound issues. 
To address them, they began using a lavalier microphone and used the natural light from a window in the kitchen. 
"This isn't a perfect cooking show," Castillo said in a recent video, while clearing out the kitchen counter top to serve the pasta carbonara. "The people don't want a perfect cooking show."
Shortly afterward, Castillo's face appears pixelated on the screen as he feasts on the pasta. Subtitles appear below the frame that read: "imagine an anaconda eating a bowl of pool noodles." 
The weekly show wasn't Castillo's first idea for a Youtube series.
Two months ago, he came up with the concept to create a comedic food show entitled Bad Cookbooks, where he would prepare recipes from uncharacteristic cookbooks. 
Some of the cookbooks he planned to review were: Cookin' with Coolio: 5 Star Meals at a 1 Star Price from rapper Coolio and Alice's Brady Bunch Cookbook, which includes recipes from cast members of The Brady Bunch. 
Castillo planned to record the first episode with a friend on March 14, but was forced to cancel because of the quarantine measures put in place due to the coronavirus outbreak.
Five days later, the Dallas Museum of Art—where Castillo works as a multimedia producer and Thompson manages teen programs—instructed their employees to work from home. 
"I was like, 'you know, let's come up with something,'" Castillo said. "I want to do something fun, I want to do something at home, something to get my mind off of it, you know, to kind of be silly.'" 
That's when the idea to produce a series with a quarantine-twist came about. Castillo, who had stocked up on groceries to prepare for the pandemic in February, decided to shoot the show on his iPhone 11 Pro to make the process quicker, even though he had bought a Blackmagic Pocket Cinema Camera 4K to record Bad Cookbooks.
"Quarantine and self-isolation—it's just such a completely new experience that, as a society, at least in modern history, we haven't really experienced before, so it's something that we can share with people, and they enjoy it," Thompson said. "We get a couple of laughs and maybe they find a new way to use the ingredients that we've all hoarded in our pantries. That would be the ideal situation, that it entertains and helps people."
Castillo's fondest memories of cooking come from his grandmother—Theodora—who would often make dishes like bistec empanizado or arroz con pollo for him as a child. That, coupled with watching food shows like Iron Chef America on the Food Network, helped develop his love for food. 
"Ever since I was a little kid, I had dreamed about being a chef," Castillo said. "[My grandma] just cooked every meal for us, and she overfed us. I was always like a chubby kid, and then I was a fat adult, and then I lost weight. It's always been a huge part of my life."
But photography and videography also had a stranglehold on Castillo. His father, Luis Castillo, is a production engineer in the sports department at Univision, and his brother, Louis Castillo, works as a communications tech for the City of Miami.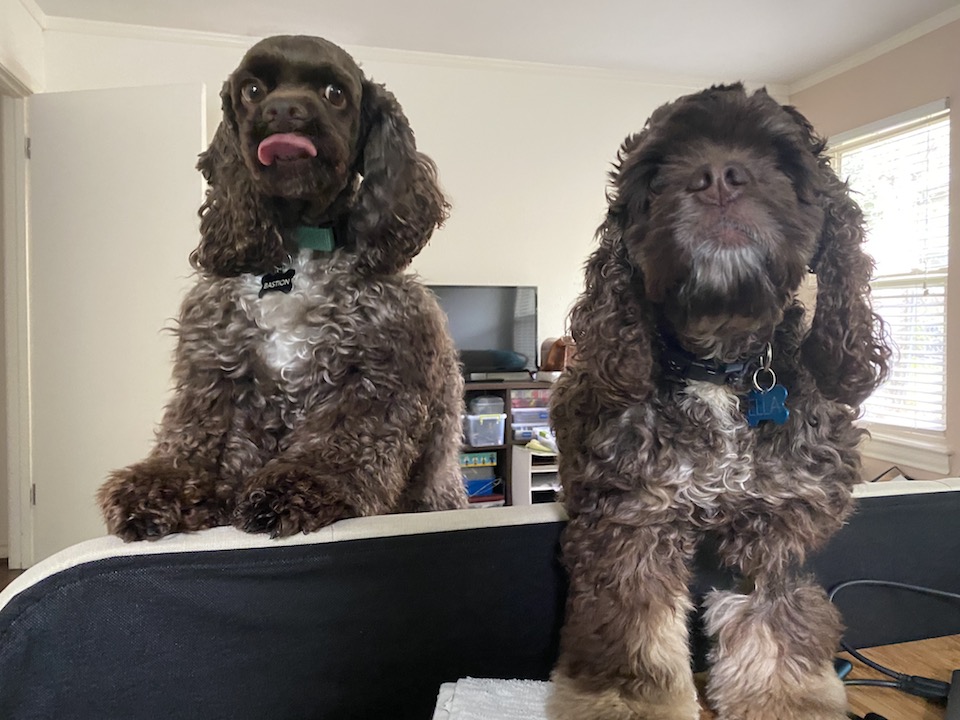 The two distinct passions forced conflict when he had to choose a career path; he couldn't decide whether to become a chef, producer or journalist. 
Castillo enrolled at Miami Dade College in 2010 to study mass communication, but transferred to Le Cordon Bleu College of Culinary Arts in Miami three years later. 
After three months, problems with paperwork led Castillo to drop out, and he returned to MDC. 
During his time at MDC, Castillo was an integral part of the staff that launched The Reporter in October of 2010, serving as photo editor, news writer and Kendall Campus bureau chief. 
Castillo's work earned him eight first-place honors from the Florida College System Activities Association, including best News Story, Feature Story, News Photo and Sports Photo. 
In 2013, Castillo was awarded first-place at the Associated Collegiate Press Photo Excellence Awards at the 92nd Annual Associated Collegiate Press/College Media Association Convention in New Orleans. 
He left the College a year later to intern at The Dallas Morning News, where he covered breaking news and took photos. 
Castillo has worked at the Dallas Museum of Art since 2015 as a multimedia producer. He covers events, creates exhibition trailers and produces video and social media content for the museum. 
But he has not lost his fervor for food. 
Castillo briefly opened Croquette, a croqueta stand at the Dallas Farmers Market with long-time friend Chris Cuan, in 2017. Two months after opening, the duo won first place in the People's Choice category at Croquetapalooza, a cooking competition in Miami. 
He plans to continue shooting Quarantine Kitchen until the quarantine is revoked, and then kickstart Bad Cookbooks. 
"My goal is to just make something for myself [with Quarantine Kitchen]. And if people watch it, come along with it," Castillo said. "I'm not saying that I don't want it, that's a bonus. But the show is really just being creative in a funny way and if I can make somebody's day better for a few minutes when they watch it, then the show is successful."