Local Shooting Guard Aims To Revitalize Run MDC
Shooting guard Richard Charles comes to Miami Dade College with lofty expectations.
Sharks head basketball coach Kevin Ledoux describes him as "the best player in Miami." 
The 6-foot 5-inch freshman, who played at North Miami Senior High School last year, averaged 17.8 points, 7.6 rebounds and 3.3 assists per game in his senior year for the Pioneers.
"He has the potential to be one of our great players,"Ledoux said.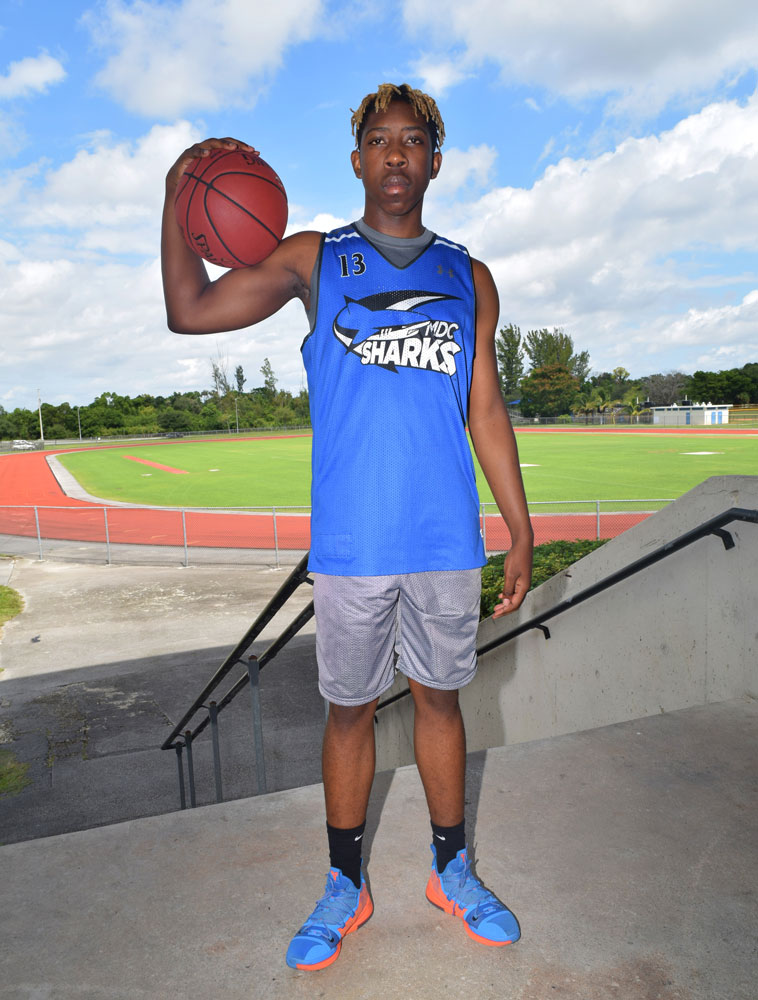 Charles, who grew up idolizing Miami Heat legend Dwyane Wade, is expected to be a key cog in helping the Sharks improve on last year's 20 loss season.   
"My expectations of Richard are to be the spark of the team," said Sharks sophomore guard Elton Walker, who averaged 12.9 points and 6.2 rebounds per game last year. "He is a high-volume shooter that could give us the extra boost to come and help us win games." 
Charles' passion for basketball started at a young age. In 2011, Charles met Raynald Benoit at his Roaring Tigers Youth Program. While at the non-profit organization, Charles also played alongside current teammate Victor Hart, a forward on the Sharks. 
"My relationship with Coach Benoit is great," Charles said. "He's like a mentor to me and I look up to him a lot. He was there for me through the good and bad times." 
Benoit continued coaching Charles at North Miami. As a 5-foot-9 inch freshman, he played on the junior varsity squad, averaging 8.2 points and 1.4 steals during the 2015-16 season. After a growth spurt, he worked on his defense, dribbling and rebounding. He was eventually promoted to the varsity squad. 
"He would arrive to practice early," Benoit said. "He has a strong work ethic and was always the last one to leave practice."
Charles' efforts paid off. He ended his career at North Miami with 1,182 points scored and 130 three-pointers made.  
Charles says that his determination to improve is a byproduct of his environment.    
"Growing up, I saw my parents struggle," Charles said. "It wasn't easy. It pushed me to be someone so I can help them out."
Now, the 19-year-old business major is focused on helping revitalize the Sharks stagnant program. They have missed the playoffs four years in a row. This year's team will feature three Division I transfers and Walker who is considered by many a top-50 junior college player.    
"Our goal is to get to 20 wins, win conference and put up a banner," Charles said, "then go to States and win it [all]."
The Sharks' next game is Nov. 5 at 7 p.m. versus the Red Devils Basketball Academy at the Theodore R. Gibson Health Center, 11011 S.W. 104 St.