Literary Arts Magazines At MDC Nominated For Prestigious Awards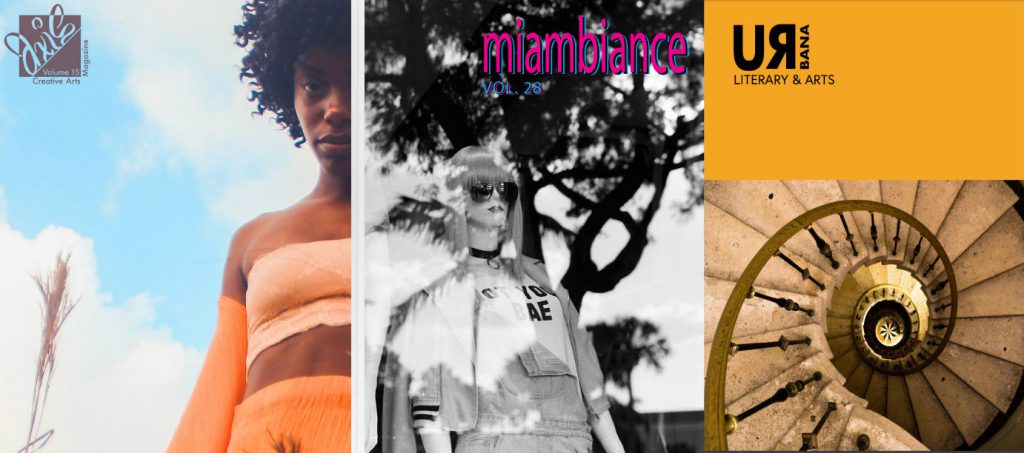 Miami Dade College's literary art magazines are dominating the award scene this year.
North Campus' AXIS, Kendall Campus' Miambiance and InterAmerican Campus' Urbana have been named 2018 Magazine Pacemaker finalists for literary art magazines by the Associated Collegiate Press.
Winners will be announced on Oct. 27 at the Associated Collegiate Press\College Media Association Fall National College Media Convention in Louisville, Kentucky.
"We worked really hard on it," said Rita Fernandez-Sterling, an adviser for Miambiance. "Being recognized like this really solidifies the hard work that went into this magazine."
The ACP received 104 magazine submissions for the feature/general interest and literary arts divisions. Submissions were produced by four-year and two-year college students during the 2017-18 year.
This is Urbana's first time being named as a finalist for the Pacemaker Award.
"Though our staff is small, with 12 students working on volume 11, it was perhaps that which made us stronger since the group had a collaborative work ethic," said Emily Sendin, one of the advisers to Urbana. "The community is important to us."
Miambiance has been regularly nominated for the Pacemaker since 2003, winning the prize in 2009.
Both AXIS and Miambiance were also named Pinnacle Award finalists in the two-year Literary Magazine of the Year category by the College Media Association. Winners will be announced on Oct. 26 at ACP/CMA Fall National College Media Convention.
Miambiance has received countless Pinnacle Award nominations; they won third place as recently as 2016.
This is the second year in a row that AXIS is nominated for a Pacemaker and a Pinnacle Award. Last year, they didn't win either.
"This year, the students worked a lot on the feedback they got on the magazine's design from past judges and were more selective," said Kathleen Noonan, an adviser to AXIS. "AXIS is unique in that it speaks for and represents the students from North Campus. You can really see the influence of the different cultures we have here."