Lady Sharks Look To Build Off Last Year's Southern Conference Championship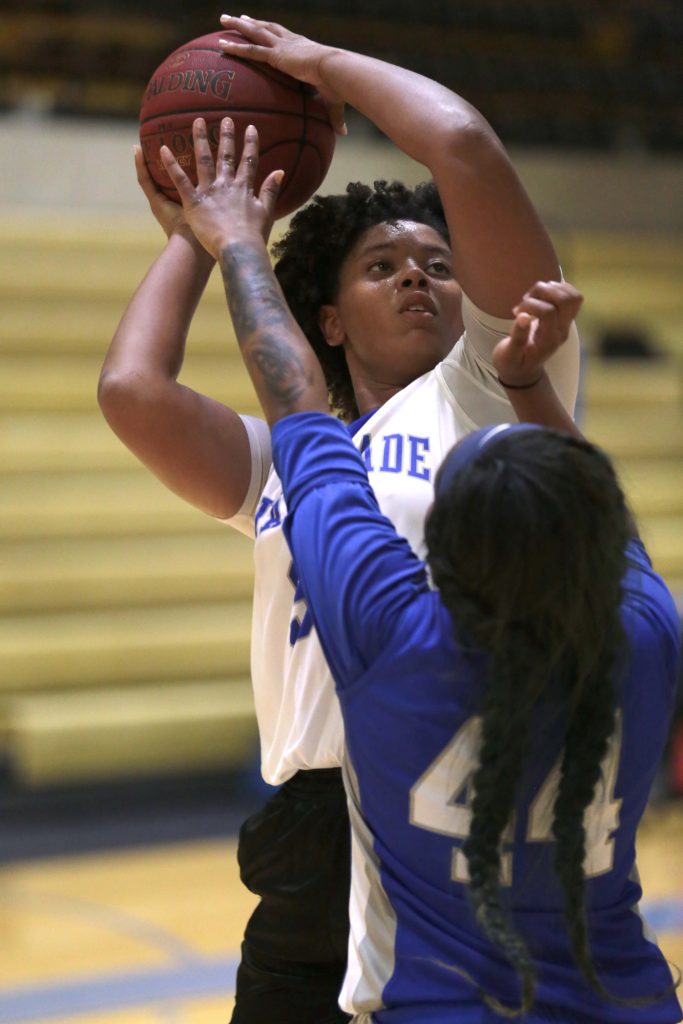 By all standards, the Lady Sharks women's basketball team had an impressive season last year. They won 22 games and were crowned Southern Conference Champions.  
Although the Lady Sharks lost in the quarterfinals of the Florida College System Activities Association State Tournament to Eastern Florida State College, they managed to finish in the top 10 in several national statistical categories, including total points (2,606, 10th), points per game (84.1, 7th), three-point percentage (37.1, 7th) and turnovers per game (6.3, 4th).
The Lady Sharks hope to build off that momentum this year.  
"Not only do we have eight players returning from our [Southern Conference] championship season, but we have added new players that add a whole new dimension to the team we have," Lady Sharks head coach Susan Summons said. "This year's players have much more experience and maturity coming in to the season."
During a recent practice, the chatter of the Lady Sharks rang through the gym while the coaches donned shirts with the phrase "Some wish for it, we work for it."  
One of those who is expected to work for it is Division I transfer Michelle Pruitt from Stetson University.
As a freshman at Stetson, Pruitt was named Atlantic Sun Conference freshman player of the week four times, led the conference in field goal percentage (.544), was ranked 11th in scoring and 6th in rebounding. She averaged 7.7 points and five rebounds per game.
"Michelle does it all, she can assist, score and rebound," Summons said.
This year's team will also feature promising freshmen, such as Toi Smith, a six-foot-tall power forward, who averaged 18.6 points and 15 rebounds per game as a high school senior. Smith was named to the Pinellas County Athletic Conference 1st Team three times during her high school career and she led Lakewood to the 2018 State Championship Final Four.
Although the team lost forward Cheah Rael-Whitsitt, who averaged 16 points and 14. 2 rebounds per game and was the 2018 Southern Conference Player of the Year, to graduation, they return guard Ganette Chism. She led the team in scoring last year with 21 points per game, which ranked ninth in the National Junior College Athletic Association
"The girls want to 'break the system,' as they call it," Summons said. "They expect to average more than 84 points per game and compete to be ranked nationally."
The Lady Sharks start their season on Nov. 2 at Hillsborough Community College at 6 p.m.