Lady Sharks Clinch State Tournament Berth
With a 10-1 record in the Southern Conference, the Lady Sharks have repeated as Southern Conference champions after defeating Broward College, 94-79, on Feb. 20.
With their conference title, they have clinched a spot in the Florida Collegiate System Activities Association Athletics State Tournament. They finished the season with an undefeated record at home (12-0).
"We're going to have to stay tough on our rotations and rebounding," said head coach Susan Summons. "There's always work for improvement but if we can play steady and strong, we can beat whatever opponents we're matched up against."
The Lady Sharks started the season rocky. After nine games, they were 3-6—injuries and inexperience hurt the team—but they have gone 18-2 in the 20 games since the rough start.
Freshman guard Daliyah Brown has continued to show her excellence on the court, averaging a team-leading 20.2 points and 4.4 assists per game.
Another freshman that has stepped up is six-foot forward Toi Smith. She has averaged 11.7 points and 8.9 rebounds per game.
"I knew the talent we had was capable of producing results," Summons said. "We're tough and when we're talking and playing right, this is a hard team to play against."
The team's motivation this season has been to prove that they aren't the same team that started the season so poorly. They are currently ranked eighth in Region 8 and are looking to cement themselves as a contender.
But winning the state championship won't come easy.
The team will be pitted against some of the best teams in the nation, including fifth-ranked Northwest Florida State College, seventh-ranked Gulf Coast State College, eighth-ranked Chipola College, twelfth-ranked Tallahassee Community College and thirteenth-ranked Florida SouthWestern State College.
"We have a tough road ahead of us," Brown said. "We're going to have to make sure we're consistent to make sure that we can make a name for ourselves in the tournament."
Veteran leadership will be essential in ensuring the team has any success beyond the regular season.
Sophomore guard Ganette Chism, who is averaging 14.2 points per game and forward Michelle Pruitt, who is averaging 16.6 points and 10.5 rebounds per game, will be tasked with keeping the team level-headed.
"Our leaders are going to have to step up and make sure the team plays hard," Summons said. "Like I said, I saw their potential early in the season, but when it comes to the state tournament, we are 0-0 like everyone else. Now is the time to improve and make sure we don't allow ourselves to make any mistakes."
Pruitt-Henderson Makes Debut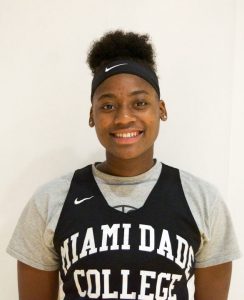 After being sidelined the entire season after sustaining a broken metatarsal last September, freshman guard Monique Pruitt-Henderson made her season debut on Feb. 13 against Palm Beach State College.
She scored nine points and grabbed two rebounds in the Lady Sharks 97-85 win versus the Panthers.
In the two games she has in played this season, Pruitt-Henderson is averaging seven points and is shooting 50 percent from the field and 40 percent from three-point range.  
"She's been playing great in the games since her return," Summons said. "She's a talented player and she's going to have great success."