Ledoux's Message To Sharks: Play Hard Or You 'Won't Be Playing'
Success has eluded the Miami Dade College men's basketball team for the past two seasons.
But despite going 26-33 in his first two seasons as head coach and missing out on the Southern Conference Tournament, Kevin Ledoux is confident in his team's potential this year.
His solution to their woes? Minutes distribution—transitioning from a five-in five-out system to one where the best players play a majority of the minutes and are staggered throughout the game.
"[Our system] takes a lot of effort, willpower and discipline," Ledoux said. "The first couple of years that we ran the system, we rotated five players in and five players out every minute and a half. Now we'll be looking to keep the five best players [at that time] in the game as long as we can."
What won't change is Ledoux's aggressive offense and defense. Last season, the Sharks led the National Junior College Athletic Association in points per game (108.2), field goals made per game (38.8), three-point attempts per game (38.2) and offensive rebounds per game (21.9). They were also ranked second in the nation in steals per game (14.3).
Despite their intensity on both sides of the floor, the team struggled with efficiency and defensive rebounding last season.
They closed out the season ranked 194th in field goal percentage (40.6) and three-point percentage (29.6), 193rd in free throw percentage (62.6), 160th in turnovers per game (15.9) and 198th in points allowed (89.9).
"We've got a lot of room to grow," Ledoux said. "We still need to focus more, shoot the ball better and rebound at the defensive end. We're going to focus on making sure that we only allow one shot for the opponent."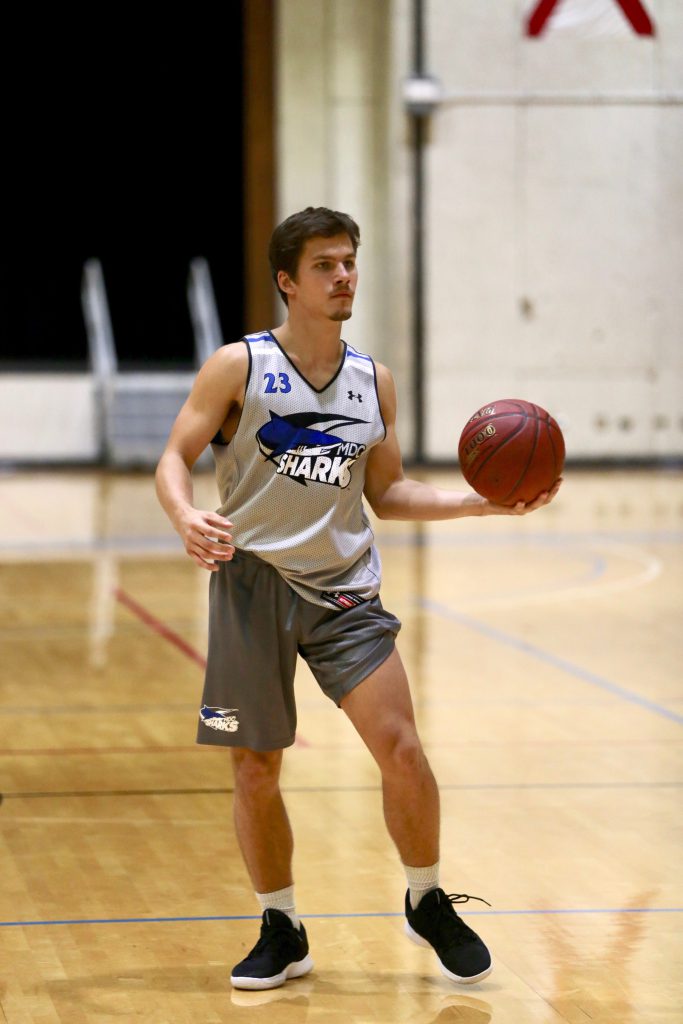 The team is looking to correct those miscues while featuring seven returning sophomores along with a Division I transfer from Duquesne University in Nicholas Kratholm.
Key returning players include guards Montese Blake (13.8 points per game), Arseniy Andreev (4.6 assists per game last season), Kaevon Tyler (led the team in steals per game, 2.3, and three point percentage, 35.1) and forward DJ Russell (15.2 points and 7.9 rebounds per game).
"Last year I was trying to enjoy my time and bring the energy but this year I'm doing everything naturally," Andreev said. "I'm trying to generate value for the guys and I can see that they're trying to generate value as well."
This year's roster also features five freshmen whose athleticism, shot selection and basketball IQ will be called upon throughout the season.
Freshman Jake Brownlee, a six-foot-six-inch wing player, has already been featured extensively throughout the preseason. He has shown an ability to explode off the ball, space the floor effectively and trap opposing players defensively.
"I feel like with my role I'm going have a big impact on the team even if I'm coming off the bench," Brownlee said.
During the preseason, the team has made strides in spacing the floor to allow shooters to have the best opportunity to get open looks. The freshman have also filled in their supporting roles well, fitting seamlessly with the team's overall chemistry on offense.
"We have guys who can handle it [the ball], guys who are going to share the ball, guys who can score, athletes and anything else you can ask for," Andreev said. "But where I see us succeeding in most are the hustle plays, 50/50 balls, the stuff that takes effort to create."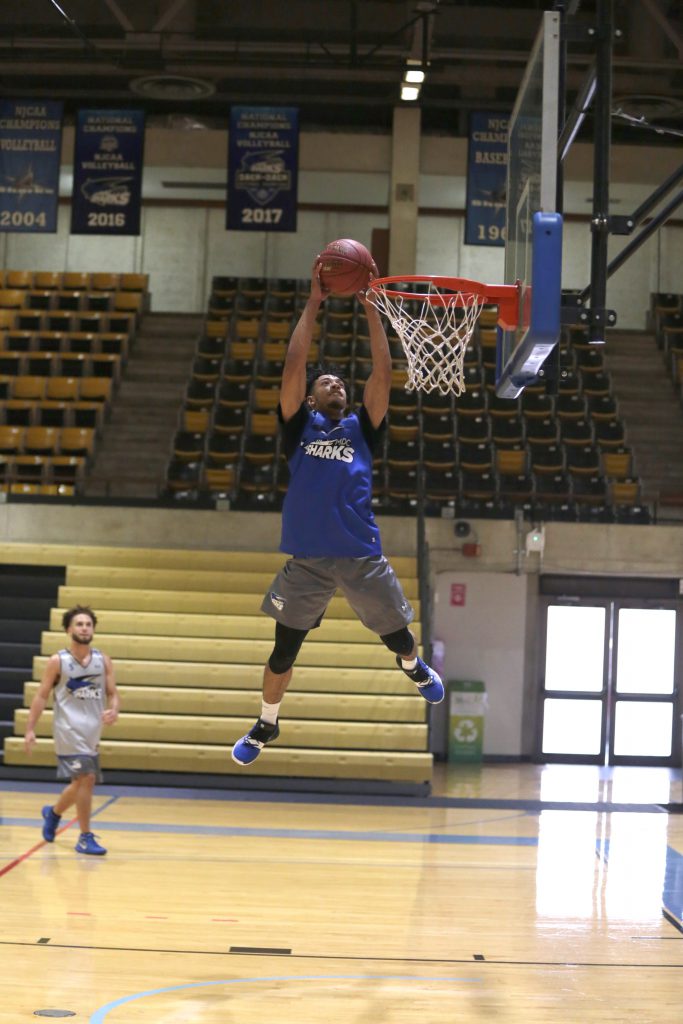 However, the team's Achilles heel last year—poor rebounding—has surfaced this preseason. In a scrimmage against Florida National University, the team suffered long stretches where their forwards were unable to effectively rebound which led to easy second-chance points for their opponents.
The team's defense has also been hot and cold. There have been moments where they suffocate the opposition's offense, exhausting the opposing team through the use of switches and traps to force turnovers.
But that's when their communication is perfect. At times the team suffers lapses, leaving shooters wide-open when trying to stop another player from driving through the lane.
Ledoux hopes the team can erase those types of those miscues.
In practices, the team has been running more boxing out drills. During scrimmages, Ledoux's voice can be heard frequently, correcting the slightest miscue to reduce poor shot selection, turnovers and defensive lapses. Every minute will be earned this year, Ledoux said.
"What was wrong with the five-in five-out approach was that each player knew they would be playing and unfortunately, [I guess in their minds] they thought since they're going to play, they didn't have to play as hard," Ledoux said. "This year, each game will be different. Now with the competitiveness, they're going to have to play hard because if they don't they won't be playing as much as they'd like to.  Whoever's playing better that day and giving the most effort will earn their minutes."
The Sharks next game is at home at the Theodore R. Gibson Health Center, 11011 S.W.104 St., on Nov. 7 against Eastern Florida State College at 6 p.m.