Kendall Campus Student Channels Passion For Wrestling To Write Children's Book
Two years ago, Noel Fuentes searched for a book he could give a five-year-old family friend when he realized there weren't any that attracted children to learn about wrestling.
Fuentes was looking to teach the kid about hard work and persistence—qualities he learned during his seven years as a wrestler. 
After days of searching, Fuentes, a 21-year-old Kendall Campus pre-med student and aspiring firefighter, took matters into his own hands.
He created a 45-page children's book that chronicles the story of a spiky-haired boy who revels in grappling with his teddy bear, cat, dog, and older brothers until he wins his first wrestling competition.
Wally Wants to Wrestle was released in March of 2019. It has sold more than 1,000 copies. Last month, Fuentes published a 40-page coloring book that augments Wally's tale. It includes word search puzzles and fill-in-the-blank pages.
"The purpose of the book is to reach as many kids as possible and share [with them] the knowledge wrestling gave me," Fuentes said.
Inspiration for the book came from Fuentes' experience as a wrestler in middle school and high school after his parents encouraged him to try the sport because of his penchant for roughhousing.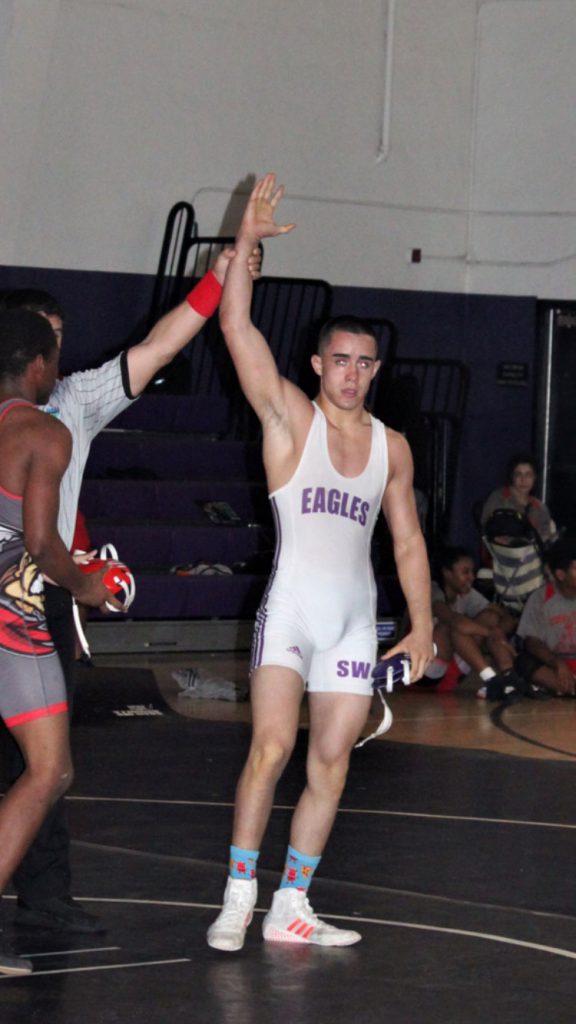 Fuentes, who graduated from Southwest Miami High School in 2017, competed in the 138-pound weight class as a freshman but dislocated his shoulder while doing drills in practice. After a speedy recovery, he re-earned his spot on the varsity team.
As a sophomore, he competed in the 145-pound weight class. The following year he was named to the All-Dade Third Team and placed third in the 160-pound weight class at the State Tournament.
But his senior campaign was different. Fuentes didn't perform as well, even losing at a tournament to two wrestlers he had previously pinned.
The experience taught him the importance of perseverance. Although Fuentes doesn't compete anymore, he trains with the Eagle Empire Wrestling Club, who practice in the gym at his old high school. 
"Noel was always a hard worker. Every time he stepped into the room to practice, he made everyone hype and ready to go," said Jorge Benitez, Fuentes' former high school teammate. "When things didn't go his way, he would learn from his defeats and come out even stronger the next time." 
Fuentes translated those lessons into Wally Wants to Wrestle.
The book came to life after six months of planning. He worked on it after his shift at United Parcel Service—his job at the time—where he was in charge of loading packages into the delivery trucks. 
First, he created the plot. The drawings, which Fuentes sketched and colored by hand, were based on what he had written for each page. He published the book himself but Steuben Press, a book publisher in Colorado, printed the copies.
To promote Wally, Fuentes attended wrestling tournaments including the Sunshine State Games at Keiser University, the Colorado USA Wrestling State Tournament and the Florida Pride Wrestling Camp in Kissimmee, a one week summer camp for wrestlers under 18.
He set up a table to sell the book and Wally T-shirts, and on a few occasions he was recognized by kids who peppered him with 'You're Wally!' greetings.
"We felt so proud," said Luis Fuentes, Noel's dad. "We knew the finished product would make a difference in a lot of young children's lives because of the great message Wally sends to kids of working hard and never giving up."
To buy Wally Wants to Wrestle, its companion color-booking or T-shirts go to Fuentes' website.