Kendall Campus English Professor To Retire After 32 Years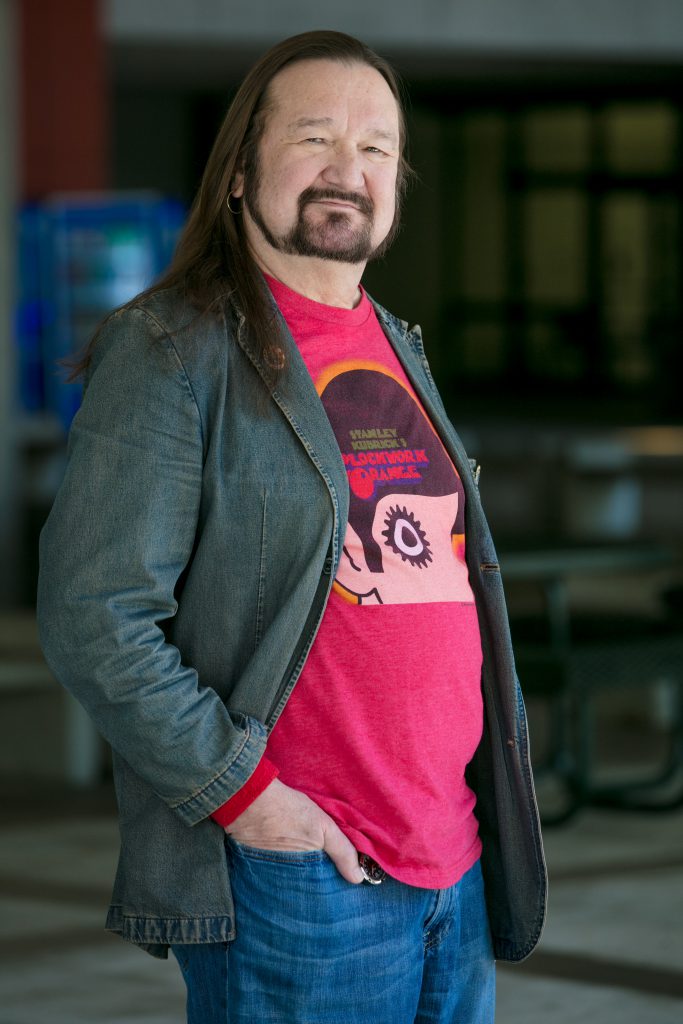 A 1968 article in the Los Angeles Times reads "Michel de Benedictis is a 16-year-old junior at Beverly Hills High School who dabbles in poetry, wants to be a doctor—but admits he might end up teaching literature."
Fifty years later, de Benedictis is set to retire from Miami Dade College after 32 and a half years teaching English and literature. His final semester at MDC will be this spring, although his official retirement date is Aug. 3.
"As far as teaching is concerned, Miami Dade College was the only school I wanted to teach at," de Benedictis said. "I took a look at the demographics out here and I said 'We got the United Nations out here.'"
As a professor he follows a mantra that each student brings something different to the table, so he allows creativity to flow within his classrooms. In his ENC 1102 course, students have to write a screenplay on the Underground Railroad by Colson Whitehead rather than write a research paper.
"In his class, it wasn't just learning about the English language, but it was more about us applying our skills to the material that he presented us," said Julien Osorio, a computer science major in de Benedictis' ENC 1102 course this semester. "It was something I had never done before."
De Benedictis, 66, uses his Honors College sophomore leadership course to help students prepare to transfer, apply to scholarships and write resumes.
"Most of my students don't realize how exceptional they are," de Benedictis said.  "They live in this fishbowl we call Miami, and they see themselves as looking no different than anyone else and they don't realize how different things are around the country and how many opportunities  are available for them."
During lectures, he peppers in anecdotes and alludes to mentors like poet and writer Allen Ginsberg or legendary, former University of California at Los Angeles basketball coach John Wooden to liven up the atmosphere in his classrooms.
De Benedictis chose teaching literature over a career in the medicine field because he didn't like the amount of hours required for medical school. He also felt that some individuals entered the medical profession for the wrong reasons.
After graduating from UCLA with a bachelor's degree in English, and having undergone the pre-med track as well, he earned his master's degree in English from the University of Wisconsin in 1975.  
He later taught literature at the University of Nebraska for two years before seeking a job at MDC.
De Benedictis says the "light in kids eyes" is what drove him to pursue a career as an educator. He believes that teaching is the best way to leave a legacy.
"I can't imagine what the last 21 years of my life would have been like had I not chosen to enroll in that particular course on that fateful day," said Elizabeth Lagarón, a former student of de Benedictis from his Contemporary American Literature course in 1997 and now an adjunct professor at Kendall Campus. "So much of my life has been dedicated to the study of the things I first encountered in Michel's class, after all. Further, the passion and enthusiasm with which Michel approached the beat writers and their work made a lasting impact on me, as both a student and a teacher."
Lagarón received her doctorate degree in English at the University of Kansas, where she dedicated her dissertation in Magical Realism to De Benedictis.
His retirement will also leave a void for his coworkers.
English professor Cary Ser, who first hired de Benedictis in 1986, said their friendship is so close that they are "able to complete each other's sentences."
Having taught the sophomore leadership course together, Ser describes their teamwork as "get one Ser and one de Ben and add them together and you get five," a play on the phrase "the whole is greater than the sum of its parts."
"I consider de Ben not to be just a colleague but a friend. I'm going to miss being able to see him daily," Ser said. "Losing de Ben is like a small death to me. He's one of those people that if you haven't seen in a week, you can talk with non-stop for hours and you're immediately caught up. I will miss the humor, teasing and the sheer professional concerns."
De Benedictis hopes to spend his retirement catching up on all the film and literature he hasn't had the chance to enjoy. He hopes to move to a smaller city, preferably in central Florida, so he can remain close to his daughter and her family.
In addition, de Benedictis plans to expand his sports memorabilia collection. He has amassed a collection of thousands of vintage baseball, banners and cards since his childhood, to the point that he has a room in his home dedicated to the collection. His office is decorated with mementos and tchotchkes from past students.
But his heart is still at MDC. De Benedictis plans to end his career at the College by attending this year's graduation, as he has every year. He will carry the banner for the Honors College.