Kendall Campus Alumna Ignites Local Culture Through Indie Music Store
Lauren "Lolo" Reskin skated on the hardwood roller rink at Super Wheels Skating Center near Kendall, while a DJ played an endless amount of hip-hop and pop songs, as a teenager. 
In those euphoric moments, she realized the importance of uniting the community through music. 
"Like at a nightclub, the DJ at the rink is the most important person in the room," Reskin said. "Their mood and taste direct the flow and energy of the entire party, and the DJ booth at Hot Wheels felt like a mystical zone."
Reskin, now 37, found her own metaphoric turntables when she opened the indie record store Sweat Records, which she co-owns with Emile Milgrim. Fifteen years after opening, the vinyl record store, coffee shop and event space has ignited Miami's cultural scene.
The store, located at 5505 N.E. 2nd Ave. in Little Haiti, stands out amongst neighboring stores with its pink and blue storefront and a colorful mural painted across the store that depicts prominent musicians such as Prince, Iggy Pop and Daft Punk. 
Inside, vinyl records and music memorabilia are scattered across the store's bright blue walls and hang from the ceiling.  
"I admire Lolo and what she's doing here, because it is important," said Carlos Alvarez, who works at the store as an independent engineer and is a three-time Grammy Award winner. "One of the great things about Lolo is that she is a connector. She has this gift where she's very passionate about what she does, obviously. I just admire her a lot, because when she is passionate about something, she goes out of her way to connect people with that."
Reskin spends the bulk of her week overseeing the store's event schedule, correspondence, merchandise production and website. She also maintains connections with organizations across Miami.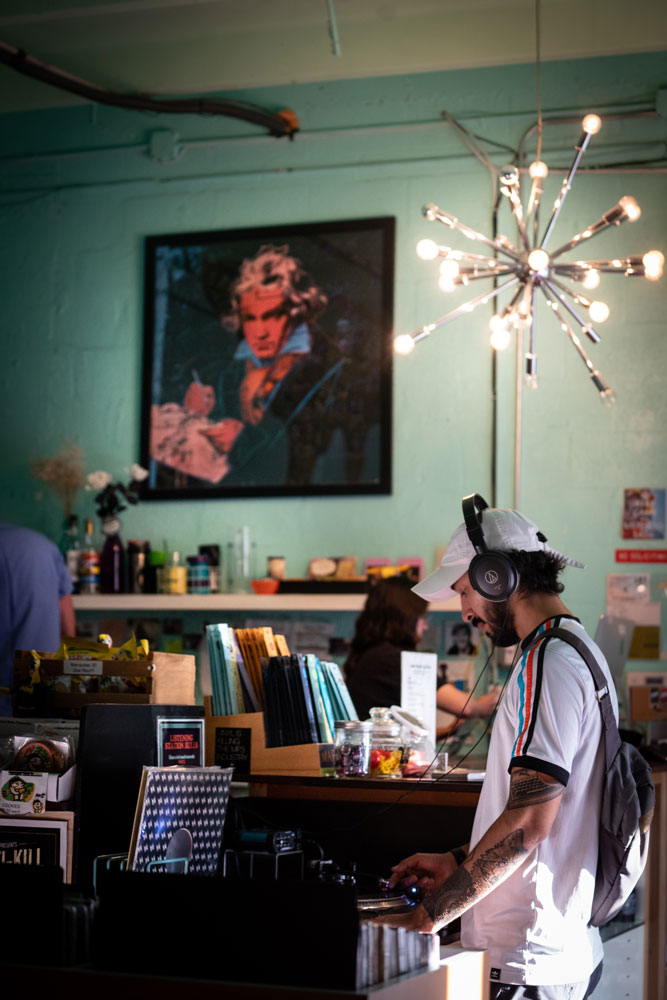 Music runs through every aspect of the entrepreneur's life. Reskin, born in 1982 in Kendall, found a love for music being the daughter of classically-trained musician Chas Reskin and granddaughter of touring violinist Joan Field. She recalls attending symphonic and Broadway shows with Chas and constantly heard him play music around the house. 
Reskin played classical and electric guitar for three years at Miami Killian Senior High School, but admits her passion is on the business side of the field.  
"I was decent but it didn't feel as natural to me as all the other activities I did around promoting, DJing and selling music," Reskin said. 
That experience led to her first job in the music industry—a part-time sales associate position at the retail music company Virgin Megastore when she was 16. She spent six years selling music to customers at the store. 
"When I heard they were opening a Virgin Megastore in South Miami, I applied. I bothered them until they hired me," Reskin said. "I was like the most excited sales associate that ever existed. I was just a sponge and I soaked it all up, and a lot of that knowledge is what I used to start [Sweat Records]."
She also deejayed at set release parties, booked bands and passed out materials for several music labels such as Mute, Emperor Norton and Matador/Beggars Group. 
In 2001, Reskin enrolled at Miami Dade College as a music business major. She stopped attending classes in 2003 after being offered a DJ and promoter position at SoHo Lounge, formerly a nightclub in Wynwood that closed in 2007. Reskin worked there in conjunction with her job at Virgin Megastore. 
She opened Sweat Records alongside best friend and DJ Sara Yousuf in March of 2005. They envisioned the store as a small, colorful locale, which represented the people who live and shop for music in Miami.
"Most other cities have [those] kind of stores [that represent local music culture] already," Reskin said. "It just broke my heart that the kids growing up after me in Miami might also want to leave because that store didn't exist. So we wanted [them] to be able to walk into a store and feel like it's there specifically to serve the local community."
It took one year to plan, model and eventually open the store in its original location in Edgewater. They made a list of nearly 170 tasks that needed to be completed, such as obtaining permits and designing business cards. 
Seven months after opening, Miami was hit with hurricane-force winds from Hurricane Wilma, that ravished the store's upper front wall and flooded the property, forcing them to relocate. They found temporary solace in a warehouse behind Churchill's Pub, a rock club and bar. In 2007, the store found a permanent home next door to the pub. 
The store also began restructuring its leadership. After Yousuf left the store in 2006 to work as a full-time public defender, Jason Jimenez took over as co-owner for ten years. Emile Milgrim, one of Reskin's high school friends, became the store's co-owner, managing partner and music buyer in 2011. 
"It's been cool. I like records, I like working, so I work with records," Milgrim said. "Lauren's super knowledgeable and super enthusiastic about music, so you know that's a good thing when you work in the music industry, especially in the independent music industry."
They've spent their time expanding in the community. They won two Knight Arts Challenge grants from the John S. and James L. Knight Foundation, a non-profit that funds community engagement and culture, in 2009 and 2012. It helped fund block parties and Sweatstock, a music festival, for several years as well as store improvements.
The music store launched an online record and merchandise shop in 2011. They also support local artists by selling their records in the store, and they started Sweat Records Records, a record label for non-famous local artists. 
"We started a record label because there were a couple bands that we knew on their own would probably not be able to just get it together enough to make vinyl," Reskin said. "We wanted to support them and wanted to just facilitate their music being released."
Reskin continues DJing at parties and curating background music playlists for hotels and restaurants.  
Future plans include launching a new website and online store, archival projects centered around past events thrown by Sweat Records and eventually opening a second location. 
"It's funny, [my colleague] and I were just coming from a meeting and a guy asked these group full of dedicated people 'What does music mean to you?' and I was like 'It's all of our entire lives,"'  Reskin said. "We live it, we breathe it, it's what we do all day long. It really is a way to touch people, to connect people."
Sweat Records is open Monday through Saturday from noon to 10 pm, and Sundays from noon to 5 pm.