Kendall Campus Alumna Fights Cancer With Care Packages
Bianca Maderal's life changed three years ago when a nurse gave her a purple care package  while she was a cancer patient at The Johns Hopkins Hospital in Baltimore. 
The gift—which included a hat, deck of cards, word puzzle and water bottle—helped the 22-year-old former Kendall Campus student stay busy while she underwent intensive radiation and chemotherapy for stage 3 brain cancer. 
It inspired her to create Fight Like A Kid, a non-profit organization that sends care packages to pediatric hospitals, and organizes fundraisers for cancer research and clinical trials, in 2016. 
"I would sit in my room and be like, well, what I would like to receive in doing my therapy?," Maderal said. "What could help me? What could bring smiles to the patients?" 
"It's amazing that someone who is going through so much takes the time to think about others who are also going through their own battles," said Adrienne Yuen, who served as Maderal's academic advisor at FIU for two years. 
Through the packages, Maderal wants to emulate the optimistic spirit of the children she sees battling cancer. 
"Seeing kids fight cancer, you can't compare it to adults," Maderal said. "Adults complain. They hit depression. I'm not saying kids don't complain and don't hit depression, but the kids are always so happy and cheerful. I choose Fight Like A Kid because we need to fight for those kids."
Diagnosed With Cancer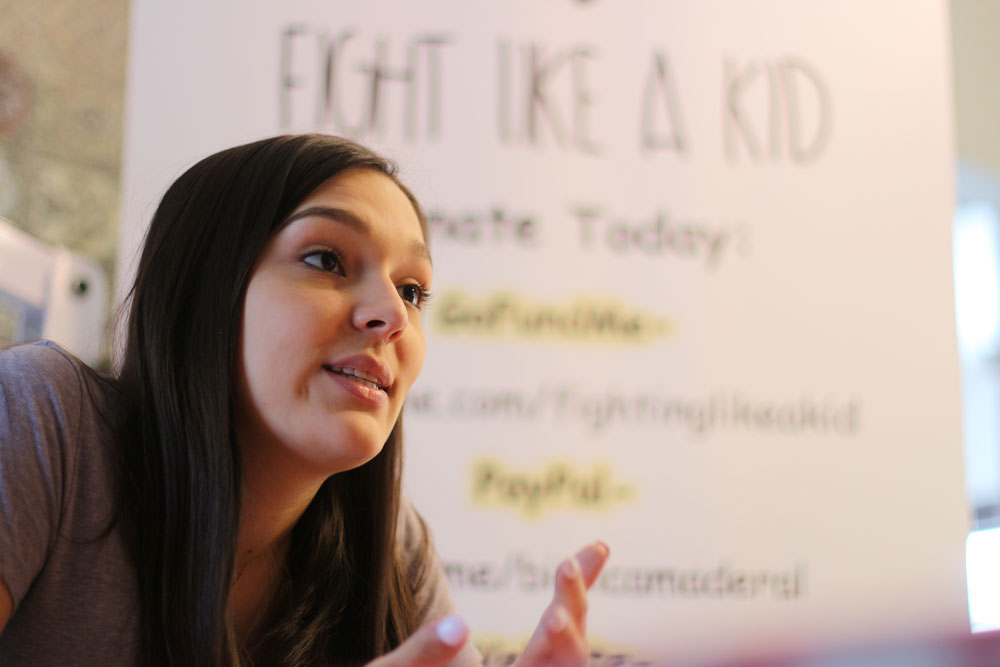 Maderal was born on Oct. 17, 1997 in Miami to Puerto Rican parents. 
She began dancing at the Dance Empire studio in Kendall when she was two. Maderal stayed there well into her teenage years, training for eight hours a day while getting ready for competitions. 
But her energetic lifestyle came to a halt in 2015 when she suffered a seizure during a Spanish class at Coral Reef High School in her senior year. Doctors scrambled to give Maderal a concrete answer. An MRI found eight tumors in her brain. 
"I went from being in a dance studio every second of every day to being in the hospital," said Maderal's mother, Grace. 
The then 18-year-old was diagnosed with stage 3 brain cancer, one of the most aggressive and rarest forms of cancer, usually seen in patients aged 30-50. 
Maderal moved to Baltimore to begin the first of three phases of chemotherapy and radiation treatment. The following eight weeks proved grueling. She lost weight and chunks of her hair. 
"It's a very dark place when you first get diagnosed. You don't really know anything," Grace said. "You have to learn all the new breakthroughs of clinical trials and therapy because that's where the future is." 
Eventually, Maderal moved back to Miami and continued as a patient at Nicklaus Children's Hospital. Seven of the tumors are gone, and she is getting treatment for the last one.
Although she is now old enough to visit a regular hospital, she chooses to receive treatment from the pediatric unit because it allows her to interact with children. Oftentimes, she brings toys, dresses up in costume and comforts patients as doctors inject needles into them. 
During the annual Christmas Party at the hospital last month, Maderal dressed as an elf and handed out hundreds of toys she collected. It took six trips in a minivan to haul the toys. 
"The hospital is like my second home," Maderal said. "I tell my nurses all the time, 'you guys are like my aunts', and my doctors, I mean, my second dads. It's like heaven being there with the kids."  
Maderal hasn't allowed the treatment to affect her studies, even if it's meant attending class against her doctor's advice. She graduated high school on time while completing her coursework virtually, and made the effort to attend as many senior activities as she could. Her friends Facetimed her during their class' senior brunch when she was in Baltimore. 
"She didn't have many challenges that we had to solve," Yuen said. "She's very organized and proactive. She anticipates barriers. She will seek out help. I think that's what really served her, if she was encountering a problem, immediately she would reach out to her professors or reach out to me."
Before her diagnosis, Maderal dreamt of attending the University of Central Florida, but was forced to take classes at Kendall Campus since she wasn't allowed to drive herself. She  graduated with an associate's degree in pre-nursing in 2018. 
Fighting Like A Kid
The name Fight Like A Kid comes from Maderal's mission to fight for children fighting cancer. Children, in her opinion, are adept at staying optimistic and joyful–traits that older patients often lose while undergoing treatment.  
"When you think childhood, you probably picture going to the park, going down a slide, swinging on a swing set," Maderal said. "Well, the life of childhood within pediatric cancer is riding your skateboard, which is your IV pole, down the medical hallway."
The gray backpacks, which features the words Fight Like A Kid, alongside the pediatric cancer logo, are packed with T-shirts, blankets, toys, positive notes, Kleenex tissues, coloring books and lip balm. 
Maderal donates the packages to several hospitals around the country, and raises the money to produce them through fundraising events. During routine chemotherapy treatments, she gifts packages to patients in her hospital wing while they wait for treatment. 
"It's not like I'm in my bed the entire time, I'm with my IV pole running up and down the hallway, visiting patients to give them their care packages," Maderal said. 
Soaring High 
She set her sights on becoming a pediatric oncologist when she was diagnosed and has been shadowing several, observing their methods, taking notes and interacting with the children when they need help. 
Maderal reached another milestone last month—graduating college. She earned her bachelor's in psychology, a semester early from FIU while maintaining a 3.9 GPA, and plans to get a second bachelor's degree in natural and applied science. 
"I was given this mountain to show others that it can be moved," Maderal said. "I want to inspire people. I want someone to look at me and say, 'because of you, I didn't give up.'"