Kendall Campus Alumna Fighting For Gold At 2020 Summer Olympics In Tokyo
As a three-time Olympian with two silver medals in taekwondo, Juan Moreno knows a bit about the sport.
So when he began training Paige McPherson for the 2012 Summer Olympics, he knew he had a champion in the making.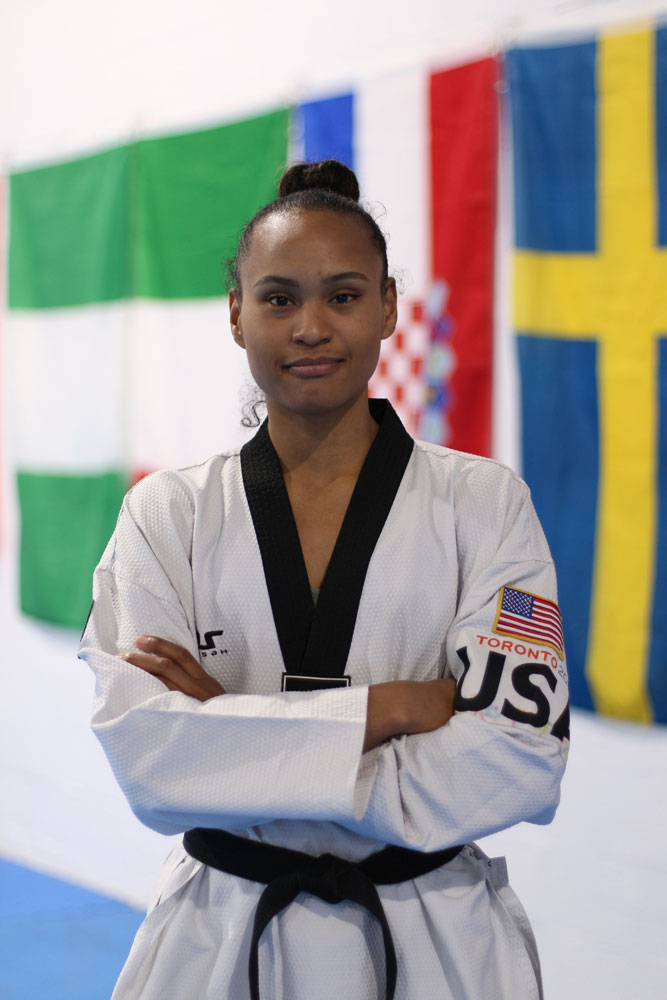 He was right. The 29-year-old, who won a bronze medal at the 2012 Olympics in London, will participate at the 2020 Summer Olympics in Tokyo, which will take place from July 24 through Aug. 9. 
McPherson, who is 5-foot-8-inches tall and weighs 136 pounds, competes in the 148-pound weight class. Currently ranked No. 6 in the world, she will be the first female taekwondo athlete to represent the United States at three Olympic games.
"I am so proud of Paige," Moreno said. "Some of the things she has gone through have made her a strong-minded person. When you're looking for your identity you become very resilient. She's truly one of the good people in life. If my daughters can grow up to be a person of her character I'd be more than satisfied."
The Early Years
McPherson was born on Oct. 1, 1990 in Abilene, Texas to Shonna Nichols, who is from the  Philippines. Nichols, a single mother who was already raising another child, couldn't afford another kid, so she put her up for adoption, McPherson said. 
And that is when Susan and Dave McPherson stepped in. The couple from Sturgis, South Dakota, who have four other adopted children, took her in when she was four days old. 
"Being adopted is the only way I know," McPherson said. "Because my siblings were all very different, I get along with a lot of different people and personalities. It has allowed me to become more open-minded and more empathetic. I am able to adapt to any environment because of it."
When she was 18, McPherson decided to search for her biological family. After hiring a private detective, she found her biological brother, Bryce Rhodes, on Facebook. 
The siblings met in 2015 after Rhodes took a four hour road trip to see McPherson compete at a taekwondo tournament in California.  
"As soon as I saw his smile I was like 'oh my goodness, this is my brother,'" McPherson said. "His personality was almost exactly like mine, so it was an amazing experience."
She also has two biological half-siblings, Denise and Blake Nichols. Although she has initiated contact with them and Shonna, she has not been able to visit them because of her busy schedule. 
Learning To Fight
McPherson's talent started to shine at an early age. 
Her interest in taekwondo was first sparked when she was five years old after her adoptive brother Evan started participating in the sport. At the time she was into ballet, but soon followed in her brother's footsteps.
"My wife would take Kevin to practice and Paige would just run around and wait," McPherson's dad, David, said. "She would say 'I wanna try! I wanna try!' So we finally did it, we signed her up. And the rest is history." 
When she was eight years old, she competed at the South Dakota State Taekwondo Championship and won her first tournament.  
As a child, McPherson was homeschooled with two of her siblings by their mother Susan. In high school, she enrolled at Black Hills Classical Christian Academy and was soon winning state and national taekwondo tournaments.
By 2012, she moved to Miami to train with Moreno for the London 2012 Summer Olympics. Moreno took notice of McPherson after seeing her compete at national competitions and invited her to his facility. 
"I knew after high school that if I really wanted to pursue [Olympic taekwondo] I had to go somewhere else, and Miami was the place to go," McPherson said. 
Training For Gold
Moreno runs Peak Performance International, a martial arts training facility dedicated to developing Olympic taekwondo athletes. 
The facility is an intense environment that ratchets up the tempo. During her first practice, McPherson recalls seeing 20 athletes train there. Then she got struck in the face and decided this was the place for her.     
"The local gym is a hole on the wall, just as warehousey as my taekwondo gym," McPherson said. "It's dirty and old but it builds character. I think coach Moreno does this intentionally because if I can work there and train there, I definitely can train anywhere."
On a normal day, McPherson goes through two strengthening and conditioning sessions at her local gym No Limit Fitness in Kendall for two hours, as well as a two-hour taekwondo practice at night. 
On Tuesdays and Thursdays, she replaces her morning sessions with a second taekwondo practice. She also undergoes physical therapy at least three times a week at Jaguar Therapeutics. 
After winning an Olympic bronze medal in 2012, McPherson was ready to win gold at the 2016 Summer Olympics in Rio de Janeiro, Brazil.  However, her dream was quickly dashed after she lost 6-5 in the opening round to Farida Azizova from Azerbaijan. 
"I had done everything possible to get the gold," McPherson said. "I really truly thought that I was gonna win it. At that moment you break because you dedicated and sacrificed, you know, four years worth of your life to this one moment, and I blew it on the very first fight."
Despite the loss, McPherson used the moment as a learning experience. She decided to focus more on passion, self-confidence and faith rather than brute strength and athletic ability.
"It is easy to win, it is tough to lose," Moreno said. "She identified herself as an Olympic medalist and then she wasn't. She showed me more these four years then she had ever before. It was a reality check."
Looking Ahead
Despite her love for taekwondo, McPherson plans to retire after the upcoming Summer Olympics. 
"Because of my age—and although I am young at heart—my injuries are catching up to me. It's getting slower to recover than it was when I was younger," McPherson said. "I do love taekwondo but I have other dreams and aspirations. This is the perfect time to transition out, settle down and have a family."
Last year, McPherson injured herself during practice. She suffered several ligament sprains in her left ankle. Doctors recommended she have surgery but McPherson feared the procedure would jeopardize the 2020 Olympic games so she chose to do physical therapy instead. She is currently still dealing with the injury.
With the end near, McPherson has started to prepare for her future after taekwondo. That future includes opening a coffee shop or taekwondo school.
She enrolled at Kendall Campus in 2009. Tackling tournaments, training sessions, traveling and a part-time job at Abercrombie & Fitch made it hard to attend class in person so she took some online courses. 
Her academic career was further delayed because McPherson didn't take classes during the years she competed in the Summer Olympics, but she earned an associate's degree in business administration from Miami Dade College in 2018. 
McPherson is now working on a bachelor's degree in business administration at Florida International University. She stopped to focus on the Olympics, but plans to restart in the fall.
"I love taekwondo because it has helped mold me into the person I am today," McPherson said. "There are a lot of life lessons to learn through it and in sports in general… The best way I can explain it is that it's like a physical game of chess; very dynamic with a lot of tragedy and excitement."
Staff writer Jose Tovar contributed to this report.