Jack Hirschman And The Terri Jazz Orchestra Ensemble To Perform At North Beach Bandshell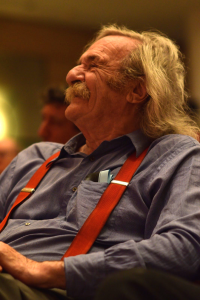 Miami Dade College's Museum of Art and Design and the Miami Book Fair will present Poetry and Jazz by Jack Hirschman and the Terri Jazz Orchestra Ensemble on April 28 at 7 p.m. at the North Beach Bandshell, 7275 Collins Ave.
American poet Jack Hirschman will read poetry from his collections while the Terri Jazz Orchestra Ensemble, led by composer/arranger Marco Collazzoni and saxophonist Francesco Guzzetta, performs.
"Jack Hirschman is a prolific beat generation poet known for beautifully lyrical work that ranges from politically charged to the arcane, said Scott Smith, marketing and membership coordinator for MOAD. "Backed by an Italian jazz orchestra that has become his trademark, his free performance in Miami Beach will be a unique experience."
Admission is free with RSVP at www.brownpapertickets.com/event/3200993. Minimum age requirement for the event is 18.
For more information, contact MDC MOAD at (305) 237-7700 or  at museum@mdc.edu