Improv Comedy Troupe Believes 'You're Never Too Old To Be Weird'
The sound of a bell tinkling sends members from the Society Circus Players into a frenzy. 
Suddenly, someone yells: "New choice, new choice."   
Members of the Miami-based improv comedy troupe frantically play out a scene that features three friends feasting on chicken wings at a local bowling alley. 
Carlos Fernandez playfully mutters between scenes: "You're never too old to be weird, remember that." 
The snippet is one of several improv games the performance group, an eight-member posse founded in 2014, rehearses weekly.  
The comedy troupe—co-founded by Dash Ruiz, a media services coordinator at West Campus and Alicia Garcia, an English professor at Eduardo J. Padrón Campus—has performed at more than 70 venues across Miami since forming in 2014. 
They have  previously hosted free improv workshops for children at the Shenandoah Branch Library. 
"As an adult, you don't get playtime, but improv is like, 'hey, we are having a playdate with my friends,'" Ruiz said. "Improv is like a place for all the weirdos to go. We were all misfits and once we found improv, we found our tribe and we're all accepted."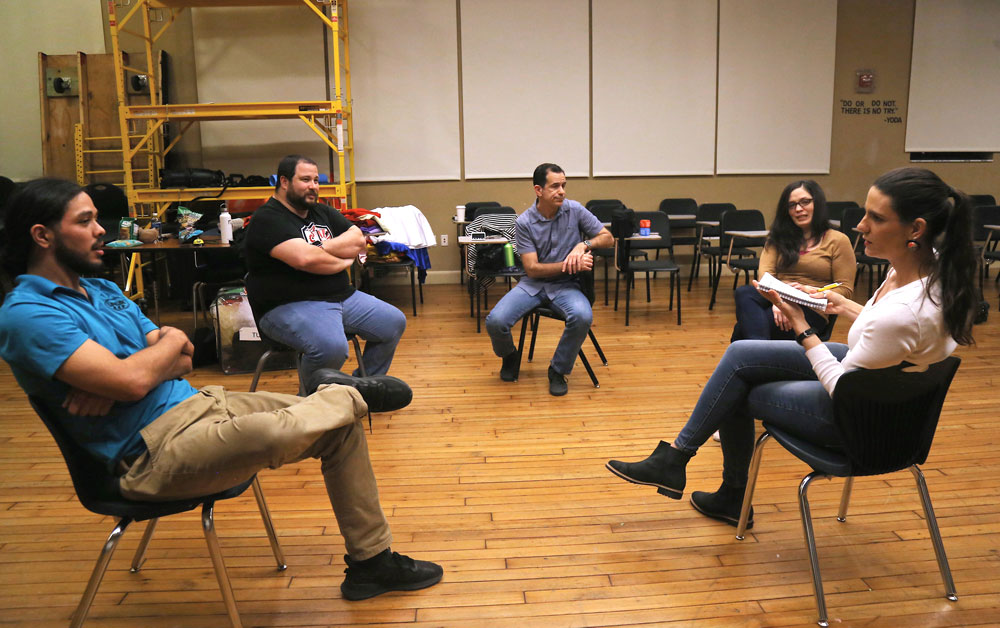 Group members range in age from 28 to 53. They perform once a month at shows, festivals or charity events. In the past, they have performed at the Nicklaus Children's Hospital and JDRF, a non-profit that funds diabetes research for children. Every October, the SCP hosts an improv show at West Campus for Breast Cancer Awareness and Hispanic Heritage Month. 
"We do put a heavy focus on charity work and volunteering," Ruiz said. "We like to give back and do our best to raise awareness and let people know that improv is a thing. Not many people really know about improv, and give it a stigma that it's cheesy and corny."
The group formed in August of 2014 after another group—Negative 4 Months—that Garcia and several other members were a part of disbanded. 
For five years, the SCP performed at Just The Funny, a comedy improv and sketch theater in Coral Gables, but they left that venue after issues arose with the tenant over performance times. 
The group then hopstoched across venues in Miami for a year, but eventually found refuge in late 2019 at Duffy's Tavern, a restaurant in Westchester. They perform improv sketches there every other month. 
"Sometimes, we don't even know what's going to happen, so sometimes we crack ourselves up," Ruiz said. "Scripted performances are just [like] 'I need to get this right' and with improv it's more freeing, 'I'm just going to be up there and I'm going to have a good time.'"
But everything hasn't always been fun and games for the group. They have faced their share of challenges. 
Dustin Aiken, a long-time member, committed suicide in August of 2017.
"He always loved improv. He loved laughing and making people laugh," said Garcia, who was Aiken's roommate. "I attribute a lot of our growth and accomplishments to him." 
Shortly after his death, the sketch group hosted a show in his honor. They also designed black leather bracelets with his initials and the phrase Keep it Weird inscribed on them, a motto he lived by.  
The group has kept Aiken's memory alive by building their performances around two tenets he embodied: positivity and laughter.  
"Right now, the time we are in, a lot of people just focus on the negative," said Matthew Romeu. "[Improv] reminds people to laugh."