Hurricanes, Bomb Threats And COVID-19—Meet The Man Behind Crisis Management At MDC
When a five-story parking garage under construction at West Campus collapsed in October of 2012—killing four construction workers and injuring eight others—Yakir Fernandez lept into action.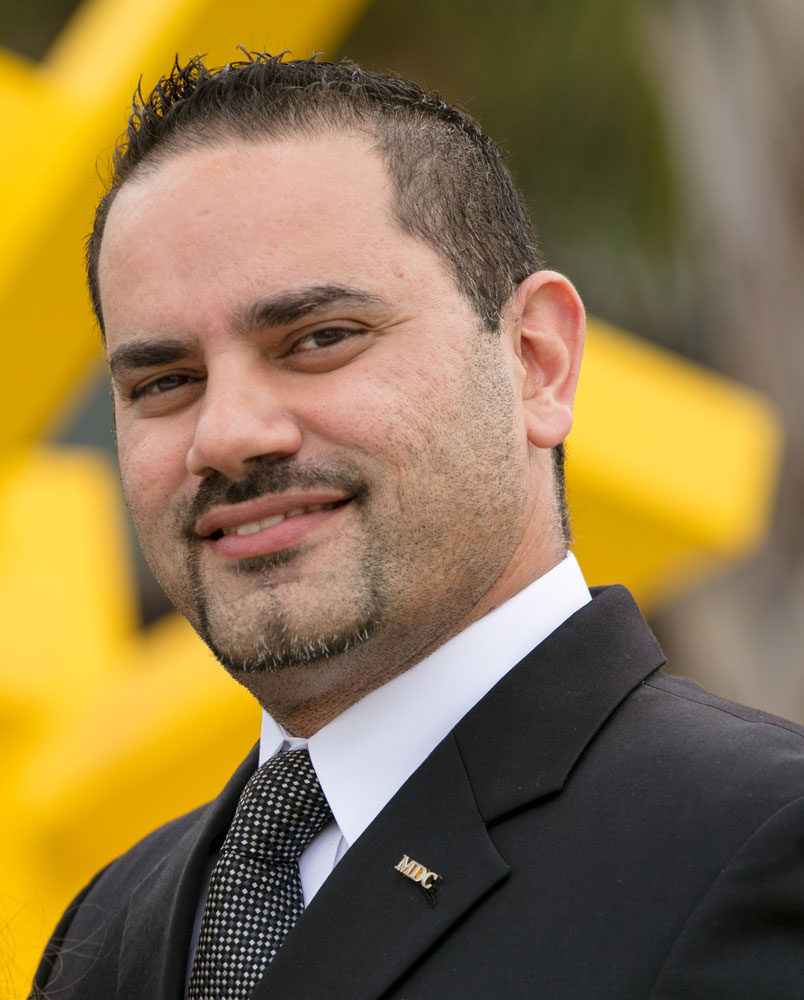 Fernandez, who was the assistant chief of public safety at the time, sealed off entrances and shepherded petrified staff and students off campus. 
In the days following the tragedy, Fernandez was part of the team that formulated a plan to relocate classes for West Campus students to North Campus and Ronald W. Reagan/Doral Sr. High School.
Those moments served as the catalyst that sparked Fernandez's interest in becoming the College's director of emergency management, a position he has held since 2015. 
Today, Fernandez's trademark calm demeanor and polite disposition have served him well as MDC grapples with another emergency—the coronavirus pandemic. 
The 45-year-old Air Force veteran has been at the forefront after the College shut down, moved classes online and created a tentative three-phase reopening plan. 
Bold leadership is nothing new to Fernandez, who has dealt with everything from bomb threats to Hurricane preparedness to spearheading active shooter training during his eight years at the College.   
"I am always impressed with his rational, measured and methodical approach to emergency response," said Executive Vice President and Provost Lenore Rodicio. 
Fernandez's first course of action when the pandemic started to intensify came on March 2, when he canceled the College's eight summer study abroad programs. He deemed them unsafe for students after meeting with the leadership in the Academic Affairs and International Education departments. 
On March 12, in the afternoon, Medical and West Campus were shut down in an abundance of caution after it was deemed they may have been exposed to the coronavirus. It was announced later that evening that MDC would cancel classes and transition to remote learning. 
Once students were relegated to their homes, Fernandez helped establish a college-wide task force made up of more than 100 administrators from various departments like students services, faculty, MDC Online and Strategy and Institutional Effectiveness. 
The group helped move courses online and designed MDC's coronavirus resources page for faculty and students. 
Fernadez was also instrumental in developing the College's three-phase reopening plan. 
The first phase was rolled out on June 1. It allowed essential employees and a small number of students, whose courses couldn't be replicated, to return to campus. They must wear a mask, enter through a specified entry point and have their temperature checked.
Fernandez organized training for employees working at the entry points. It included everything from what to wear and how to use thermometers at the checkpoints. He also ordered equipment and had signs created to help protect students and staff from infection. 
Phase two, which hasn't started yet, will reopen limited services such as the bookstore, student services and learning resources. The final phase will begin when classes fully restart in-person. 
"We want to support [the plan] in a safe manner and in a way that we can manage it," Fernandez said. "That's where our phasing comes in. We slowly introduce some of these things as we move forward into the summer." 
Fernandez's experience in crisis management goes beyond his work at MDC.
He was born on July 24, 1974 in Cuba. When he was nine months old, Fernandez's family moved to Venezuela. They stayed there for five years before emigrating to Miami. 
In the United States, Fernandez earned a bachelor's degree in criminal justice from American InterContinental University, with a concentration in homeland security and crisis management, and a master's degree in disaster management from Florida International University. 
From 1998 to 2002, he served as a non-commissioned officer in charge of the U.S. Air Force Honor Guard. 
The following year, he took a job as director of security at Johnson & Wales University. He managed emergencies, security, parking and transportation at the North Miami Campus until 2011. 
In 2012, he joined Miami Dade College as assistant chief of public safety at West Campus. Fernandez oversaw recruitment, training and did staff evaluations for the department for three years. 
"I think we're lucky to have him at Miami Dade College," said Julie Alexander, the vice provost of academic affairs.  "He has guided us through a challenging time, one that didn't have a historical reference to look back on for cues. Yakir has helped the College establish structures and routines that help us work collaboratively, quickly and effectively as a coordinated team in a crisis situation."