Humanities Students Learn Culture And History In Europe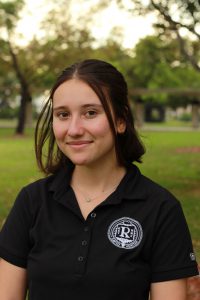 In high school, my college advisor told me that her only regret in college was never traveling in a study abroad program. During my first semester of college, I applied for a humanities study abroad program in France and Italy. 
On May 21, twelve Miami Dade College students and I embarked on a two-week journey through Paris, Rome, Pompeii and Napoli. We soon became immersed in the quick-paced, crowded city life of Paris. 
We had a welcome dinner at Bouillon Pigalle, an award-winning French restaurant in the heart of Paris. I ordered a selection of delicious French cuisine, from escargot to pain au chocolat—a French pastry roll with dark chocolate in the center. 
During the first week, we became acquainted with Parisian culture, from taking a packed subway everywhere we went to learning French etiquette—more specifically, I learned not to speak too loudly on the street and to eat slowly while enjoying a meal during conversation.  
We also visited iconic monuments like the Louvre Museum, the Eiffel Tower and the Arc de Triomphe. My friends insisted on seeing the Eiffel Tower lit up at night. The sight of the beautiful, bronze tower painted against a dark sky will forever stay in my memory. 
Two days later, we flew to Rome. The first meal I ordered in Italy was a delicious, hand-made margarita pizza. We later visited a beautiful Roman gallery that housed famous artwork from native artist Gian Lorenzo Bernini, and enjoyed a pasta dish with lemon seasoning and prawn butter sauce. 
The following day, we visited the historic Roman Colosseum. As I stepped into the 47-meter high structure, I pictured all the ancient Roman emperors that had walked through the amphitheatre and brave gladiators that risked their lives to entertain the Roman public. We also visited the Vatican on May 27—a spiritual experience for many of us. At St. Peter's Basilica, I saw the tombs of Catholic popes, including that of St. Peters—the first pope. 
Inside the Vatican, we visited Michelangelo's Sistine Chapel. We weren't allowed to take photos of the ceiling because the room is considered too sacred to photograph. As I stared at the ceiling, I tuned out the sound of guards threatening to kick out tourists who tried taking photos.
On May 29, we left Rome and went to Napoli by train. In Napoli, we stayed at a hostel—a unique experience. Instead of a typical hotel lobby, there was a front desk in a room with tables, couches, a piano and board games. During the night, people met to play games and converse. It felt like we were part of a small commune. 
Napoli was my favorite city. The fresh scent of the surrounding ocean made the city stand out in comparison to neighboring towns. It felt peaceful and tranquil. We visited Castel Dell'Ovo, an incredible seaside castle. At the top of the castle, the sound of the crashing waves and fierce wind felt therapeutic. The people in Napoli were extremely friendly and unbounded. 
After Napoli, we spent a day visiting the ruins of Pompeii. We saw the former living quarters of the people of Pompeii, and the preserved bodies of citizens that died in the volcanic eruption of Mount Vesuvius. I was surprised at how the cities' infrastructure remained intact after thousands of years of erosion. 
On June 1, the last day of our trip, we laughed and told jokes about the different experiences we had and recalled all the memories we made. 
My trip to France and Italy, enhanced my knowledge of European history and culture. It also helped me gain a newfound appreciation for religion and spirituality, pushed me out of my comfort zone, and made me stronger.