Honors College Students Win Prestigious Jack Kent Cooke Scholarship
Four Miami Dade College Honors College students were awarded the prestigious Jack Kent Cooke Foundation Undergraduate Transfer Scholarship: Daniela Alvarez, Casey Amaya, Fedelene Camille and Gabriela Rodriguez.

This year, the scholarship was awarded to 45 community college students with academic ability and financial need who wish to transfer to a four-year institution. Each recipient receives $40,000 per year for up to three years to cover tuition, living expenses, books and required fees.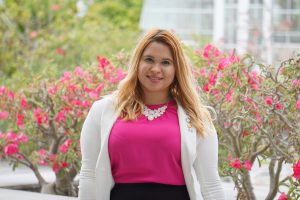 Daniela Alvarez

Daniela Alvarez had a hard time adjusting to Miami after she moved from Havana, Cuba just days before her fourth birthday.
"I used to cover my eyes and not want to touch the floor because I was scared of forgetting about my family in Cuba, but eventually when I started school I got over it," Alvarez said.
When Alvarez received an email notification from the Jack Kent Cooke Foundation, she was shocked.  
"I couldn't stop crying, and I couldn't even utter the words that I received the scholarship," Alvarez said. "It was an exciting moment that I had worked extremely hard toward achieving for these past two years."
Alvarez credits her success to her mother and sister who made the move with her.
"They molded me into the person I am today—passionate and persevering. I admire my mom and my sister in an indescribable way. They are my rock and they've inspired me to work hard to achieve my dreams, no matter how big they are because they will always be right there next to me, cheering me on," Alvarez said.
During her time at the North Campus Honors College, Alvarez founded the Integrated Law and Ethics Society. She also served as head delegate of North Campus' Model United Nations, vice-president for the Political Science Club, Vote Everywhere ambassador for the Andrew Goodman Foundation and program coordinator for the UN Sustainable Development Goals Service-Learning Project. Alvarez aspires to be an immigration attorney.
"Daniela Alvarez is the epitome of being the exemplary human being you would want on your side of any challenge involving justice, fairness, inclusion, service, caring, daring and sharing with a good heart, a bright and rigorous mind and relentless spirit," said Michael Lenaghan, a professor at North Campus.
Daniela Alvarez has been accepted to University of Virginia, University of North Carolina-Chapel Hill, the University of Miami and Cornell University.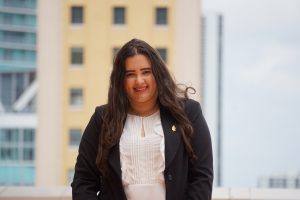 Casey Amaya

Being the first in her family to graduate from college, Casey Amaya has encountered many financial obstacles. Born in Havana, Cuba, Amaya immigrated to the United States when she was six years old.
"The Jack Kent Cooke Foundation has allowed me to turn adversity into opportunity," Amaya said. "Essentially, this award has allowed me to turn higher education into a goal that's tangible and concrete."
At the Honors College at Wolfson Campus, Amaya served as president of the Phi Theta Kappa Wolfson Campus chapter, a student ambassador for the Student Government Association, Civic Engagement Ambassador for the Institute for Civic Engagement and Democracy, student representative for the Alumni Hall of Fame, vice-president of Engage Empower Excel and mentor for Wolves in Training.
Amaya aspires to become the first female Supreme Court Chief Justice. She plans to transfer to The Honors College at Florida International University and earn a bachelor's degree in political science.
"Prior to her admission, Casey was already set on pursuing a career that would allow her to serve and protect those that are vulnerable," said Mercedes Medina, a professor at Wolfson Campus. "Her passion for social justice is evidenced in all of her community outreach and service learning projects."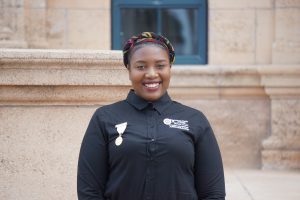 Fedelene Camille
Fedelene Camille was forced to flee to the United States after an earthquake struck Port-au-Prince, Haiti in 2010.
When Temporary Protected Status for Haitians was terminated, Camille realized she would be unable to receive federal or state financial aid after July 22, 2019. The Jack Kent Cooke Scholarship has now become fundamental to her future.
"I didn't know where I would get funding. I come from a low-income household. I knew that my mom would not be able to add a dime to my education,"  Camille said. "Now, I have something. I can go to almost any school of my choice. I can fulfill my dreams."

At the Honors College at Wolfson Campus, Camille served as president of Modelle International, vice president of Haitian Boukan Club, fundraising and outreach director of Phi Theta Kappa, tutor at the Mathematics Lab, a WolfPack mentor in the ARCOS Program and a connect specialist at Macy's Men's at Aventura Mall.
She also did undergraduate cancer research at University of Miami through ARCOS's URPO program.
"She consistently exceeds expectations and I have no doubt that she will continue to do so throughout the rest of her schooling and into her career," said Ryan Cassell, a professor at Wolfson Campus. "Her passion to learn and her drive to be the best is transparent."
Camille is majoring in biology and aspires to become a pediatric oncologist.
She has been accepted into the University of Michigan, University of North Carolina-Chapel Hill, University of Wisconsin-Madison, University of Central Florida, Florida International University and University of South Florida.
Camille is still waiting on decisions from Duke University, Cornell University, Boston University and her top choice, the University of Pennsylvania.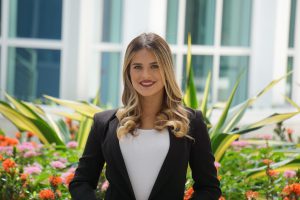 Gabriela Rodriguez

Born and raised in Villa Clara, Cuba, Rodriguez moved to the United States at 15 with her parents to pursue the American Dream.
"I am truly honored to be one of the recipients. It still surprises me to be one of the winners," Rodriguez said. "It is an amazing feeling to know that I will continue my studies without placing a financial burden on my parents and myself."
In Cuba, Rodriguez practiced several sports including gymnastics, volleyball and chess. In 2004, she entered the primary school of arts Escuela Vocacional de Artes Olga Alonso to specialize in ballet.  
During her time at the Honors College at InterAmerican Campus, Rodriguez served as Phi Theta Kappa President and led the Honor Society to earn a Five Star Status (highest rating for a PTK Chapter) by earning more than 1,500 hours of community and service learning hours and inducting more than 220 new members. She is also director of Sports4Spirit, a nonprofit project for unprivileged, and as a volunteer dance instructor at Magic Dance Studio.
"Her determination, tenacity and overwhelming curiosity for her field are second to none," said Diego Tibaquirá, a professor at InterAmerican Campus.  "She will do great not only because of her determination to finish what she starts but because she is determined to come back to her community and help as many people as possible. Gabriela is a true changemaking agent."
Rodriguez aspires to become a cardiothoracic surgeon. She plans to attend the University of Miami and major in biology.
"Dancing has always been my passion and I plan to keep it with me somehow, but being a surgeon is what I aspire to do," Rodriguez said.