Here's What Breaking Bad Is Cooking Up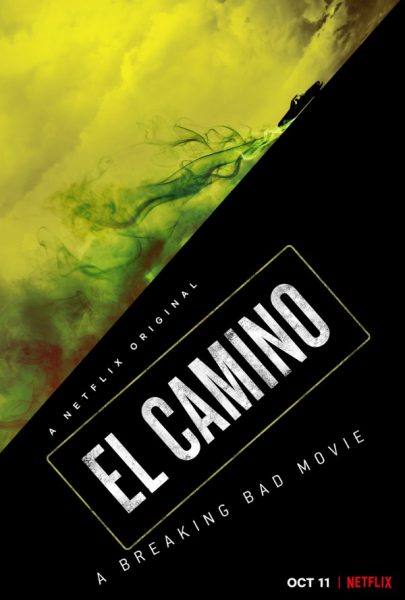 For Breaking Bad fans, Oct. 11 can't come fast enough.
That's when Netflix will release El Camino: A Breaking Bad Movie. The film picks up after the final episode, though not much else is known.
For those not familiar with the series, it's five seasons of intensity, suspense and chaos. Many consider it a classic television show. Throughout the acclaimed AMC series, we see the life of high school chemistry teacher Walter White (Bryan Cranston), who is diagnosed with stage three lung cancer. With time ticking for him, he turns to making and selling crystal methamphetamine to ensure his family's future.  
With the upcoming film El Camino, approaching, fans are abuzz, wondering what the film will be about. Will it pick up right after the traumatizing events that occurred in the series finale titled Felina? The plot for the film is still unclear. However, based off the two teaser trailers and one full trailer, we see this will certainly revolve more around Jesse Pinkman's (Aaron Paul) escape, last seen in the series finale.
In the first teaser, it shows Skinny Pete (Larry Hankin) interrogated by police.
"I'm sorry, I don't know what to tell you. No way am I helping you people put Jesse Pinkman back inside a cage," says Skinny Pete. In the second, a rundown of Jesse's best and worst moments through the seasons are displayed. Memories of when he and Walt cooked the crystal meth, his relationship with Jane Margolis (Krysten Ritter) and his near-death experiences. In the latest trailer, we see a beaten and exhausted Pinkman taken under Skinny Pete's wing once again. We also see him prepare himself for revenge upon a supposed antagonist who makes an appearance toward the end of the trailer saying, "You ready?"
A noticeable absence in the trailer: Walter White. However, Cranston proclaimed on The Dan Patrick Show last November that he would "absolutely" return to play Walter White once more. With that being said, could it be that we see the famed Heisenberg for the final time? 
What would be a Breaking Bad movie without the show's main star, right? Through all three trailers, us fans rejoiced with excitement. Despite it giving audiences a dark and solemn tone, it also missed out on the brief comedic humor that the series was famously known for. However, with it absent, it's still enough to get us pumped up for the film's release. 
Aside from releasing on Netflix, it will also receive a limited theatrical release in 68 cities from Oct. 11-13.